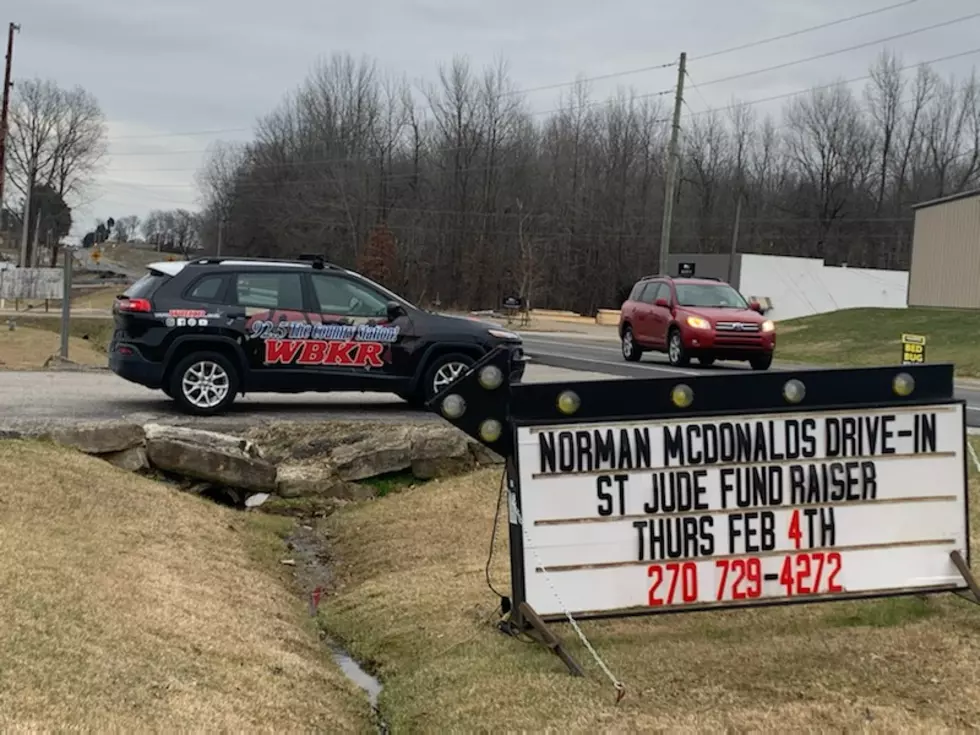 Get Lunch, Along With Chicken, Butt & Ribs to Support St. Jude
Barb Birgy/WBKR
Everybody has to eat right? So, why not grab some delicious food and help the children at St. Jude while you do it. Here's what's happening at Norman McDonald's in Philpot, and how you can do just that.
As the WBKR/Window World St. Jude Radiothon rolls on, you need to get in your vehicle and roll on down to Norman McDonald's Country Drive-In in Philpot. Just follow the smoke down Hwy 54 and support St. Jude!
Here's the price list:
BOSTON BUTTS - $35
RIBS - $25
CHICKENS - $10
Meat sales are first come, first served.
You can also pre-order anything off of the Norman McDonald's menu for a donation and EVERYTHING will go to St. Jude. YES everything will go to the mission! Check out the menu below and you can call or text, 270-316-9887 or 270-314-2176 and place your order. You can also call the restaurant at 270-729-4272, stop by, dine in, or get it to go. They'll even bring your order right out to your vehicle!
Smokin', Cookin' and Loving St. Jude!
To become a St. Jude Partner-in-Hope, all you have to do is call 1-800-201-8883. The phone lines will be open from 6am, Thursday, February 4th through 7pm, Friday, February 5th here at WBKR. Or you can text HOPE to 626262.
Anyone who becomes a St. Jude Partner-in-Hope during the WBKR St. Jude Radiothon will get a "We Won't Stop" t-shirt. Heck, if you're already a St. Jude partner and still want the shirt, call us during our event, renew your partnership and we'll get you a shirt! They are awesome! And some major country stars have been sporting theirs.
Enter your number to get our free mobile app