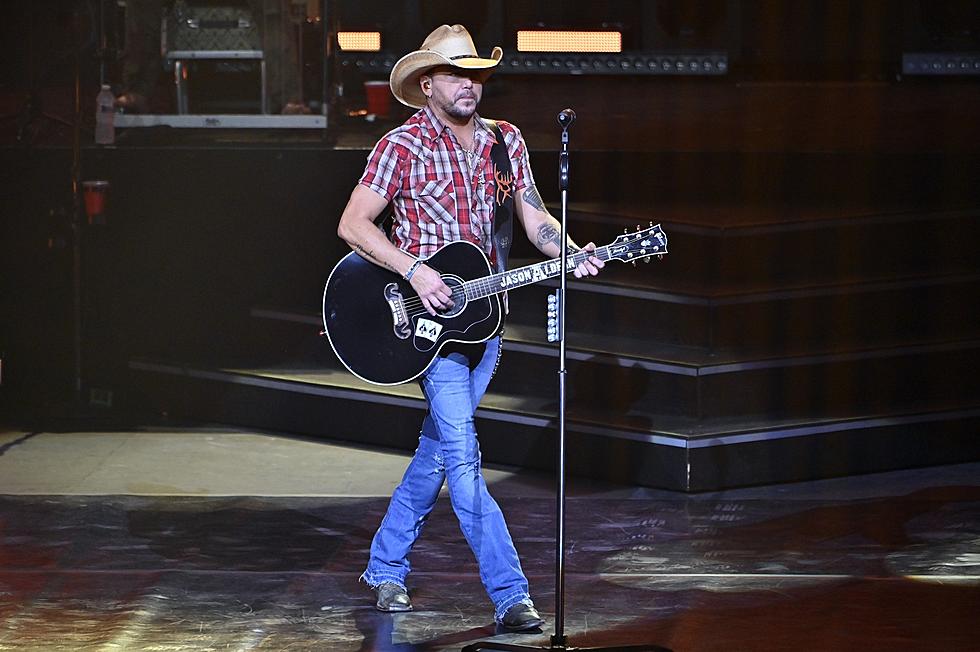 Jason Aldean Equipment Transport Crashes Near Kentucky-West Virginia Line
David Becker/Getty Images
It's already been a long day for some of Jason Aldean's people. And it all began with a scary accident early Thursday morning.
Aldean's Back in the Saddle Tour is scheduled for a stop in Charleston, West Virginia Thursday evening, October 14th, and that's where his equipment bus was headed when it was involved in a crash at 5 AM on the morning of the 14th. The accident occurred on Interstate 64 in Huntington, West Virginia just on the other side of the Kentucky state line.
No one was hurt in the wreck that occurred in the pre-dawn hours at the U.S. 52 interchange, according to WSAZ-Huntington. So far, no details have emerged as to how the accident happened, but a photo on the WSAZ Facebook page looks as if the equipment bus (although it looks like a tractor-trailer) breached a guard rail as it slid off the road.
In 2009, Jason Aldean headlined the first Big O Music Festival at Reid's Orchard. It was a rainy Saturday and I remember there being some concern as to whether or not his tour bus would get stuck in the mud. But that never came to pass.
Going back even further, to a time when we were introducing acts at the Executive Inn Showroom Lounge, Aldean was booked about a year after the release of his debut hit "Hicktown" and I got to bring him on stage. His career quickly skyrocketed and it wasn't long before he achieved superstar status--cemented by one of his signature songs "Big Green Tractor." He never got a chance to return to the Big E, as it was demolished in 2008, just two years after his appearance there.
As for this morning's crash, Aldean was not on board the equipment transport and there are no plans, at this time, to postpone or delay the show in Charleston.
KEEP LOOKING: See Inside Jason Aldean's Spectacular Beach House Mansion:
The Best Country Singer From Every State
Some states, like Oklahoma and Texas, are loaded with famous country singers. Others, like Nevada and Maine, are still looking for a real breakthrough artist. See the best and most successful country music artist from all 50 states, starting with
Hank Williams
and Alabama.