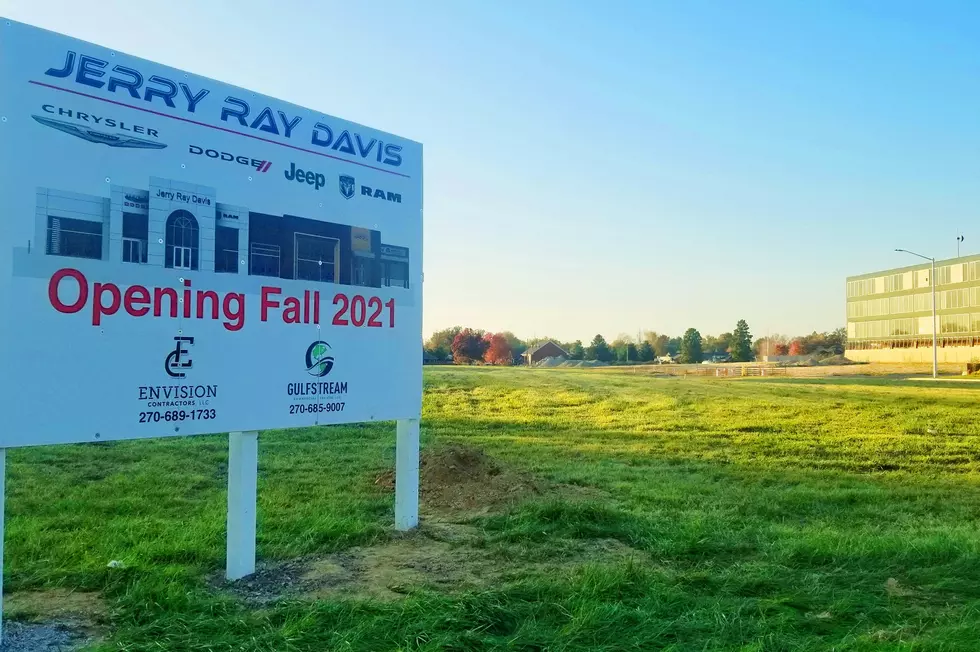 Jerry Ray Davis Chrysler Moving to Lot Next to Texas Gas Building
Dave Spencer/Townsquare Media
It doesn't seem like all that long ago that we were all wondering what, if anything, was going to become of the Texas Gas property and the area around it.
Those answers have come relatively quickly over the last 18 months with the openings of Azzip Pizza and Ollie's Car Wash. And there's more to come.
In fact, next fall, the whole area will look wildly different from the way it looks now because Jerry Ray Davis Chrysler Dodge Jeep Ram is making its move from downtown Owensboro to the lot next to the iconic old Texas Gas building.
You've probably seen the signs that have been placed on the east side of the property.
I spoke with Jerry Ray Davis and he told me that plans are in the works for a 28,600 square foot showroom, complete with sales and administrative offices, of course. In fact, Jerry Ray tells me it won't be much longer until his team parks a few vehicles out on the lot as a way of letting everyone know what's to come.
And that lot, by the way, is on the south side of the Texas Gas building. It's the one, as Jerry Ray says, is between the "car wash and the house with the trees."
He also said that the dealership will NOT be using the Texas Gas building itself.
Davis also said they are utilizing local contractors for the project and that his facility would also include a 13-bay service department, with three of the bays devoted to service work on large vehicles, like RVs.
Once Jerry Ray Davis CDJR is up and running, expect big events to be held throughout the year that will be free to the community.
Jerry Ray also says that his team's dedication to CASA will continue--with $50 from every vehicle purchased going to the child advocacy non-profit.
Look for to a NEW look on Frederica just south of Tamarack next fall as Jerry Ray Davis Chrysler is on the move.
Enter your number to get our free mobile app
KEEP LOOKING: See what 50 company logos looked like then and now