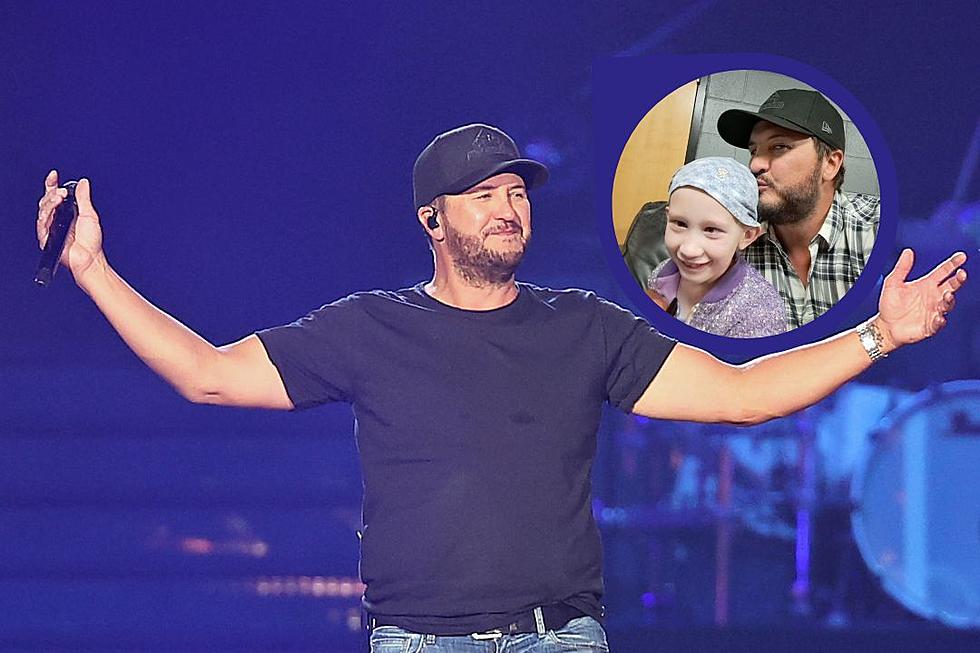 Luke Bryan Brought a Young Girl With Cancer Backstage, and Now They're BFFs
Monica Schipper, Getty Images; Kristin Stegmueller, Facebook
It has always been easy to tell that Luke Bryan has a real sense of family and loves children, so when he heard that a 7-year-old girl with terminal cancer would be at his show in Denver on July 29, he invited her backstage.
Her name is Mary Stegmueller, and she's been fighting terminal brain cancer since she was four years old. Mary just started her 43rd round of radiation this week.
Here is how the story unfolded: Mary is a diehard Luke Bryan fan, but immunocompromised and can't stand for long durations, so seeing her idol in concert seemed out of reach.
"I knew it wasn't going to happen, but I was praying that it would," Mary's mom, Kristin, says, "Because I knew she really, really, really wanted to go."
Those prayers were answered, it seems, when an anonymous donor decided to offer an entire venue suite to Mary and her family after hearing her story. Her family said they were unbelievably grateful to the anonymous donor and had hoped Bryan might have time for a quick hug and chat.
As you would expect from the country superstar, as soon as he heard about the situation, he made sure to have Mary and her whole family come backstage before the show for a one-of-a-kind meet-and-greet.
Mary was clearly elated to get to meet her idol and spend time with one of country music's biggest stars.
Bryan has concerts already scheduled until 2024.
Evan Paul is the host of Taste of Country Nights, a syndicated radio show heard on more than 120 country radio stations nationwide, every night from 7PM to midnight. He plays the best new country music and interviews today's top stars, like Luke Combs, Miranda Lambert, Dan + Shay, Keith Urban, Carrie Underwood, Luke Bryan, Chris Stapleton, Lady A, Morgan Wallen + more! 
The 50 All-Time Best Luke Bryan Songs, Ranked
Luke Bryan's massive catalog of songs perfectly walk the line between heartfelt and fun. Here are our 50 favorite hits and deep cuts.
Country Stars Put on St. Jude's 'Love Music, Stop Cancer' Tees
Kane Brown, Gabby Barrett, Carrie Underwood and more stars show off their 'Love Music, Stop Cancer' shirts to support St. Jude Children's Research Hospital.
PICTURES: See Highlights From Luke Bryan's Las Vegas Residency
Luke Bryan opened his Las Vegas residency at Resorts World Theatre with a killer performance on Feb. 11, 2022, and pictures show a high-tech set that served as a backdrop to a stunning performance.
The superstar varied the setlist with selections from every era of his career, backed by sets and visuals that included explosive pyrotechnics, multi-level risers and a catwalk that brought him eye-to-eye with the fans in the upper levels.
Scroll to see pictures from Luke Bryan's triumphant Las Vegas residency.