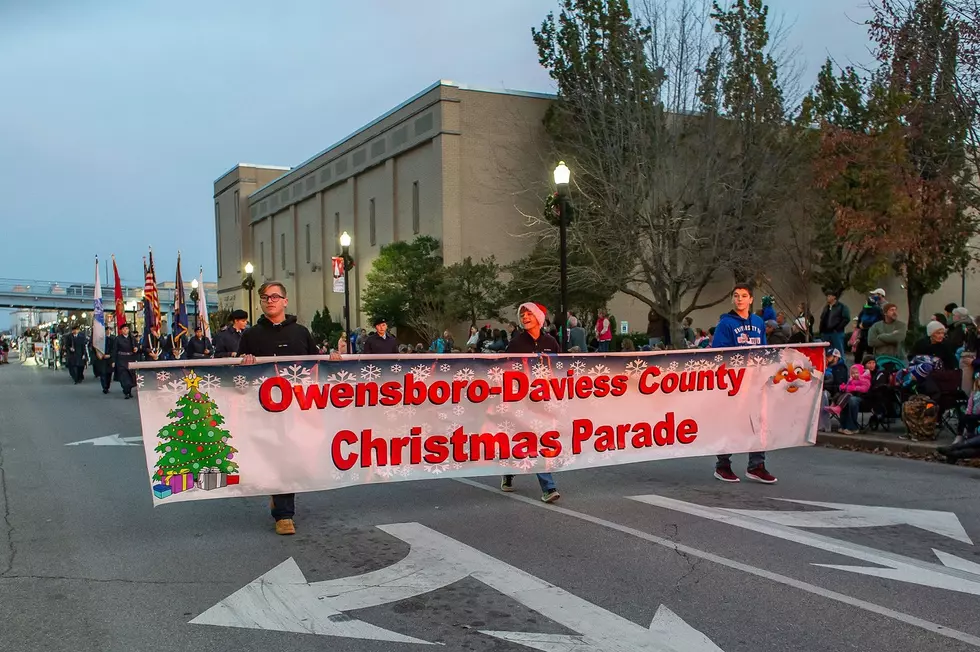 Owensboro, Kentucky Christmas Parade Returns to Traditional Format
Owensboro-Daviess County Christmas Parade Association/Facebook
For the first time THIS DECADE, the Owensboro-Daviess County Christmas Parade will happen in downtown Owensboro AND will return in its traditional format.
The COVID-19 pandemic, which seemed to postpone LIFE for a couple of years, was the reason for no parade in 2020. Last year, amid a resurgence, the parade was canceled and replaced by a "People's Christmas Parade" that happened later in the year than is typical.
Well, Christmas parade fans, "typical" is back and we are thrilled to death. The floats, the marching bands, the Shriners, the organizations, the floats. Oh wait, I already mentioned the floats. Well, I'm excited. Oh, and Santa Claus, of course.
In 2021, the Christmas parade was actually going to happen with the return of all those wonderful traditions that MAKE a Christmas parade so memorable. But it was canceled and, in reality, there wasn't going to be one until the community got together to create a "people's parade" so that we could have something.
After all, the Owensboro-Daviess County Christmas Parade is "where Kentucky starts Christmas," and we certainly don't want to keep Kentucky waiting.
As has been the case over the last few years since the route was changed, the Owensboro Christmas Parade will begin at the intersection of 2nd and Pearl Streets and will wind up somewhere in front of the International Bluegrass Hall of Fame and Museum or the Hampton.
But I remember the OLD Christmas parade route, and, boy, was it a circuitous one. All entrants would line up at the Cigar Factory Mall and then head down 11th, straddling the railroad track. Then it was a trip down Frederica Street with a right onto 3rd Street then a left onto Daviess then another left onto 2nd Street where it would wrap up. Whew, that wore me out just describing it. Because of that route, my family and I used to set up shop on the concrete parking lot wall across from Anderson's Department Store, now the Owensboro Museum Science and History.
Every time I drive by the museum, I have vivid memories of Christmas parades past, but not THIS far back in the past. I wasn't here in 1953 and 1954. So thank heavens for the Daviess County Public Library's archives.
If you're old enough, does that bring back memories, or what? If you're interested in more recent memories, here's part of the 2010 parade.
So now, who's ready for Christmas here in June? The news that the parade will return in its original format on November 19th at 4:30 PM might make folks excited enough to start their Christmas shopping.
Actually, getting it out of the way this early sounds like a great idea; who needs all that extra stress during the REAL holiday season?
SEE INSIDE: The House and Filming Location from 'A Christmas Story'
The classic Christmas film is set in fictional Hohman, Indiana (which doubled for Hammond) but was filmed in Cleveland. The tour was a blast. Hey, I love visiting movie sets.
Owensboro from A to Z
It wasn't easy, but I have an entry for every letter of the alphabet. I'm sure there will be other suggestions and I welcome them all.
LOOK: See what Christmas was like the year you were born