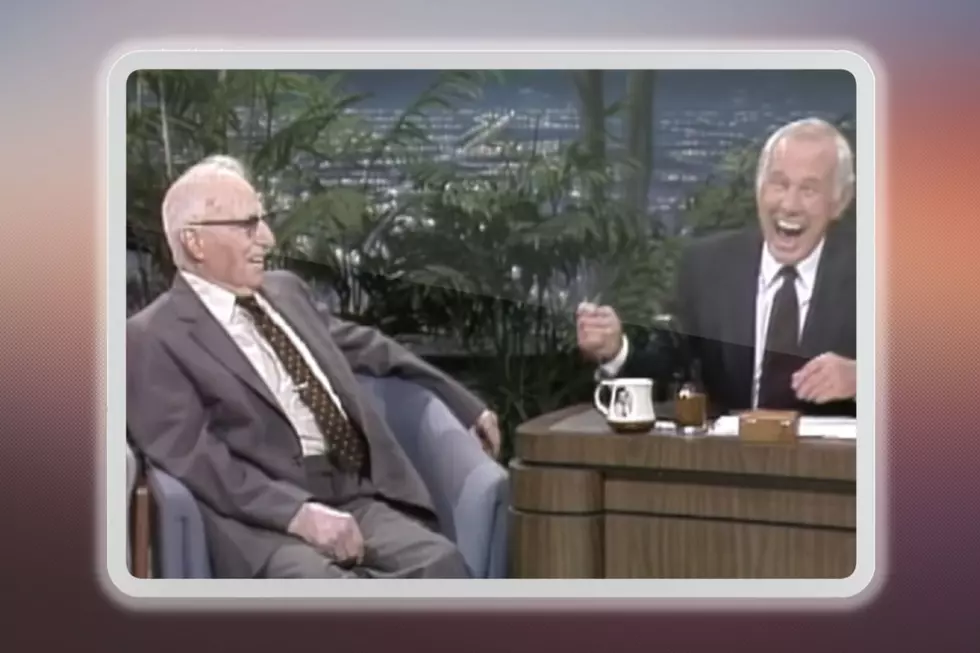 WATCH: 97-Year-Old Illinois Farmer Had Johnny Carson in Stitches
Johnny Carson via YouTube; Canva
What would your dad let you do that your mom WOULDN'T let you do? While I may have multiple answers to that question, my focus is on one.
Dad would, from time to time, let me stay up late and watch The Tonight Show Starring Johnny Carson. I was a huge fan of the monologues and some guests he would invite on a semi-regular basis.
JOHNNY CARSON -- AT HIS BEST WITH REGULAR FOLKS
But perhaps the funniest episodes were ones where everyday, ordinary people appeared for whatever reasons and Johnny made them feel right at home. A classic interaction involved a woman who collected potato chips that looked like other objects--a pear, a pumpkin, a camel, among others. Her reaction in this clip is one of the best moments in Tonight Show history:
I always loved how natural Carson was with his guests. He was no different with superstars and icons than he was with the "Potato Chip Lady."
JOHNNY CARSON WELCOMES THE OLDEST WORKING FARMER IN ILLINOIS
The same can be said for an episode in 1988 that featured an appearance by 97-year-old Illinois farmer Merritt Heaton. This is vintage Carson.
Top Info Guide did some follow-up on Merritt Heaton, revealing that, as a child, his family's mailman informed them that President William McKinley had been assassinated. That was in 1901. Heaton was born in 1890.
SOME BACKGROUND ON MERRITT HEATON
In a 2021 post in an Illinois history Facebook group, a mini-biography of Heaton--culled  from separate Illinois newspapers--detailed more information about his life and family, including his 1909 wedding announcement.
Rock Island Argus, May 1909.. Justice of the Peace G. P. Nissen yesterday afternoon united in marriage Merritt Heaton and Miss Edith Addis, both of Toulon, Ill. This was the first ceremony performed by Justice Nissen since becoming a justice of the peace.
Edith Heaton passed away in 1972.
When the Toulon, Illinois native began farming in 1913 at the age of 23, we didn't have soybeans yet, even though he was a soybean farmer.
MERRITT HEATON -- OLDER THAN SOYBEANS AND ELECTRICITY
"They didn't have soybeans when I started farming. They didn't exist," he said. "They are a wonderful crop now." The changes in farming over the years have come gradually, he said, with the biggest innovation being the use of power. "When I started to farm you did everything with your back, shovel and spade," he said. "Now, it's just hydraulic." He noted how much easier it is was to be a farmer -- the machinery does most of the work.
He not only predated soybeans, he predated electricity too, something that provided big laughs on The Tonight Show.
It was in 1987 when Merritt Heaton was honored at the Illinois State Fair as the oldest active farmer in Illinois, something he began doing at the age of 23 in 1913.
Merritt Heaton passed away in April of 1989, just a little more than a year after his memorable national television appearance. Fans are still taking it all in; the Carson clip has more than 2 million views in just over five months.
JOHNNY CARSON'S INFLUENCE
I can see, watching Johnny Carson, why he is the prototype for all the late night talk show hosts we have today. It started with Carson; went directly down to David Letterman; then branched from there into the hosts we have today.
Would we ever see a segment like "the oldest working farmer in Illinois" or the "Potato Chip Lady?" I don't have the answer to that, and maybe fans of the current late-night series wouldn't be into it.
But I would certainly give it a shot.
These 15 Small Towns In Illinois Have Some Odd-Sounding Names
PHOTOS INSIDE ABANDONED RETRO ILLINOIS DINER
17 Illinois Properties Currently Being Sold For More Than $10 Million
So, let's pretend that you've just become Illinois' newest billionaire. You want to buy up all the Illinois residences that currently list for $10 million or more. How many places to sleep will you end up with and how much will it cost? Let's take a look.