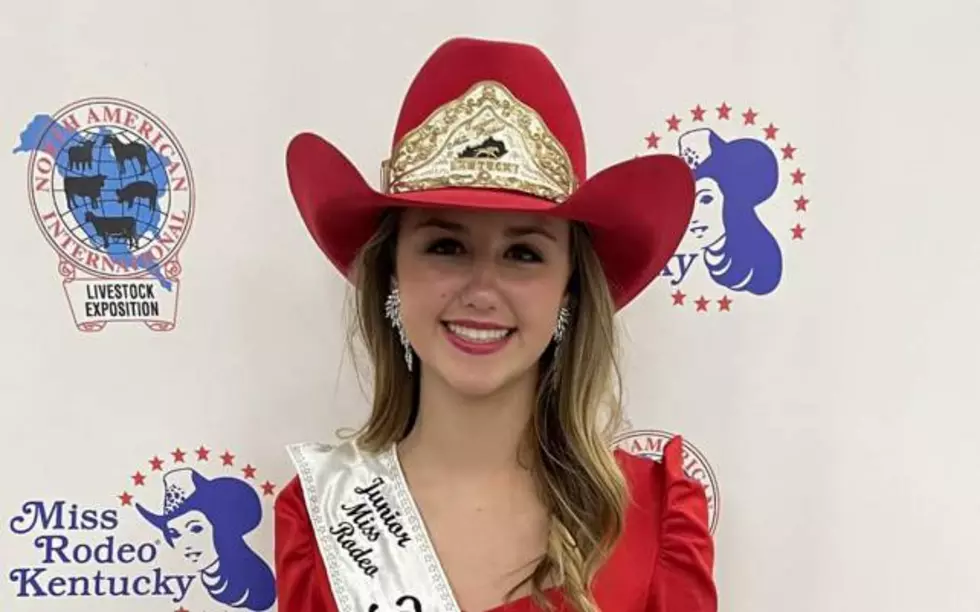 Owensboro Girl Crowned Your 2023 Junior Miss Kentucky Rodeo
Jaclyn Graves Cecil
"Intense!" That's how Jaclyn Graves Cecil described Day One of the 2023 Junior Miss Kentucky Rodeo pageant in Louisville. Jaclyn, a former air personality at WBKR-FM in Owensboro, is no stranger to the pageant circuit. She grew up in it. Her mother Janet was a pageant coach (she coached a Miss America, by the way) and had Jaclyn in pageants and youth talent shows for much of her childhood. There's no doubt the circuit is in Jaclyn's blood. Now, it's in her daughter Carsyn's too.
Last week, the mother/daughter duo made the trek an hour-and-a-half northeast to Louisville for the Junior Miss Rodeo Pageant. Carsyn, whose dad Brian is a farmer on the west side of Daviess County, loves horses and, a few years ago, started competing in junior rodeos.
This was her first time competing in a junior rodeo pageant. Her first time was the proverbial charm. She won!
Carsyn is now officially your Lady-in-Waiting. She is Junior Miss Rodeo Kentucky 2023!  Next year, Carsyn will have the opportunity and privilege of wearing the crown and representing at local and statewide rodeos and agricultural events.
The 2023 pageant was held in Louisville from November 10th through the 12th. Parts of the pageant were held on the grounds of the Kentucky Fair and Exposition Center in conjunction with the North American International Livestock Exposition. Jaclyn says Carsyn had to be "dressed and rodeo queen ready" by 8am each day and those days were long. Jaclyn says each day ended around 11pm.
Contestants in the Junior Miss Rodeo Pageant are judged on Horsemanship, Knowledge & Presentation and Appearance. While the pageant indeed was, Carsyn certainly didn't act like this was her "first rodeo." She careered it. The Owensboro 8th grader won the overall title, Miss Congeniality, Most Photogenic and the Rising Star Award. She was also named the Program Ad Sales Winner!
Carsyn appeared on the WBKR morning show to talk about her big weekend and the experience of being crowned Junior Miss Rodeo Kentucky 2023.
We also want to give a shout out to Morgan Askins, from Rockfield, Kentucky. That's Morgan on the cover of Carsyn's Miss Rodeo Kentucky souvenir program.
Morgan is the current Miss Rodeo Kentucky and is headed to Las Vegas in a couple of weeks to compete in Miss Rode America.
Who knows? Maybe our Lady-in-Waiting will someday do the same.
History Made: First Daviess County Miss Representative To Win A State Fair Title
History was made this weekend in Louisville. Lauren Wallace is the first representative from Daviess County to win a State Fair Pageant title and we are so proud.