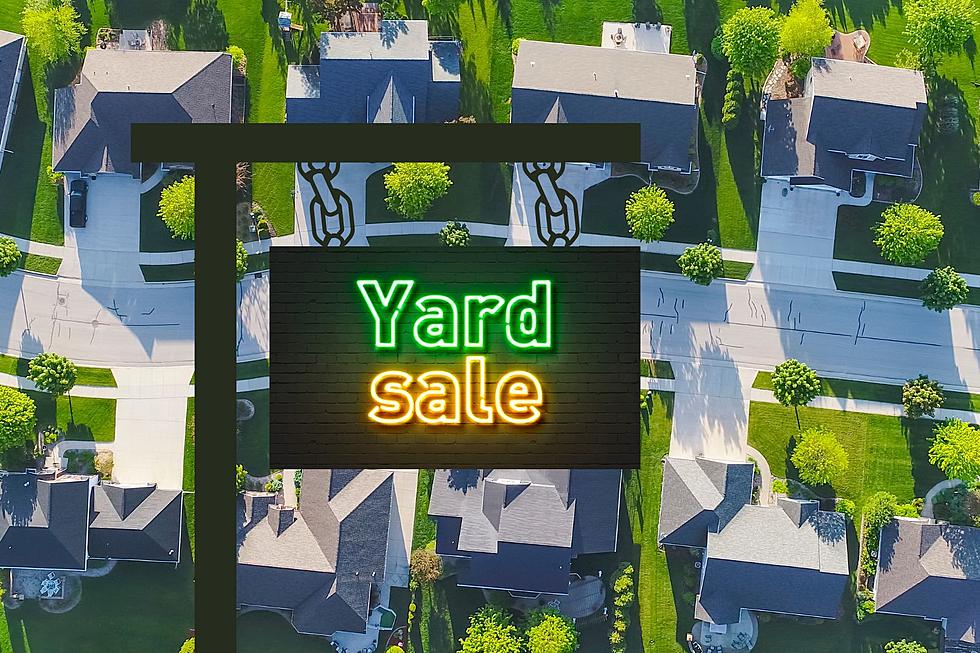 Bargains Galore! Owensboro Weekend Yard Sale Guide | 7/28-7/29
CANVA
Yard sale season is in full swing! It's time to hit the yard, garage, estate, and neighborhood sales. You can pick up high-quality children's clothing for back-to-school. Or, treat yourself to a like-new handbag. Where are the yard sales happening around town? We've got your map with the details.
Let us know if you're having a sale! We'll add it to the list.
Owensboro Weekend Yard Sale Guide | 7/28-7/29
You'll find thousands of lightly used clothing, toys, books, shoes, and accessories at yard sales all over Owensboro. It's a hunting ground for bargain lovers. Tons of great treasures will be priced to sell. Happy hunting.
Habitat for Humanity of Owensboro-Daviess County Summer Warehouse Sale
When: July 29th (Saturday only)
What time: Starting at 8 AM
Where: 2930 W. 4th Street, Owensboro, KY
100% of all proceeds raised at the Warehouse Sale will go to purchasing building supplies to continue the nonprofit's mission of building affordable homes in partnership with families and individuals in need of a place to live. Due to rising costs of building supplies, the costs of building new homes are at an all-time high.
2531 W 2nd st. Owensboro ky 42301
Lots of girl clothes 12 months to 2t. women's and men's clothes large up to 3xl
kids' toys, shoes, treadmills, furniture, and other miscellaneous items.
Steeplechase Neighborhood this weekend!!
July 28-29 7 am!!
1027 Oglesby St. in Owensboro
Thurs/Fri/Sat 8 am-4 pm
Yard Sale
Thursday, July 27th- Saturday, July 29th! Opening at 7 AM-?
2508 French St. follow the signs!
We will have lots of household essentials, home goods, tools, mowers, weed eaters, blowers, hunting stuff, and lots lots more! There are lots of $1 items!
Yard Sale
Address: 822 East 15th Street in Owensboro.
July 27th. 7 am- 3 pm.
Baby clothes, stereo, Wii system, Nintendo ds lite with games. Too much to list...
2101 York Drive
Fri & Sat 7 am to?
Baby Items, tools, outdoor furniture, and more!
Yard Sale Saturday, July 29th
Farmview Drive 6 am-?
Tons of clothes; boys. Girls. Juniors clothes
Bathing suits, shoes, DVDs, printers & TONS more. Everything needs to go.
Brownies & cookies are for sale too.
Sat, Jul 29, 2023 - 7:30 am - 3:00 pm
7763 W 300 N, Richland, IN
Lots of stuff! John Deere & Tonka toys, Harris gauges, cutting torch, lots of tools, screws & misc, fishing stuff, brand new replacement window, Colts memorabilia, household items, pictures, outdoor metal chairs, kitchen chairs, men's & women's jeans, outdoor rug, blankets, quilts, dishes, bar stools, sectional, Coleman stoves & lanterns, leaf blower, clothes & shoes, Christmas galore & much more misc stuff!
1801 Fieldcrest Dr.
Many rare finds!
Friday, July 28th, 8 am- 4 pm, Sat., July 29th, 8 am- 4 pm, Sun., July 30th, 12 pm- 4 pm.
2316 Veach Road, Owensboro
Saturday @ 7 AM
Megan and a couple of friends are moving and downsizing their items. Come by and help us lighten our load while getting some cool, cheap stuff for yourself. -decor -toys -plus-sized clothes -kitchen items -camping gear -furniture -household items -Christmas decor -and more!!
Yard Sale
Friday 7/28 and Saturday 7/29 from 8 am till ???
1435 W. 12th Street behind the Sports Center.
734 Walnut Park Drive in Owensboro
Fri/Sat 7 am-12
2103 Dickey Dr.
Owensboro, KY 42303
Friday, 12 pm- 4 pm Saturday, 8 am- 3 pm Sunday, 12 pm-4 pm
Yard tools, ladders, toolboxes, beds, kitchen & cookware, dishes, glasses, home decor, Lefton Village Collectibles, wheelchair & much more!
Fri, Jul 28, 2023 - 7:00 am - 1:00 pm
Sat, Jul 29, 2023 - 7:00 am - 1:00 pm
2401 Westchester Dr, Evansville, IN
Children's clothing, adult clothing (lots of Alfred Dunner), Antiques, Household items, Lots of Christmas and fall decorations, baskets, and baby items.
8295 KY 144
Philpot, KY 42366
FRI & SAT, JULY 28TH & 29TH 6 AM-1 PM
TOYS, BABY EQUIP, BABY/KIDS/WOMEN'S/MEN'S CLOTHING, SHOES, HOUSEHOLD AND SEASONAL.
Fri, Jul 28, 2023 - 7:00 am - 12:00 pm
Sat, Jul 29, 2023 - 7:00 am - 12:00 pm
10044 Marquette St, Newburgh, IN
Ariens 42"/17.5 HP riding lawnmower, Schwinn 26" girl's bike, butcher block table, inversion table, extension and 5 1/2' ladders, collectibles, lawn equipment, tools, tripod, digital cameras, Bushnell spotting scope, pictures, outdoor lawn chairs, beach umbrellas, microwave cart, office supplies, puzzles, pet supplies, many household and kitchen items, seasonal decorations, winter coats (man & woman size L).
1435 W. 12th St
July 28 & 29, 8 am to?
Brand new toys, lots of miscellaneous.
Our neighborhood (Kenosha Hills Subdivision) is having a garage sale in addition to ours on Saturday from 7 AM - 12 PM.
Fri, Jul 28, 2023 - 7:00 am - 2:00 pm
Sat, Jul 29, 2023 - 7:00 am - 2:00 pm
1435 Sandalwood Ct, Evansville, IN
Single Family Yard Sale, sporting goods, home items, electronics, boys and girls clothing.
HUGE UPCOMING HIGHWAY YARD SALES: SAVE THE DATE
127 Yard Sale
August 3rd through August 6th
Hwy 505 Yard Sale
August 4th and 5th
East 80 Yard Sale
August 31st through September 4th
Hwy 54 Fall Yard Sale
September 14th through September 16th
Highway 60 Yard Sale
October 5th through October 8th
U.S. 25 Yard Sale
October 6th and 7th
Top Owensboro Mexican Restaurants Based on Google Reviews
Whether you like fajitas, tacos, tortillas, or enchiladas, there are many restaurants to choose from in Owensboro. Mexican cuisine has such a delicious blend of spices, seasonings, and fresh ingredients, it shouldn't be a surprise it's so popular. It isn't just about the food but also the decorative ambiance and experience. Here are the most popular spots for authentic Mexican food in Owensboro,
based on customer/google reviews
.
The Top-Rated Kentucky Attractions According to Trip Advisor
According to Trip Advisor's user ratings, these are the most popular attractions in Kentucky. You'll see a lot of bourbon, caves, and horses...as expected.