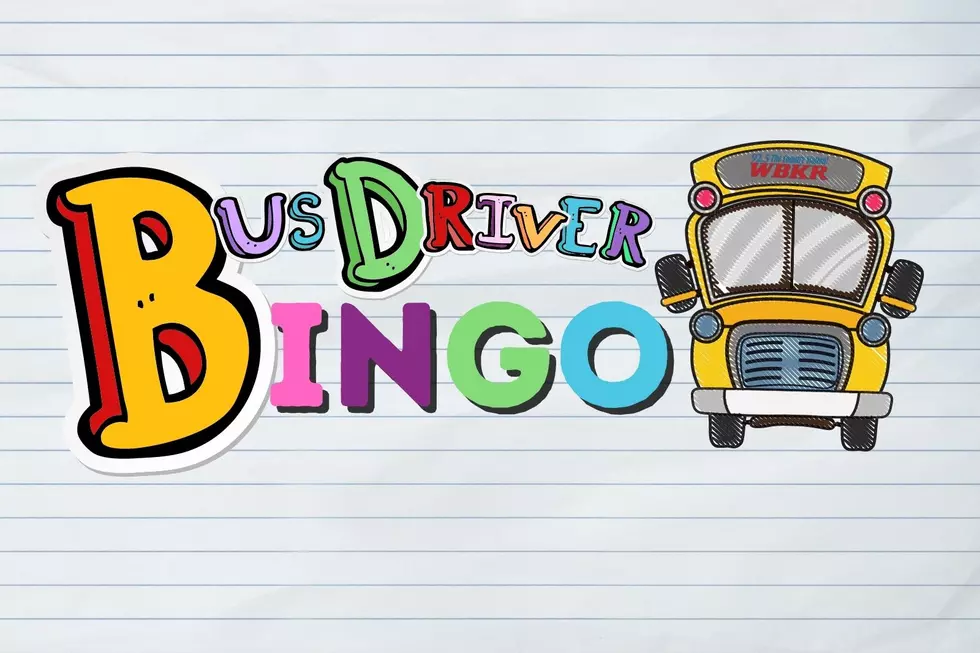 You Could Win a Trip to Florida Playing Bus Driver Bingo on WBKR
CANVA
Here at WBKR, we are teaming up with the Holiday Inn Resort in Panama City Beach, Florida for a brand new contest.  It's called BUS DRIVER BINGO and the fun gets underway on Thursday, May 5th.  Last week, we asked our WBKR Facebook friends to give shout outs to their favorite drivers.  We took a bunch of those driver names and made BINGO cards out of them.
Now, that the hard work is complete, the fun begins!  We'll be shouting out some of the most popular bus drivers in the tristate and they could, potentially, win you a 3-day, 2-night stay at the Holiday Inn Resort PCB, our favorite "cruise ship on land."
But, first thing's first. You need to download your official BUS DRIVER BINGO cards!
You will play ALL FOUR CARDS AT THE SAME TIME and the cards will NOT reset after Game #1.  These cards will be in play the entire length of the contest.
For an insider tip, listen to this!
Now that you've seen (and hopefully downloaded or taken a screenshot of) the BUS DRIVER BINGO cards, here's how to play!
BUS DRIVER BINGO: Official Contest Rules
CONTEST PERIOD:
Weekdays- Thursday, May 5th through Friday, May 27th, 2022.
HOW TO PLAY:
Listen each weekday at 9:25am, 12:25pm and 5:25pm.  At each time listed, we'll shout out the name of a local school bus driver, their bus number and the school system he/she drives for.  When you hear that name shouted out, mark it off on your BUS DRIVER BINGO CARD.  Cue daubers and troll dolls! There will be four BINGO games contested and all cards are in play for each game.
**Special note: Do NOT clear your cards after someone wins BINGO. We can't stress this enough.**
HOW TO BINGO:
There will be four winners total in BUS DRIVER BINGO.  Here are the games (in order) that will be contested.
GAME #1: POSTAGE STAMP BINGO
**PRO TIP: The Postage Stamp can be in ANY CORNER of the BINGO Card.
GAME #2: SIX PACK BINGO
PRO TIP: The Six Pack can be any group of six spaces ANYWHERE on the BINGO card and can include the Free Space.
GAME #3: STRAIGHT LINE BINGO (No Free Space)
PRO TIP: The Straight Line can be vertical or horizontal ANYWHERE on the Bingo card, but it CANNOT include use of the FREE SPACE.
GAME #4: BIG X
HOW TO WIN
When you think you have a BINGO, call the WBKR studio lines at (270) 926-9257 or 1-800-844-9257.  The first person to call in and yell "BINGO!!" will be declared the winner- if indeed they have a correct BINGO on the correct BINGO card.
WHAT YOU COULD WIN
Four separate winners will claim a 3-day, 2-night stay at the Holiday Inn Resort in Panama City Beach, Florida.
**Winners are responsible for applicable taxes and fees.
Family Fun Things to Do at the Holiday Inn Resort PCB
Here at WBKR, we have a really fun partnership with the Holiday Inn Resort in Panama City Beach, Florida. Throughout the year, we have several opportunities for you to win trips to PCB and enjoy the resort. Here are some of the highlights of this "cruise ship on land"!
Also, fun additional note. The WBKR staff may, at their discretion, choose to share an update during the game.  That update, if posted, will be shared on WBKR.com, via the WBKR app and the WBKR Facebook page.  The update, which will include all the bus driver names shouted out to date, will give players the opportunity to get caught up in the action. Again, this will be at the discretion of the WBKR staff and may or may not occur.  If it does, it will only happen once.  
TOWNSQUARE MEDIA GENERAL CONTEST RULES
Winner must comply with all of the rules of the Contest, including, but not limited to, any restrictions on age and/or residency, and have not committed any fraud or deception in entering the Contest or claiming the Prize.
The winner must affirm and represent that he/she is not an employee or agent of the Station or any sponsor of the Contest and is not a member of the same household of any such employee or agent.
In consideration of the receipt of the Prize, the winner agrees to be solely responsible for any and all taxes and/or other fees, including, but not limited to, any federal state or local income taxes, that are or may become payable as a result of participating in the Contest and/or receipt of the Prize.
The winner agrees to allow the Station and/or its designees the right to use winner's name, likeness, portrait, recorded voice and/or biographical material for an unlimited period of time in order to advertise, promote or publicize the Station and/or the products and services of any of its designees.
The Station is not the manufacturer or distributor of the Prize. With respect to any claims that the winner may now have, or that he/she may subsequently acquire as a result of the possession and/or use of the Prize, the winner acknowledges and agrees that he/she shall look solely to others in the chain of production and distribution of the Prize to the exclusion of the Station and any sponsors of the Contest.
The station makes no warranties of any kind with respect to the prize, including, but not limited to, any warranties of merchantability or fitness for a particular purpose. Station hereby expressly disclaims any and all such warranties.
The winner expressly releases the station, and any sponsors of the contest, and their respective officers, directors, agents, parent companies, subsidiaries and employees, from any and all claims, demands and/or causes of action of any nature or kind whatsoever, whether presently known or unknown, foreseen or unforeseen, that he/she may have, or may subsequently acquire, as a result of participating in the contest and/or receipt of the prize.
No purchase is necessary to participate in or win WBKR-FM contests. Contests are void where prohibited by law.
Employees of Townsquare Media, Inc., their affiliates, subsidiaries, advertising and promotion agencies, vendors and their immediate family members and/or those living in the same household of each are not eligible.
The station is not responsible for telephone system or internet failure, or other inability of entrants to enter due to technical malfunction. This station is not responsible for lost, late or misdirected mail or for printing errors. No mechanically reproduced or completed entries will be accepted.
Listeners are only eligible to win every 30 days.
All federal, state and local taxes apply and are the sole responsibility of the winner.