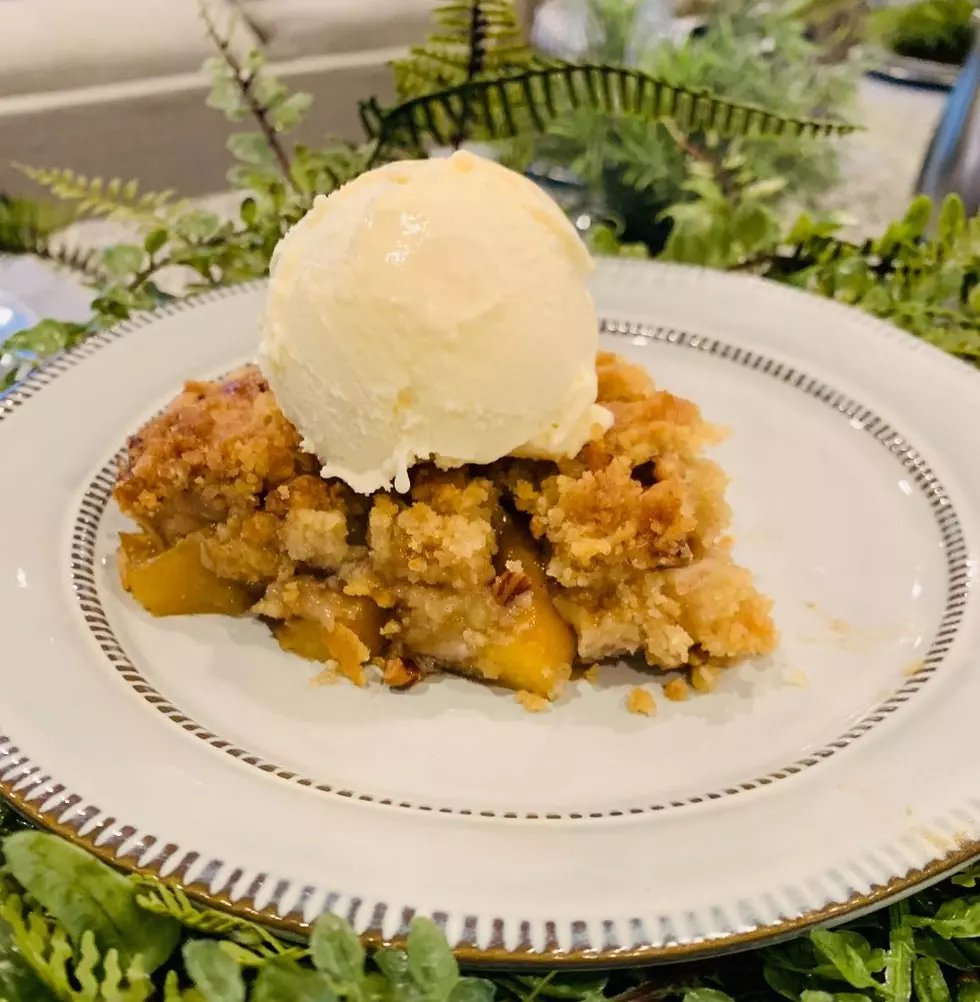 This Delicious Peach Pie Recipe Will Win Your Kentucky Derby Party
Patty Millay
The 148th Run for the Roses is coming up on Saturday, May 7th.  While a lot of my friends are making the trip to Churchill Downs to watch the Kentucky Derby live, I have various other friends who are planning to host parties at their homes. One of those friends is my friend Patty Millay, who knows how to throw a sports-themed party and knows, even better, how to spoil her guests with delicious party foods.
For this year's Kentucky Derby, Patty is baking up a recipe that sits at 2-1 odds for winning over your party guests. She's serving up a Derby Peach Pie!  LOOK. AT. THIS!
Here's how to make it!
From Patty:
It's May in Kentucky and that means Kentucky Derby Time!  I LOVE all things Derby!  I love the horses, the pageantry the hats, the food, the roses, I love it ALL!  We always have a derby get together at our house and this year is extra special as our niece turns 21 on Saturday (Happy Birthday Em).  I've done the traditional Derby pie far too many times so I was searching for something different for this year. When I found this recipe the title was ridiculously long...Maple Bourbon Brown Sugar Peach Pie!  I had to rename it so I could say it - Derby Peach Pie!
THE FILLING
3 lbs Peaches, ripe (6 good size peaches)
2 tbsp Cornstarch and 1 1/2 tbsp Flour OR 2 Tablespoons of Tapioca Pudding
1/4 cup Maple syrup
1/2 tsp cinnamon
1/4 tsp salt
Pinch Allspice
1/2 cup granulated sugar
1/4 cup maple syrup
3 Tablespoons bourbon
1 Tablespoon water
THE STREUSEL
1/3 cup chopped pecans
1 stick of butter
1 cup flour
1/2 cup granulated sugar
3 Tablespoons dark brown sugar
1/4 teaspoon salt
Pinch cinnamon
Pie crust of your choice.
(Refrigerated or frozen - if you make your own, you have more time than Patty does.)
DIRECTIONS:
Place the pie crust in your pie pan and fold the excess, overhanging dough underneath, so the pie is now the size of the pan.
Crimp the pie crust by making a "V" or pinching shape with your thumb and forefinger on the outside of the crust. Then, using your other pointer finger, push the crust from the inside to fit in between the V-shaped fingers. Continue all around the crust.
Refrigerate for another 30 minutes.
As you wait for your crust to cool, make the filling.
Peel and slice the peaches, and then toss in a large bowl with the cornstarch, flour, cinnamon, salt, and allspice.
Preheat oven to 350 degrees F.
In a small, heavy-bottomed saucepan over medium-high heat, combine the sugar, maple syrup, bourbon, and water. Stir JUST UNTIL  sugar dissolves and then let come to a boil. Resist the urge to stir while it boils. Swirl the pan occasionally to make sure the caramel is browning evenly, but DO NOT STIR.
Once the caramel turns an amber color, remove from heat and add in the butter, swirling the pan until the butter completely melts.
Pour the caramel over the peaches and mix well. Pour the peach-caramel filling into the prepared pie shell and place in the refrigerator once more.
Sprinkle the pecans on a baking sheet and toast for 5 minutes. Remove and set aside until cool enough to handle, then chop.
In the same small, heavy-bottomed saucepan you used for the caramel, melt a stick of butter over medium heat, stirring frequently. Cook until the butter turns golden-brown. Set aside.
Whisk together the 1 cup plus 2 tablespoons flour, 1/2 cup sugar, 3 tablespoons dark brown sugar, 1/4 teaspoon salt, and pinch of cinnamon. Mix in the pecans. Drizzle over the browned butter (which now should be slightly cooled) and mix until crumbs form.
Crumble the streusel mixture on top of a rimmed baking sheet and place in the refrigerator for 15 minutes.
Preheat the oven to 425 degrees F.
Remove the filled pie pan and the streusel from the refrigerator. Sprinkle and crumble the streusel over the pie filling until the pie filling is completely covered. Cover the pie crust with foil and put in the oven for 15 minutes. Make sure to put a baking sheet underneath, as it WILL bubble over and make a mess!
Remove the foil, reduce heat to 350 degrees F, and cook for an additional 30-40 minutes. The crust should be golden brown and the caramel should bubble when the pie is ready.
Cool for at least 3 hours.
**Pro Tip from Patty: DON'T EVEN THINK ABOUT SLICING THAT PIE WHEN IT COMES RIGHT OUT OF THE OVEN! It will wind up a gooey mess.**
After cooling for at least 3 hours, slice and serve with vanilla bean ice cream.
Another Pro Tip from Patty: This recipe is detailed and has several refrigeration steps but you can get so many other things done while this recipe chills. 
Of course, if you're looking to serve a fun beverage at your party, THE Kentucky Derby staple is the Mint Julep. Here's how to make it!
What's Cookin'? is sponsored weekly by Kentucky Legend. For some tasty recipes featuring Kentucky Legend Ham, CLICK HERE!
20 Foods That You Don't Have to Refrigerate
You may be surprised to learn that these commonly refrigerated foods don't need to be at all. This is great information to know if your heading on a road trip, to a campground, or you need more room in the fridge.