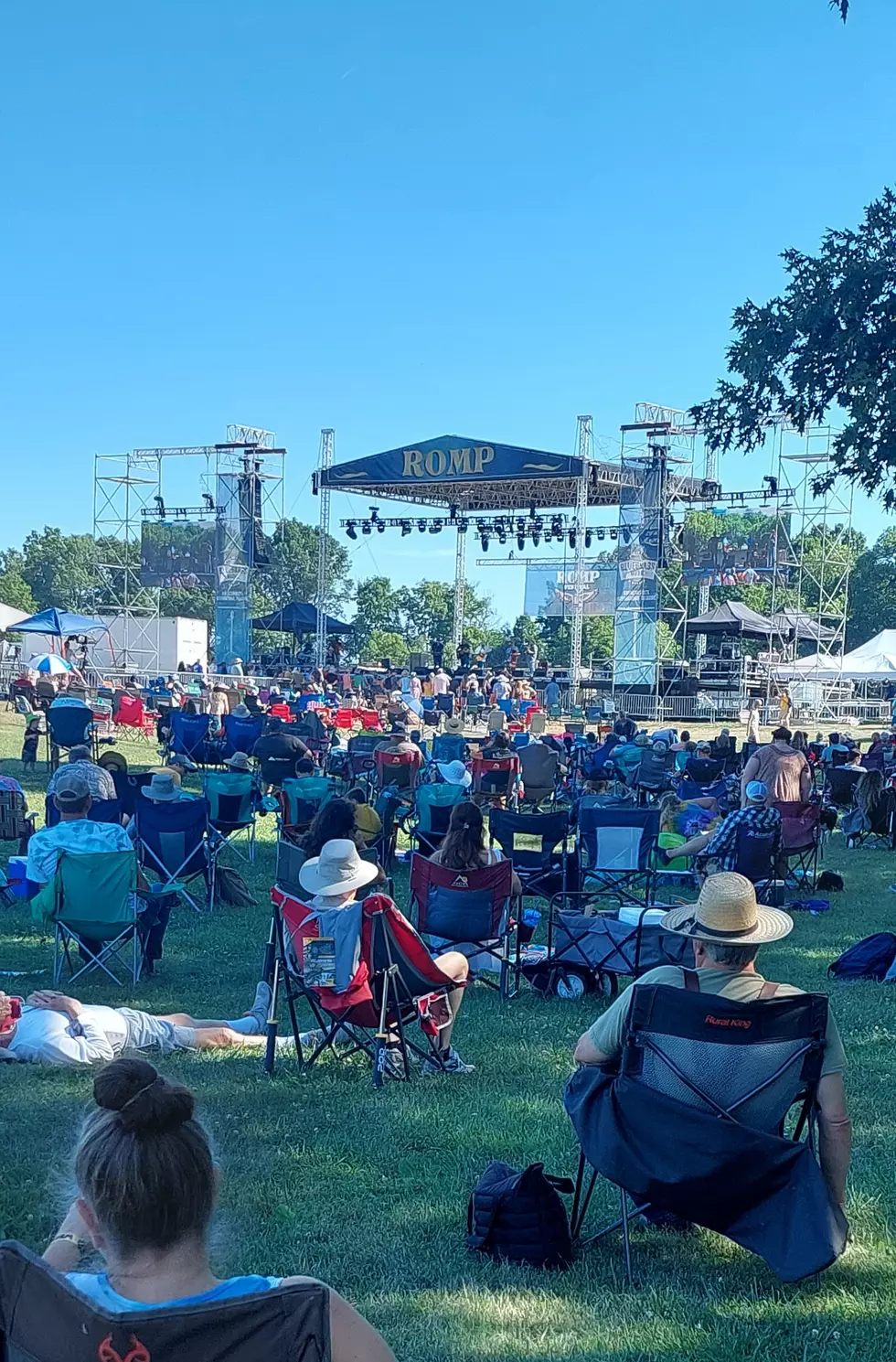 Did You Know People Travel From All Over the World to See ROMP?
Isaac Gray
As you probably know, the famous ROMP bluegrass festival opened at Yellow Creek on Wednesday the 22nd with a great lineup and thousands of visitors ready to sit back and listen to some great bluegrass music. Though much of the crowd I talked to was from the local Kentucky area, I found multiple people from out of state and even heard about people from London, Japan, and even Australia. I wasn't lucky enough to come across any foreigners in my walk around the festival grounds. However, I did meet many amazing people from out of state that traveled many miles and many hours to get here.
The Lewis Family from Missouri
As I began my ROMP experience, I was walking through the crowd in front of the main stage and saw a family who just didn't seem like they're from Kentucky. My instincts quickly proved right whenever Larry, Dani, her 1-year-old Lincoln, and Kim Lewis said they're from Missouri. The family traveled together in their RV a total of 400 miles and 7 hours on the road in order to experience the bluegrass ROMP experience. So what inspired them to travel 400 miles for ROMP, you might ask? Well, they were watching TV one afternoon and saw their favorite bluegrass performers promoting ROMP, looked up the festival, and made their way down for the 4-day festival.
The vendor booth filled with workers traveling the midwest
If you've been to ROMP this year, then you've definitely seen the "Greasy Mother Clucker" vendor booth selling anything and everything chicken and delectable sides, all of which are made from scratch. Everyone working this booth is traveling with the booth's owner, Amanda Gibson, originally from Arkansas. They traveled to ROMP together from a Flow Arts festival in Harrodsburg Kentucky last week. For them, it was the lineup that had them traveling to ROMP.
A Die-Hard Bluegrass Festival-goer
Walking down the side road back towards the vendors, I met with Judy Coho from Illinois. Judy is a sweet lady who loves to travel the country going to bluegrass festivals with her husband quite often. This is her first year at ROMP and ever since she stepped foot in the gate, the atmosphere the volunteers created was astounding and set the mood for the festival. Judy said they found out about ROMP from looking at one of their favorite bluegrass artist's tour dates, Rhiannon Giddens, and seeing she performed at ROMP this year so she and her husband decided to come. On top of the music, they're most excited about the BBQ they've heard so much about.
The Band Member From Ohio
Walking to the back of the festival towards the Jagoe Homes After Party Stage, I was lucky enough to catch a bass player, JD Thomas, from the band Dark Moon Hollow before they went out to the main stage to watch some bands perform before their late-night set. JD drove 4.5 hours from Ohio to perform on the Thursday night of ROMP on the After Party Stage. Dark Moon Hollow was invited by ROMP to come out and perform. With most of the band being from Kentucky, JD was the outsider being from Ohio who originally hears of the festival from another band, String Therapy.
If there's anything I learned in my interviews with multiple groups and people is that bluegrass fans are dedicated to the music and absolutely love the diversity ROMP brings to the genre.