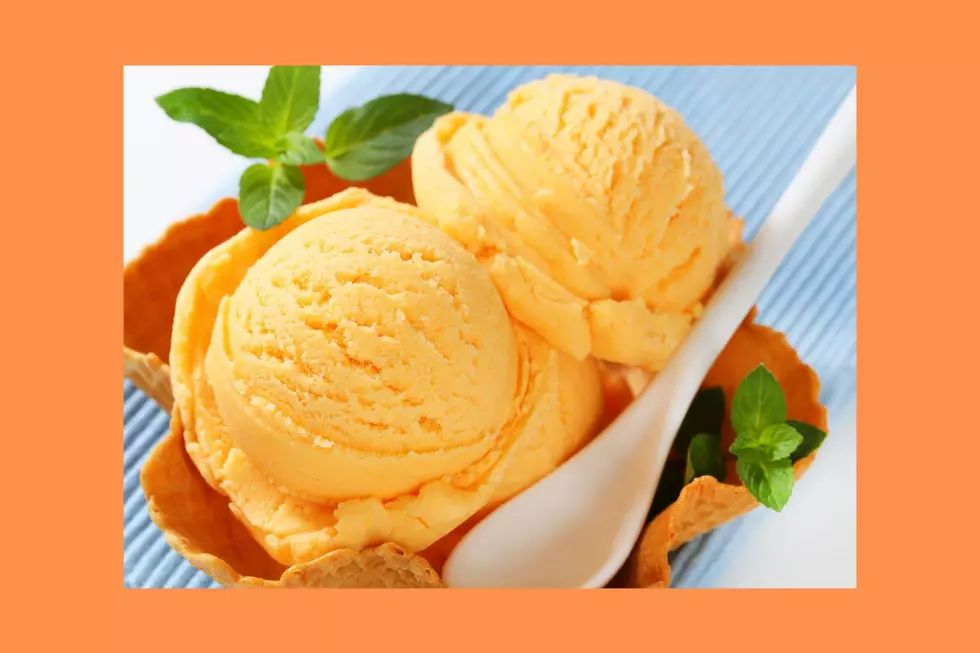 Easy Three-Ingredient Orange Sherbet You Can Make In Less Than 30 Minutes [RECIPE]
CANVA
Homemade ice cream has to be one of the best treats ever.  If you love ice cream you're gonna love this easy and delicious Orange Sherbet recipe.
HOMEMADE ICE CREAM REMINDS ME OF GROWING UP
Summertime was always my favorite growing up.  I got to spend a lot of time at my grandparent's house.  My granddaddy used to always make homemade vanilla or banana ice cream.
It was always on a Sunday afternoon after church and we couldn't wait to get home and have lunch because we knew we were going to get the most special treat.  We would gather around and just watch it spinning round and round.  It felt like it took hours but now looking back it wasn't actually all that long.
LEARNING HOW TO MAKE HOMEMADE ICE CREAM IN MINUTES
My granddaddy passed away before I could learn how to make his famous homemade ice cream but my boy's pepaw taught me how to make a 3-ingredient Orange Sherbet that was absolutely amazing.
My momma knew I loved homemade ice cream and the summer before she passed away she found an ice cream maker at a garage sale for $1.50.  It was super cute and hot pink.  I loved that thing and used it for about 10 years before it gave out on me.  I inherited my husband's Papaw Henry's ice cream maker a few summers and plan on using it a lot.  I also found another one just like the one momma got me and have used it several times.
HOW TO MAKE HOMEMADE ORANGE SHERBET
Here's a little secret, if you don't like the Orange flavor you can make this with any soda flavor you want. It doesn't even have to be a name brand. You can use generic brands and they work just the same.
What you will need:
1 2 liter of Orange Soda (I use Sunkist or store brand either works)
1 Can of Sweetened Condensed Milk (any brand)
1 Can of Crush Pineapple (OPTIONAL)
Rock Salt
Ice
Ice Cream Maker
Open Ice Cream Drum and pour in the entire 2 liter of Orange Soda
Add Sweetened Condensed Milk
Add Crushed Pineapple (optional)
Close Drum
Add ice to the outside of the drum
Sprinkle Rock Salt over ice
Start the machine and watch closely.
As the ice melts add ice and rock salt
It should take about 30 minutes when ice is added properly. When finished, scoop into bowls and enjoy!
If you love simple recipes you have to try my homemade Strawberry Brownies.
See the recipe below!
How To Make The Most Delicious Four-Ingredient Strawberry Brownies EVER (RECIPE)
These are the most delicious brownies you will ever eat!