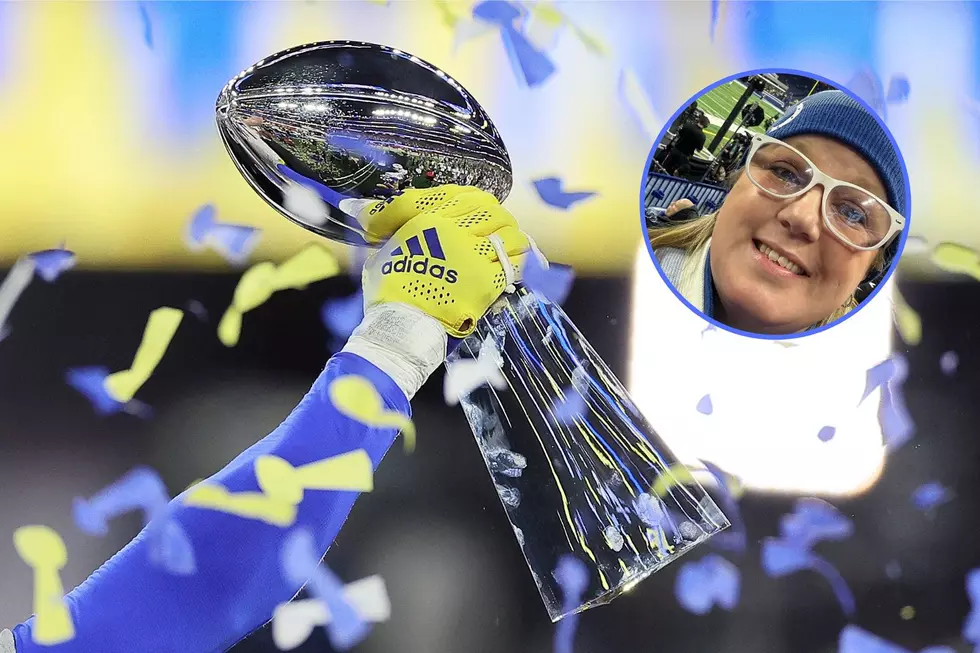 Evansville Woman Scores Super Bowl Tickets from Indianapolis Colts Owner
Getty Images / Canva
Like me, Niki Lynn of Evansville is a die-hard Indianapolis Colts fan. Unlike me, she wasn't on the verge of burning every piece of Colts apparel and merchandise she owned after watching the team flounder every week through an agonizingly painful season. Also, unlike me, she is going to Glendale, Arizona on February 12th to watch Super Bowl 57 in person. And, she has Indianapolis Colts owner, Jim Irsay to thank for it.
Trivia Answer Scores Evansville Woman Super Bowl Tickets from Jim Irsay
Say what you will about Jim Irsay. He seems a bit on the eccentric side and sometimes his press conferences go a little off the rails (see: "Jeff Saturday Introduced as Colts Interim Head Coach"), and maybe, just maybe 😏, he meddled a bit too much this past season, but there's no doubt he loves the team and the fans who support it every year.
If you don't follow Mr. Irsay on Twitter, you should. As a massive fan of rock music, he'll sometimes tweet random lyrics for what seems to be no other reason than his own amusement or because he's a big fan of the artist who sings them and he just wants to share them with his followers. He's also known for using the platform to give back to the fans and communities around the state of Indiana. During the early days of the pandemic, he would often give away gift cards to his followers' restaurants of choice to support those establishments that were struggling. Sometimes the giveaway revolved around a trivia question, other times you entered by simply retweeting him. And we're not talking $25 or $50 cards. We're talking $500 and $1,000 cards like this tweet in April 2020.
To this day, he'll still regularly host contests through his account offering more gift cards, Colts single-game tickets, season tickets, and as Niki found out, tickets to the biggest sporting event of the year.
On Thursday, January 12th, Irsay posted this tweet, but unlike previous contest tweets, he didn't specify what the winner would receive. All he said was it was "a surprise prize."
Niki, who said she frequently replies to these types of tweets when Mr. Irsay posts them, tried her luck and gave him this answer.
Three days later, on January 16th, Niki received a notification that Irsay had tagged her in a tweet. She opened the app, and saw this:
As you can imagine, Niki was floored.
Since then, Niki has learned traveling to and from Glendale and finding a place to stay will be her responsibility, but as she told me through a series of Facebook messages, she doesn't mind. It's a small price to pay for what very well could be a once-in-a-lifetime experience.
And who will she be taking? Her mom, of course. And what will they be wearing to the game? Not anything representing whichever two teams will be playing for the Lombardi Trophy, but the gear of her favorite team, the Colts. I mean, when the owner gave you tickets, it's the least you can do.
Have fun, Niki!
TACKLE THESE: Check Out the Best Uniforms In Each NFL Team's History
LOOK: These Are the Richest NFL players
To uncover the richest NFL players,
Stacker
consulted
Celebrity Net Worth
and ranked them by their 2022 net worth, calculated using a proprietary formula.