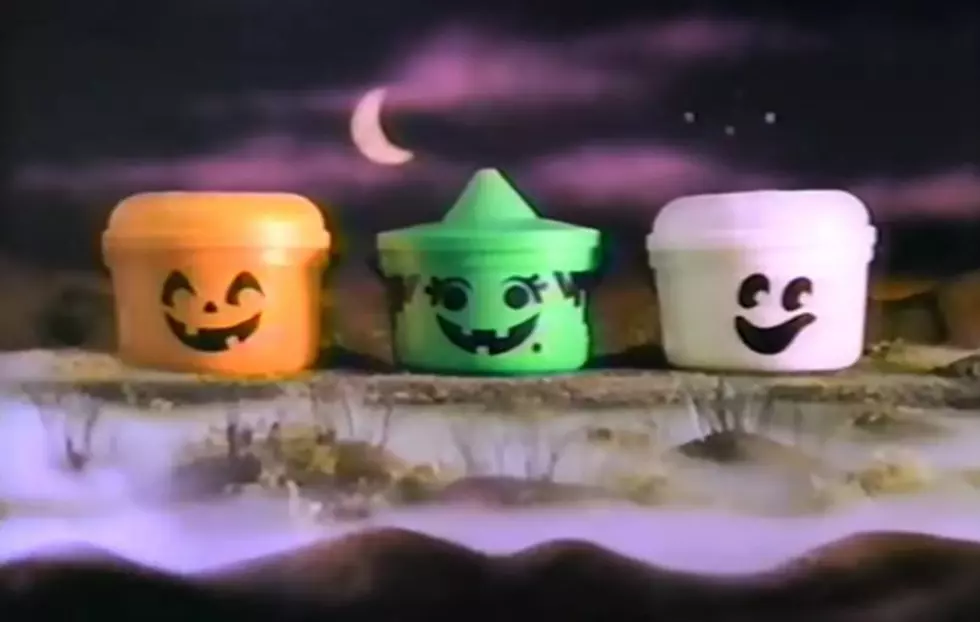 Are Halloween Happy Meal Buckets Really Coming Back This Year?
90s Nostalgia/McDonald's via YouTube
Internet rumors are swirling about the possible return of a Halloween classic. Is McDonald's really considering a limited time relaunch of the Halloween Happy Meal Buckets?
Remember these?
McDonald's first launched the buckets over thirty years ago (in the mid 80s to be exact) and, since that time, has brought them back in randomly selected years.  However, it's been a while since they've done it and Halloween lovers are getting the McAppetite for their return. The last time the Halloween Happy Meal Buckets were available in restaurants was back in 2016.
That said, recent articles have been popping up online suggesting that 2022 may be the year of their return. In fact, an article by Hip2Save makes reference to a leaked company calendar that indicates the buckets are going to be available starting October 18th.
And, this is hilarious! There's even a petition circulating on Change.org on behalf of Generation X. That petition, which has garnered hundreds of signatures, begs for their return.
Nino Hilton, who created the petition, says:
The people of our generation and beyond would like you to bring back the Halloween buckets. We would like to have a taste of the retro era where times were simpler, gaming was a boom and McDonalds was a must at every Halloween, simply for those happy meal buckets. 
By the way, if you would like to sign that petition, you can do so HERE!  Now, I'm not sure that's going to do much to move the needle, but it doesn't hurt, right? I mean, if we can all ban together and lobby for the return of McBoo, McGoblin and McPunk'n, it's worth a shot.
Of course, if McDonald's decides not to bring them back for 2022, you can get your fix elsewhere. The Halloween Happy Meal Buckets have inspired a full line of knock offs and bucket-inspired merchandise on Etsy.
LOOK: How Halloween has changed in the past 100 years
Stacker
compiled a list of ways that Halloween has changed over the last 100 years, from how we celebrate it on the day to the costumes we wear trick-or-treating. We've included events, inventions, and trends that changed the ways that Halloween was celebrated over time. Many of these traditions were phased out over time. But just like fake blood in a carpet, every bit of Halloween's history left an impression we can see traces of today.