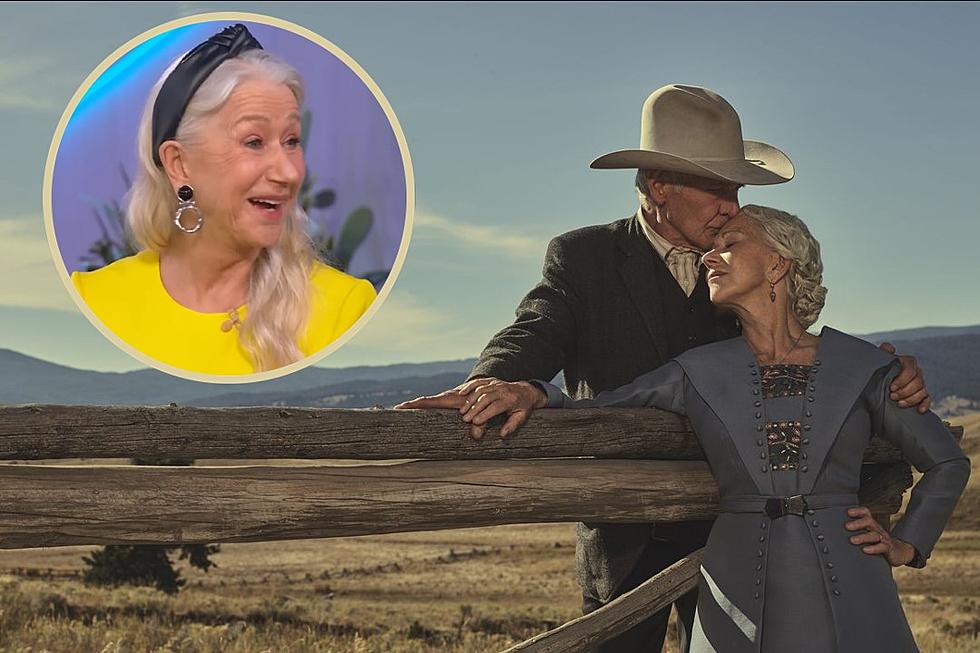 Helen Mirren Shops at the Local Walmart While Filming '1923'
YouTube / James Minchin III/Paramount+
Dame Helen Mirren — star of Taylor Sheridan's latest Yellowstone prequel, 1923 — says she shops at a local Walmart while filming the series in Butte, Mont.
"I know that Walmart very well," Mirren says during a visit to The Kelly Clarkson Show. "I know it like the back of my hand."
Clarkson is also very familiar with the same Walmart location, as she shops there when staying at her ranch in Montana. In fact, the host says she lives about an hour away, but it's the only place to get her groceries since her home is in such a remote location.
"I just love that you have walked the aisles of that Walmart," Clarkson says with a laugh.
Mirren was a guest on the show to promote her work on 1923 alongside Harrison Ford. The two play Jacob and Cara Dutton as they navigate the hardships of drought conditions, Prohibition and the beginning of the Great Depression. Mirren's character is Irish, which she says shines a light on history of Butte and immigration in the West.
"Butte, you know, has this amazing history — old mining town, as you know," she explains. "When you look at the history of Butte, there were people from Moldavia there, there were Welsh guys, there were Scottish people, there were Irish people, you know, people from the Basque region. So, that's what the West was like — all these accents and cultures and foods."
"So that's why I wanted to play her [Cara] Irish," she adds.
1923 premiered on Paramount+ on Dec. 18, 2022. Season 1 has already concluded, but Sheridan has revealed there will be a second season, unlike his previous prequel 1883, which starred Tim McGraw and Faith Hill and only ran for one season. Although a start date has yet to be announced, all signs point to a late 2023 or early 2024 premiere for 1923 Season 2.
Pictures: 1923, Episode 8: Nothing Left To Lose
Do pictures from 1923 Episode 8 find Spencer and Alex back in Montana? Also it looks like Father Renaud returns and there's reasons to bring out the fire arms on the Yellowstone ranch.