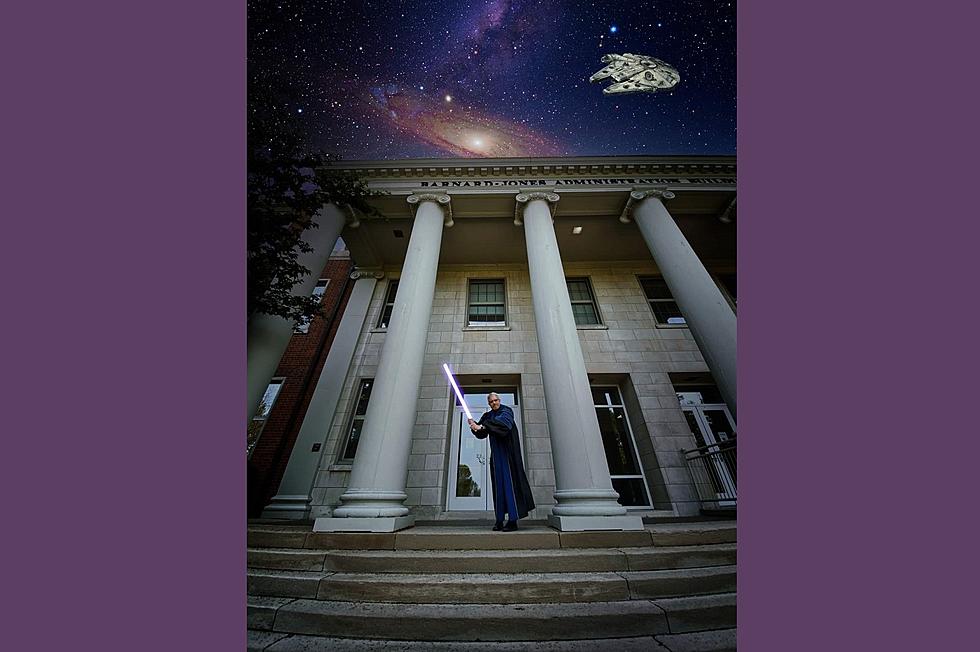 How Kentucky Wesleyan's President Celebrated May 4th, Star Wars
Kentucky Wesleyan College
One of my close friends is a band director, so I was already familiar with March 4th...you know, march forth. But, admittedly, it doesn't have as high a profile as that OTHER one.
I'm not sure if "May the Fourth Be with You" sprung up after the advent of social media, but it seems like that would have been the natural course. But social media has been REPLETE with Star Wars memes and scenes and movie posters every year on this day.
And like everyone else on Facebook, Kentucky Wesleyan College decided to celebrate, as well. And what a clever way to do it, as you can see.
So let's break it down.
I spoke with KWC's social media director Sydney Smith, who's been a creative force on the college's platforms since she came aboard. She told me she talked to Kentucky Wesleyan's president, Thomas Mitzel, about her Star Wars/May 4th idea for the college's Facebook page.
Since he still had his robe handy from KWC's recent commencement, it was a no-brainer to evoke Obi-Wan Kenobi, with a yardstick subbing for a lightsaber, which, of course, had to be purple.
The Millennium Falcon and outer space were photoshopped in, just in case you might have thought the ACTUAL Millennium Falcon picked the perfect time to hover over Owensboro.
So clever.
This day always reminds me of the first time I saw Star Wars. I was 12 years old and went with my sister and her friend and her friend's brother. We got to the Mall Twin Cinema a little late and couldn't sit together.
I ended up in the front row. So when that opening narrative came onto the screen, it felt like it was going right up my nose. Just as the Millennium Falcon, the Death Star, and any number of Stormtrooper fighters did.
Happy May 4th and, of course, may the fourth be with you.
CHECK IT OUT: The Best Movie Character Names of the 1980s