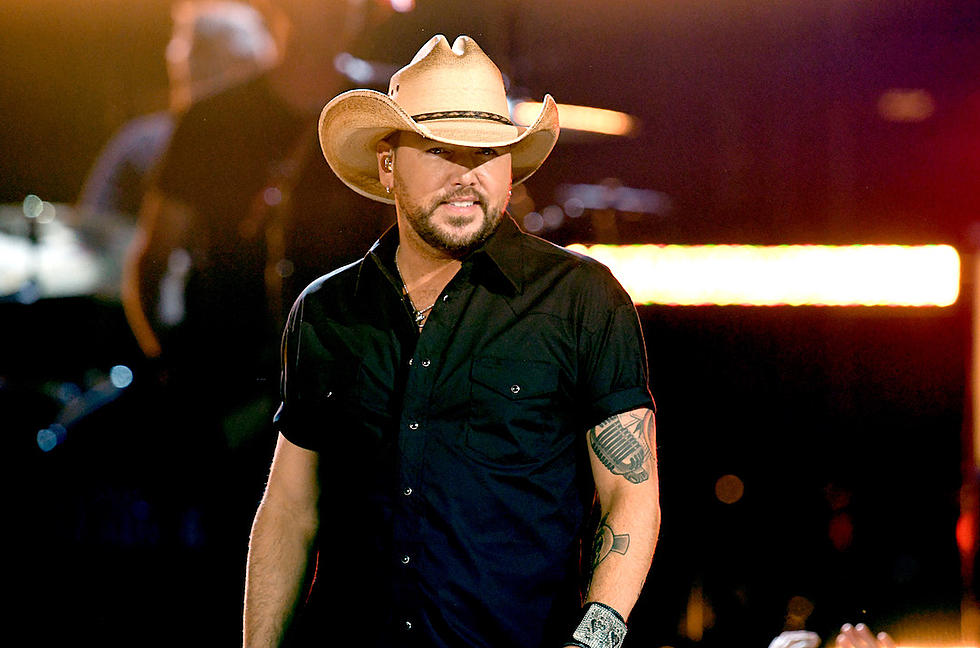 Jason Aldean's Next Album Should Be 'Done Completely' Very Soon
Kevin Winter, Getty Images
Jason Aldean's been a busy guy, getting adjusted to life with two young children and keeping his music career rolling, but he's almost got his next project complete. When he spoke with media members at a party in celebration of his newest No. 1 single, "Girl Like You," in mid-May, the country superstar said he'd just finished laying down vocals for the new record and had sent it off to be mixed.
"The album's great," Aldean says (though he admitted in the previous breath that he felt "like a clown right now, juggling everything"). "It's, for the most part, [done]. It should be done completely probably within the next month."
While Aldean's growing family and hectic work schedule have made free time scarce, one thing did make the recording process a little bit easier this time around: As he and his wife Brittany built their family's new home, they moved into an apartment -- which happened to be across the street from the home (and in-home studio) of the engineer recording his vocals.
"It actually worked out perfect," Aldean says. "I [could] kinda be right there at the house."
"It's just kinda like one thing after the other, but its fun," he says. "I like feeling like I'm accomplishing something and doing something. If I sit at home too long … I start going a little stir crazy."
All his life, Aldean says, he's been an "album guy" ("I couldn't wait to go every Tuesday to the record store and buy whatever what out and go home and look at the liner notes," he recalls). While contemporaries such as Blake Shelton have hinted that another full album may not be in the cards for them, Aldean has no such plans, despite the constant change of the music business.
"It's hard to say when the music business seems like it changes almost on a daily basis … Now, all of a sudden, it's like, it's based on streams and all these other things ...," Aldean says, "[but] I'll make 'em as long as I feel like people are buying them ...
"I enjoy making albums ... I feel like, [only releasing singles], I don't know how you do that. You go in every few months and cut one song? That just sounds like it sucks," he continues. "That's not the way I'd like to make music; that's not why I got into it. So my plan is to make albums as long as I feel like people want to hear them."
Aldean released his most recent album, Rearview Town, in April of 2018. The record's title track is his current single, and he says his next single will likely be from that new project, the details of which have yet to be announced.
PICTURES: Jason Aldean Through the Years
How Well Do You REALLY Know Jason Aldean?