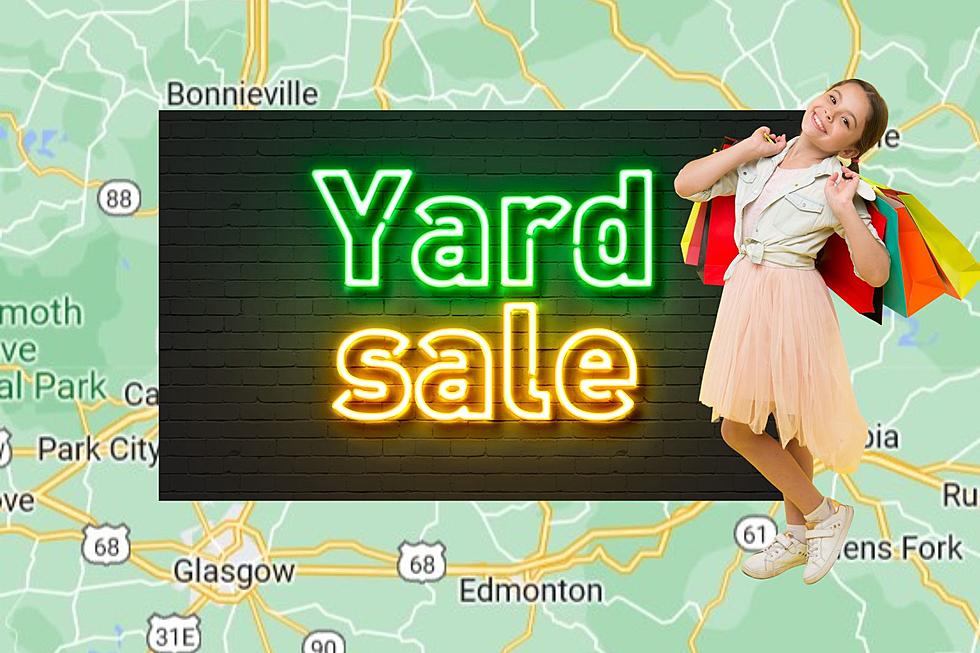 Kentucky's Highway 68 Yard Sale Offers 400 Miles of Bargains Galore
CANVA
This epic four-day yard sale spans over 400 miles through historic US Highway 68 in Kentucky. It's a hunting ground for bargain lovers and is expected to draw hundreds of thousands of shoppers from Western to Northeastern Kentucky. Tons of great treasures will be priced to sell!
The 400 Mile Sale has been a bargain-hunting Kentucky tradition since 2004. Boasting tons of vendors, miles of bargains await at this pickers' paradise. Every year people clean out their homes and head to the front yard along the Hwy 68 corridor. It's a community-wide event that runs through several counties from Paducah past Lexington, Kentucky.
Give this man a medal for his patience. I lost it about 5 times just watching. - @SupremeKilroy
I thought to myself "Oh no, she is NOT about to walk over and dig through the ones you set aside" and sure enough, AHHH!! - @justlikehoney1859
HWY 68 400-MILE YARD SALE WEEKEND
Do you love bargain hunting? If so, the 400 Mile Sale is coming back to Highway 68 in Western and Northeastern Kentucky. The historic sale happens Thursday, June 1st, through Sunday, June 4th, 2023. Rain or shine! 400 miles from Paducah to Lexington will be lined with vendors. Neighborhoods along the corridor will have community-wide sales. Come hungry as many food vendors will be set up along the route or eat at the many local restaurants! Most local businesses along the way are participating with great deals, and various farmers will also be set up selling fresh fruit, veggies, honey, jams, and more. Let the treasure-finding fun begin!
"We believe the new 400mile.com will accommodate all your goals in one convenient and easy-to-use location!" beams Director Tara Hall. "Thanks to our wonderful partners across the Bluegrass State, I was able to make a refreshed and redesigned 400mile.com my highest priority in 2022. It IS your treasure map to the 400 Mile Sale."
Another great yardsale video, you did very well. Kayla is like a secret weapon, with a good eye and super bargaining skills. Thanks! - @TXMEDRGR
My husband loves watching your videos with me. We both learn so much from both of you guys....thank you for the bolos. - @brgnhntrdi6081
At this extraordinary sale, there will be collectibles, furniture, cookware, dishes, antiques, toys, children's clothing and adult clothing, books and so much more! Everything but the kitchen sink will be available to purchase. Who doesn't love a bargain? And, what one person may think is worthless may be cherished by another. Tons of great items will be priced to sell.
Grab family and friends to create the ultimate treasure hunt along 400 miles on Hwy 68 in June!
Amish Flea Market In Ohio is a Perfect Road Trip
The Walnut Creek Amish Flea Market is a treasure hunter's dream come true in Sugar Creek, Ohio. They offer 70,000 sq. ft. of shopping, food, beautiful scenery, and tons of family fun. Here's a sneak peek inside of the ultimate flea market experience!
FEED A FRIEND COMMUNITY THRIFT STORE HELPING THOSE IN NEED
Owensboro's Feed A Friend Community Meal and Thrift Store is located in downtown Owensboro and always looking for volunteers and folks wanting to give back to the community.