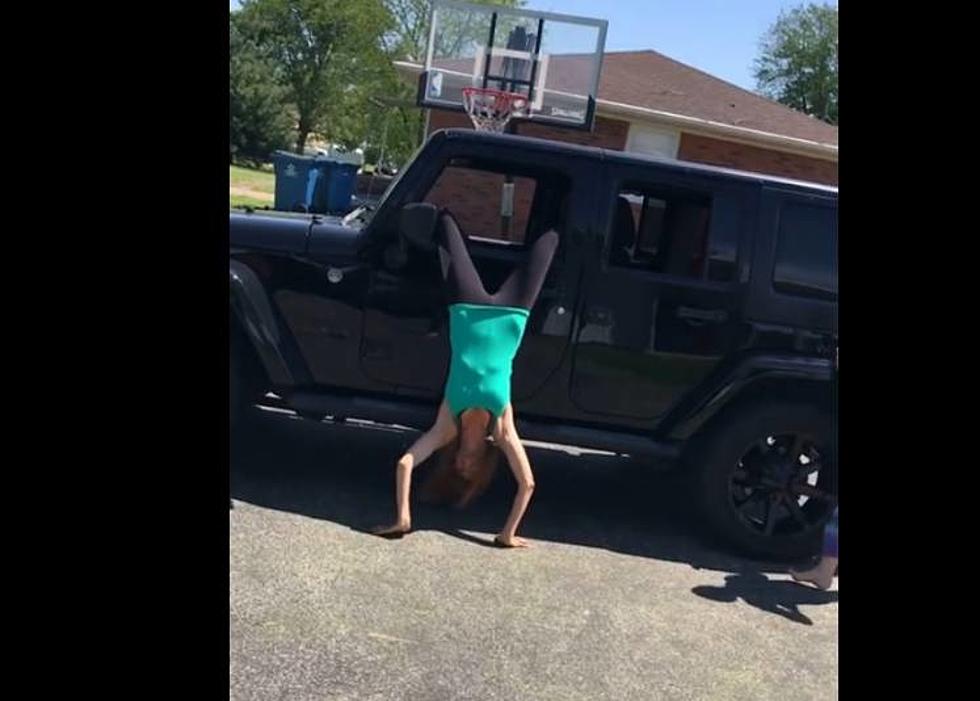 Lewisport Woman Demonstrates Acrobatic Way to Climb into Her Jeep [Video]
Jay Willis Soto/Facebook
Now, this is what you call getting creative.  Most of us get into our vehicles the old-fashioned way.  We simply open the driver's side door and plop into the driver's seat. There's no drama.  No suspense.  No real challenge involved.  Well, Jay Soto of Lewisport, Kentucky has gotten really creative.  She's turned climbing into her Jeep into quite an impressive demonstration of strength, balance, athletics and acrobatics.  Over the weekend, she shared video of her cool new feat on Facebook.
Jay says a couple of friends of hers sent her this challenge.  She says, "I was intrigued and decided to try it."  As you can hear in the video, Jay's kids were pumped that she successfully accomplished the feat of climbing into the Jeep like a friggin' ninja.  I mean, she's basically Lewisport's answer to Olympic gymnastics champion Simone Biles.
Jay's kids, by the way, are Keaton and Kamden Soto.  In the background, you can hear them screaming "She's in! She's in."  A shout out to their friend Kolt too.  He captured their mom's impressive feat of climbing into her 2011 Jeep Wrangler on video.
This morning, Jay, who says the challenge is "a lot harder than it looks" joined Angel and me on the WBKR morning show to chat about the challenge and give us the play-by-play on how she careered it.
The Jeep Challenge is currently trending on Tik Tok.
LOOK: See the iconic cars that debuted the year you were born
CHECK IT OUT: 100 sports records and the stories behind them