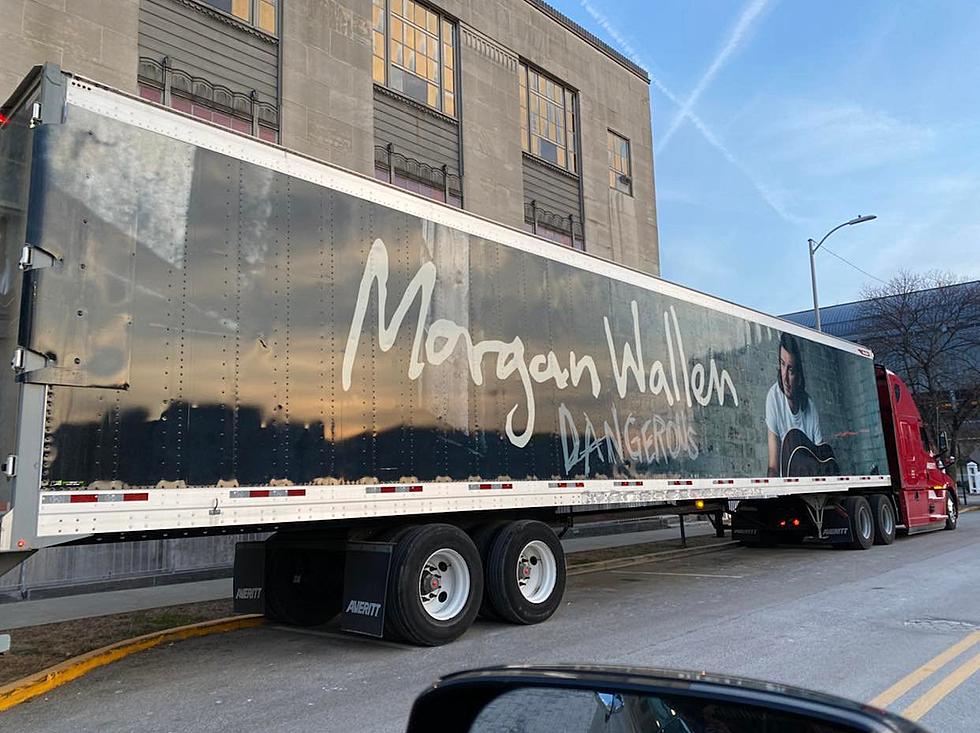 BIG NEWS! The Morgan Wallen Tour Trucks Have Rolled into Evansville, IN
Traci Davis
Some fun news for Morgan Wallen fans here in the tristate. As you know, Morgan's rolling into the Ford Center in Evansville on Thursday night for the 2022 Dangerous Tour.
Well, guess what?!  The tour trucks are already in town!  I was at my Evansville office yesterday and my coworker Liberty walked into a meeting we had together.  She had walked down to the Ford Center and saw that Morgan's trucks were there.  Naturally, she snapped a selfie in front of of them and I knew we had to get some photos to share with you here.
So, I asked my friend Traci to grab some this morning on her way to work!
With that amount of trucks, you can tell this tour's going to have some serious set up!
With that truck and the two below, that brings the total that we could see to three.
Here's a great shot at the back of one of the trucks.
The Ford Center date is very close to a sell out.  However, there are still some Ticketmaster Verified Fan Resale tickets available.  I took a quick screen grab of the seating chart this morning so you can see what's left.  Everything you see in pink below is a Verified Fan Resale ticket.  There are a handful of "blue" seats too.  Those are original Ticketmaster seats that haven't been purchased.  As you can tell, there aren't many at all and if you want 'em, you better get 'em.
Morgan Wallen's show kicks off Thursday evening at 7pm and he's bringing a couple of special guests with him- HARDY and Larry Fleet.
If you'd like to try to snag some last minute tickets, CLICK HERE!
The Best Country Singer From Every State
Some states, like Oklahoma and Texas, are loaded with famous country singers. Others, like Nevada and Maine, are still looking for a real breakthrough artist. See the best and most successful country music artist from all 50 states, starting with
Hank Williams
and Alabama.
"
"