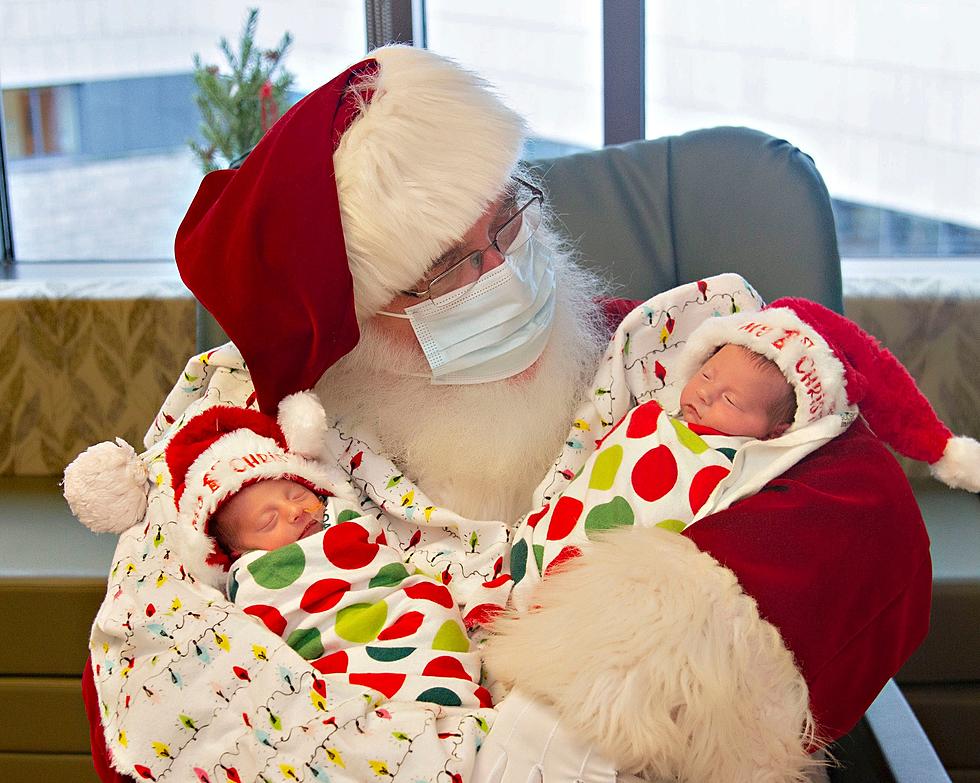 Heartwarming Photos from Santa Claus' Visit to the NICU at Owensboro Health
Sheila Hopewell
Santa Claus had a very busy 24 hours on Christmas Eve.  Not only did he load up his sleigh, round up the reindeer and head out to deliver presents to kids all over the world, he took some time to visit the Neonatal Intensive Care Unit at Owensboro Health Regional Hospital.  This has become a "holly, jolly" tradition and one that we are privileged to share.
My friend Sheila Hopewell, who's a phenomenal photographer, was again on hand with her camera to capture each adorable and magical moment.  Yes, Virginia!  There is a Santa Claus and he spent some important time right here in Kentucky.  For these sweet babies, this was definitely a "Baby's First Christmas" that no one will forget.
Look at these pics!
Twins!  Santa was introduced to these adorable twins and wrapped them both in his arms for this photo.  A double dose of cuteness!
How cute is this kid?
I'm pretty sure this youngster is about to squeeze out a smile for the camera and, of course, for Santa.
Oh my goodness!
This photo proves that Santa sees you when you're sleeping and knows when you're awake.  He's got his eye on this little elf- Little Baby Griffin.
Lisa Mattingly saw this pic on the Owensboro Health Facebook page and shared, "There's our sweet boy!"  This little guy is Lisa's first grandbaby and the family was overjoyed he got an extra special visit from Santa to commemorate it.
In fact, he finally got to leave the hospital over the weekend and made it home in time to celebrate Christmas with his family.  Here he is with Lisa!
Lisa joined me on the WBKR morning show today to chat about Thomas David's experience!
Santa had even more work to do at the NICU.   He had more babies to see!
The babies weren't the only ones who got a visit from Jolly Old Saint Nick.  He took some time to pose with the NICU staff to before heading out to deliver more gifts.
By the way, Santa's not the only person who appreciates this remarkable staff.  Brandy Gergurich took the time to sing their praises on social media.  She shared this- Y'all are amazing people. Bonnie Roberts echoed the sentiment.  She said, "Love!  Just love!"
The Cabbage Patch Kids BabyLand General Hospital
Cleveland, Georgia is the hometown of Xavier Roberts, the famed creator of Cabbage Patch Kids. Cleveland is also home to BabyLand General Hospital, where you can actually watch Cabbage Patch Kids being born.