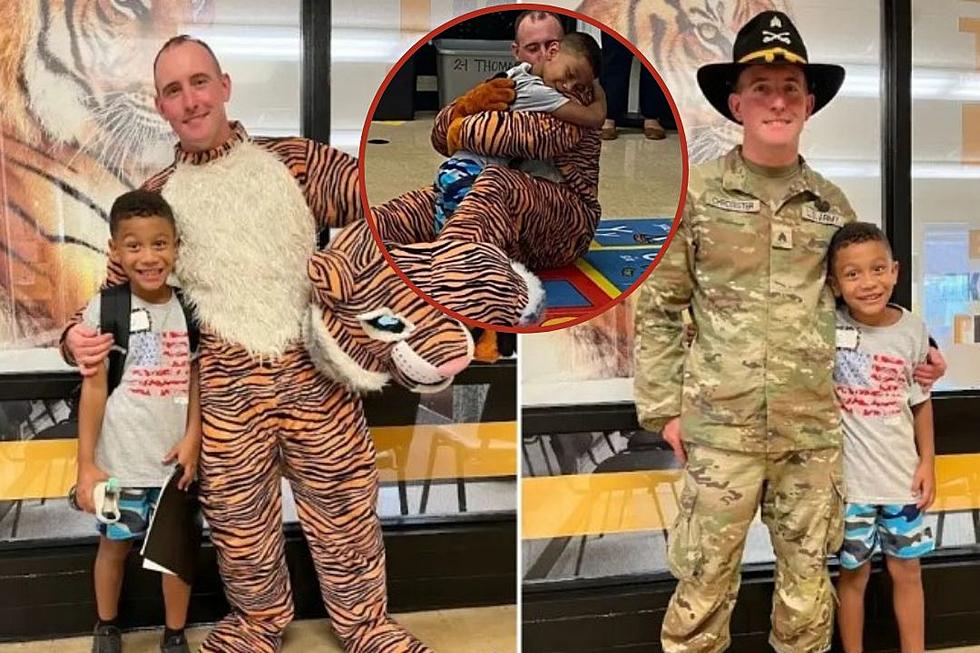 Second Grader Surprised by His Dad's Homecoming From Deployment [Watch]
Cuyahoga Falls City School District
This video has been floating around the internet, making tears of joy flow from people across the world. It's a video of a second grade boy named Eli, who's surprised by his dad coming home from a military deployment.
This was Eli's first day of 2nd grade — as you can imagine, he probably was a little nervous and excited, maybe even a bit overwhelmed on his first day. The day was just like any other, he thought ... until the end of the school day, when a "tiger" showed up to see the kids home from their first day of school.
The mascot for the Cuyahoga Falls City School District is the tiger, so Eli's dad thought that would be a great way to surprise his son.
Little did Eli and his classmates know, Eli's father — who has been deployed for the last year — had set up the whole intricate surprise to reveal his homecoming.
Watch it unfold in the video below. The kids get excited when the teacher exclaims, "Wow! I think we have a visitor. We have been talking about our tiger pride pledge, look at that."
The video captures the moment when Eli's dad kneels down in front of him and removes the head of his tiger costume. Eli, overcome with emotion, lunges toward his dad, and the two shared a tearful hug.
No doubt this moment will be a core memory for not only Eli, but all of his classmates and dad, too.
Evan Paul is the host of Taste of Country Nights, a syndicated radio show heard on more than 120 country radio stations nationwide, every night from 7PM to midnight. He plays the best new country music and interviews today's top stars, like Luke Combs, Miranda Lambert, Dan + Shay, Keith Urban, Carrie Underwood, Luke Bryan, Chris Stapleton, Lady A, Morgan Wallen, + more! 
PICTURES: See Inside America's Jaw-Dropping Most Expensive Home
A staggering estate listed as "America's most expensive home" is currently listed for sale in Bel Air, Calif., for $295 million, and pictures show a one-of-a-kind home that's almost impossibly elaborate and massive. The 100,000-square-foot, 29-bedroom, 41-bathroom home will be the most expensive private residence sale in the U.S. if it brings that price, and that price tag comes with every conceivable amenity, including a private nightclub, full-service beauty salon, wellness spa, 10,000-square-foot sky deck, 400-foot glass-walled outdoor running track with a view of the city and a private movie theater with seating for more than 40 people.
Country 'American Idol' Stars Who Disappeared
We cheered for them. We voted for them. We followed them. Then, these seven American Idol stars vanished. Or, at least it seems like it.
What happened to some of country music's best American Idol contestants over the last 20 years? This list of country American Idol stars who disappeared includes a winner, a runner-up and a third place finisher, plus several early cuts who enjoyed radio success before losing touch with fans.
Pictures: Carrie Underwood + Guns N' Roses In Nashville
Pictures of
Carrie Underwood
playing Nashville's Geodis Park on Saturday (Aug. 26). The country singer also joined Axl Rose and
Guns N' Roses
on stage to close the third of three concerts together.