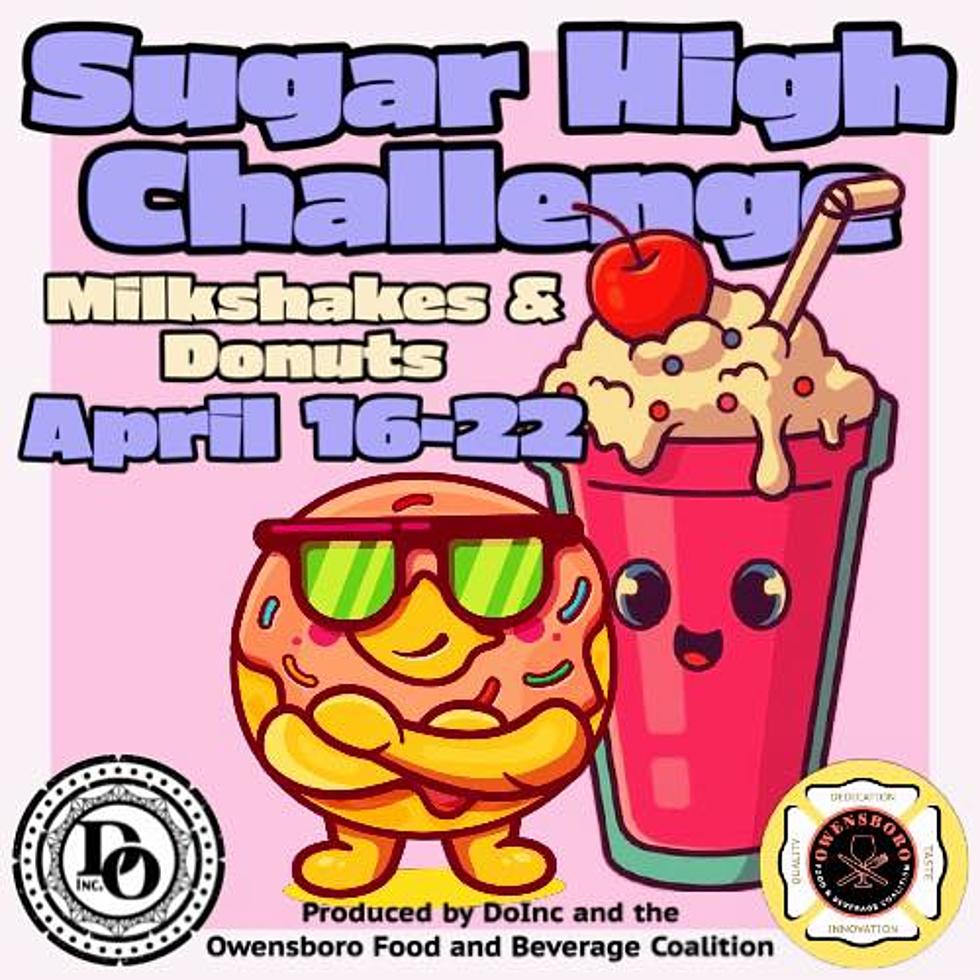 There's a Milkshake & Donut Challenge Underway in Owensboro and Here's Where YOU Can Eat
Do Inc.
After this year's incredibly successful (and delicious ) Mac & Cheese Throwdown, the folks at Do Inc and the Owensboro Food and Beverage Coalition committed to hosting some more fun food events and challenges throughout the year. Their second- the Sugar High Challenge- got underway yesterday and it celebrates local restaurants, bakeries, coffee shops, bars and food trucks that serve up milkshakes and donuts and, in some cases, combinations of them both!

Local restaurant owner Ben Skiadas says it's a fun, "creative challenge" that celebrates the sweet tooth!
Here are just a couple of examples of the kinds of creations up for grabs this week!
The Brew Bridge, for instance, has created a Donut Burger.
The burger is made with a 7 oz. beef patty, pepper-Jack cheese, and bacon, and topped with a fried egg. Of course, because this particular week-long celebration encourages "Sugar Highs", the burger is sandwiches between two glazed donuts.

Speaking of donuts, Gramps in downtown Owensboro is known for them. Naturally, they're participating in the Sugar High Challenge as well. They've created this!
Gramps Coffee and Donuts has created a 'Hot Mess' donut.  Here's how it's described: This warm, flaky donut is underneath a scoop of creamy, vanilla ice cream that is topped off by a 'magic'al shell of chocolate and sprinkles.
According to Do Inc, "This Sugar High Challenge celebrates milkshakes, donuts and the creative use of these as inspiration or ingredients. We can't wait to see our community celebrate these sweet treats in many different ways!"
Ben joined my radio show this morning to chat about the event.
Here's a list of the all the area restaurants who are taking part and joining Brew Bridge and Gramps in the challenge, which isn't necessarily a competition. It truly is a celebration and the chance to showcase something new, innovative and delicious.
LURE SEAFOOD AND GRILLE
LURE SMOKE SHACK
NIKO'S BAKERY
SASSAFRAS
MOLLY'S MIXINS
TRUNNELL'S MARKET
TRUNNELL'S DELI
REID'S ORCHARD
THE CREME
WINDY HOLLOW BISCUIT HOUSE
Plus, we have restaurants that are already known for their donuts and shakes and, according to Ben, will be serving up their "normal awesome goodies."
Gallery — Every Movie Theater Candy, Ranked: