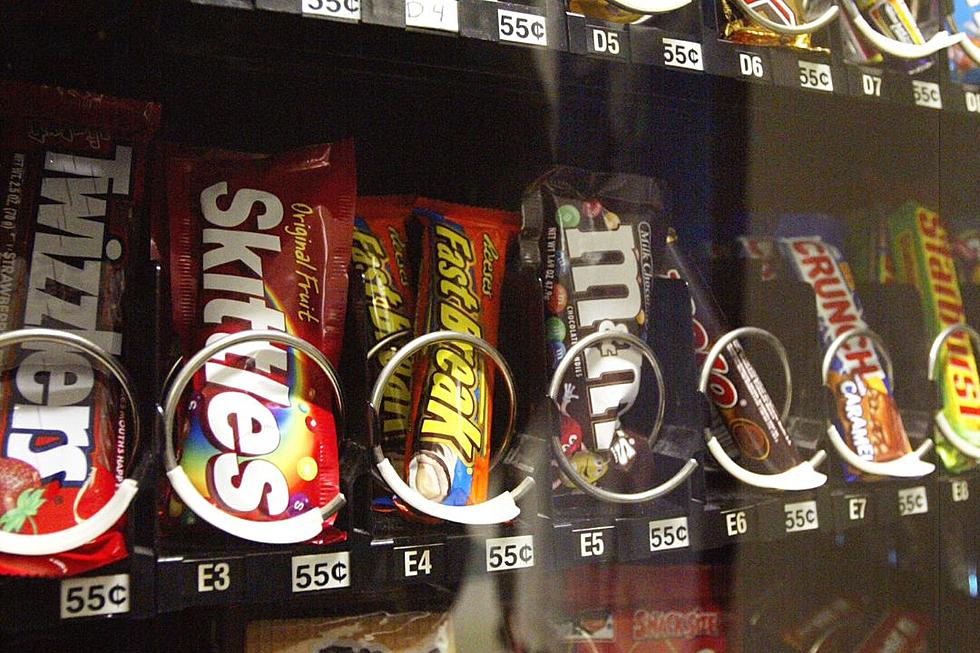 The No. 1 Junk Food From All 50 States
Tim Boyle, Getty Images
The term "junk food" is part of American life — it encompasses a large variety of foods, drinks and treats. Just about anyone you ask will have a favorite junk food they keep stashed in the house — or that they keep away from their home, to thwart temptation.
Taking a look at Google Trends, we have formulated a list of the most popular junk foods by state.
This list offers quite the variety, and trends do change quickly, depending on what part of America you are in.
There are a couple of high performers to note, including Sour Patch Kids, which is the country's favorite junk food snack, as it's the choice candy in 7 different states. Animal Crackers and Kit Kat bars are a favorite in 5 states.
The front offices at Reese's might be upset to see they're the favorite junk food in only one state, Ohio. The same goes for the folks over at Oreo, as the cookie that seemingly everyone loves only pulled top dog status in Iowa.
Here is a look at the Google Trends for the most popular junk food in America, listed by state.
Alabama: Butterfinger
Alaska: Fruit Roll-Ups
Arizona: Sour Patch Kids
Arkansas: Doritos
California: Sour Patch Kids
Colorado: Gummy Bears
Connecticut: Granola Bar
Delaware: Sour Patch Kids
District of Columbia: Starburst
Florida: Nerds
Georgia: Milk Duds
Hawaii: Gummy Bears
Idaho: Skittles
Illinois: Pringles
Indiana: Pringles
Iowa: Oreos
Kansas: Cheez-It
Kentucky: Butterfinger
Louisiana: Fruit Roll-Ups
Maine: Animal Crackers
Maryland: Sour Patch Kids
Massachusetts: Sour Patch Kids
Michigan: Sour Patch Kids
Minnesota: Starburst
Mississippi: Ruffles
Missouri: Animal Crackers
Montana: Pringles
Nebraska: Skittles
Nevada: Kit Kat
New Hampshire: Milky Way
New Jersey: Chips Ahoy!
New Mexico: Beef Jerky
New York: Kit Kat
North Carolina: Sour Patch Kids
North Dakota: Twizzlers
Ohio: Reese's
Oklahoma: Cheez-It
Oregon: Kit Kat
Pennsylvania: Swedish Fish
Rhode Island: Animal Crackers
South Carolina: Nerds
South Dakota: Baby Ruth
Tennessee: Butterfinger
Texas: Funyuns
Utah: Pringles
Vermont: Animal Crackers
Virginia: Nerds, Kit Kat
Washington: Kit Kat
West Virginia: Animal Cracker
Wisconsin: M&Ms
Wyoming: Twinkie
One thing is clear: Americans love junk food. Find your state's favorite junk food, get to the store and enjoy it with a smile on your face, knowing your peers and neighbors probably are snacking on the same thing you are.
Evan Paul is the host of Taste of Country Nights, a syndicated radio show heard on more than 120 country radio stations nationwide, every night from 7PM to midnight. He plays the best new country music and interviews today's top stars, like Luke Combs, Miranda Lambert, Dan + Shay, Keith Urban, Carrie Underwood, Luke Bryan, Chris Stapleton, Lady A, Morgan Wallen, + more! 
PICTURES: See Inside America's Jaw-Dropping Most Expensive Home
A staggering estate listed as "America's most expensive home" is currently listed for sale in Bel Air, Calif., for $295 million, and pictures show a one-of-a-kind home that's almost impossibly elaborate and massive. The 100,000-square-foot, 29-bedroom, 41-bathroom home will be the most expensive private residence sale in the U.S. if it brings that price, and that price tag comes with every conceivable amenity, including a private nightclub, full-service beauty salon, wellness spa, 10,000-square-foot sky deck, 400-foot glass-walled outdoor running track with a view of the city and a private movie theater with seating for more than 40 people.
Check Out Country Music's Greatest Mullets
See Inside Lil Nas X's Lavish New Home
Lil Nas X has purchased his first home, and pictures show a very luxurious residence.