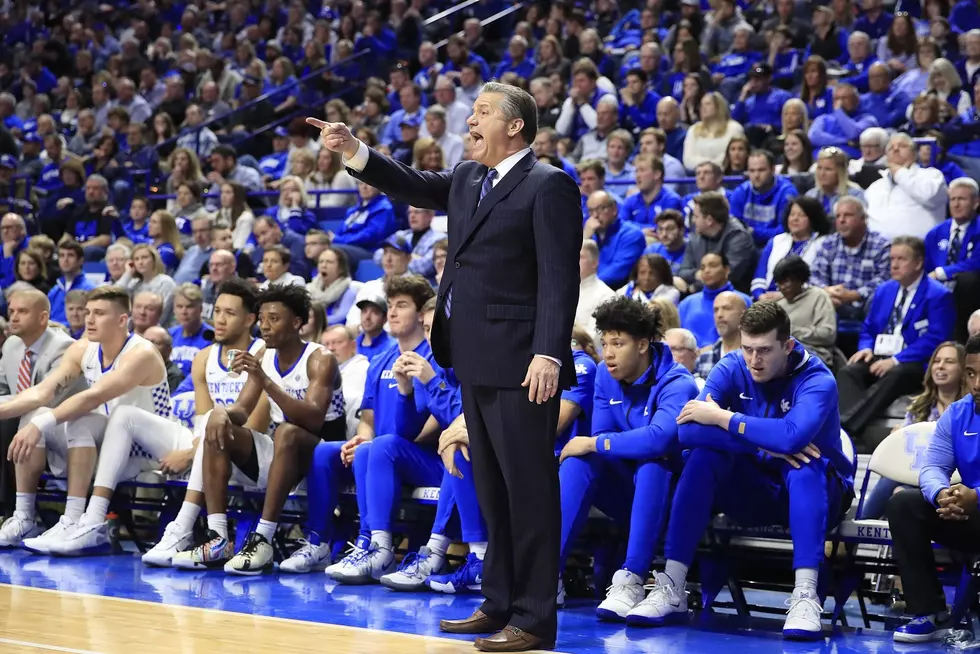 UK Releases Full 2020-21 Hoops Schedule; My Non-Conference Predictions
Andy Lyons/Getty Images
The University of Kentucky has released its full schedule and, like all other college basketball teams in 2020-21, the non-conference has been shortened.
That means fewer small-to-mid-major opponents that powerhouses like Kentucky beat up on in the late fall and more big name opponents filling up the docket in December.
I've never made predictions this early before, because, YESSSS, I'm a believer in the jinx. But I've cancelled that out because I am an UNBIASED college hoops fan and will call 'em how I see 'em. (It's my jinx; I make the rules.)
UK opens its season November 25th against the Morehead State. This will probably be a victory for UK, but do you remember the 2011 NCAA Tournament during which the Eagles pulled off a huge first-round upset over Louisville? It was funny. I remember Rick Pitino being uneasy about Morehead going into that game. Turns out he had good reason.
Next up for Kentucky will be the Titans on the 27th. No, not THOSE Titans--the Detroit-Mercy Titans, led by former Indiana head coach Mike Davis. I say it'll be a 2-0 record for UK when heads hit pillows that night.
In quick succession--on November 29th--Kentucky will head back into Rupp Arena to face what I believe should be a tough opponent in Richmond. In the pre-season AP college basketball poll, the Spiders received 40 votes, good enough for 32nd if you keep counting past 25. They are also projected to win the Atlantic 10. I say Kentucky could have a tough time with Richmond but will pull off the win. But I won't be 100% surprised if the upset happens. Remember Evansville in 2019?
Two days later, on December 1st, the Wildcats will be in Indianapolis to face Kansas in the Champions Classic and both have relatively young teams. With UK and the Jayhawks both in the pre-season top 10, I expect a good game. And I'm gonna take Kentucky in this one, based solely on the idea that Wake Forest transfer, the 7-footer Olivier Sarr, is an incoming SENIOR--a rare commodity in Lexington. He'll be a powerful component in a pretty decent frontcourt, too.
The 'Cats will finally catch a breather then head to Atlanta on December 6th for a match-up against Georgia Tech. UK and the Yellowjackets have played each other 71 times (Tech was in the SEC a very long time ago) with Kentucky winning 56 of those games. Last year, UK got the victory in Rupp Arena. This year, I think they get clipped on the road IF the Kansas win happens. I'll flip my call here if Kansas beats UK in Indy.
On December 12th, UK meets up with an old arch-rival. Kentucky played Notre Dame every year from 1936 through 1983. That's 48 consecutive seasons. They resumed the rivalry for eight more beginning in 1988. They played again in 1997 and resumed a mini-series in 2001. And last through 2004. Since then the 'Cats and the Irish have met four times, splitting the games. The last was a memorable Regional Final in the 2015 NCAA Tournament that Kentucky won 68-66. It was the last win, that season, in UK's 38-game winning streak. My pick here: Kentucky.
A week later, UK heads to Cleveland for the CBS Sports Classic and a meeting of two blue blood hoops programs as the Wildcats take on UCLA. The last meeting between the 'Cats and the Bruins was an exciting Sweet 16 game in the 2017 NCAA Tournament, with Kentucky coming out on top 86-75 and avenging a home loss to UCLA from earlier in the season. I think UCLA head coach Mick Cronin's defense might just be weird enough for the young UK players that they pull off the win over the 'Cats.
We finally have a date for the UK/U of L game. It's happening in the KFC Yum! Center the day after Christmas and, honestly, this looks like a draw to me. But no cop-outs. This ain't soccer. We don't do TIES in college hoops. I think the 'Cats and the Cards match up pretty well. You know--and I'm gonna hear about this--despite the fact that John Calipari is 11-2 against the 'Ville since he came to Lexington, I'm gonna call for a nailbiter and a Louisville win. Hey, UK's teams is fairly young. I don't see them sweeping through the non-conference.
And after a month of league opponents, Kentucky will once again participate in the Big 12/SEC Challenge and face the Texas Longhorns--hardly a FREQUENT opponent for UK. The 'Cats and the 'Horns have played each other exactly TWICE, with Kentucky winning both times. And I say by the end of the night on January 30th, you can make that THREE times.
And by the way, conference games begin December 29th. I can't remember the last time an SEC game happened before January. Oh well, everything's weird in 2020.
Enter your number to get our free mobile app
WBKR's Celebrate the Tristate T-Shirts