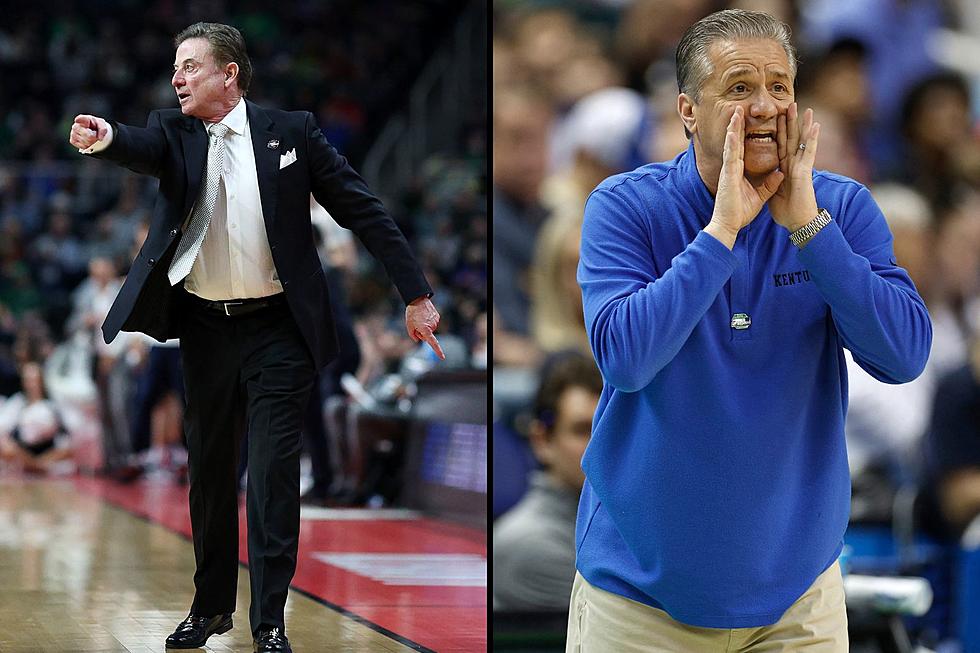 Rick Pitino 'Trolls' Kentucky Head Coach John Calipari at Press Conference
Rob Carr/Getty Images; Jared C. Tilton/Getty Images
I've heard Rick Pitino say in more than one interview that he wishes he'd never left the University of Kentucky in 1997. He's always had nothing but the utmost respect for the program, referring to it as "Camelot" on multiple occasions.
While scandal has seemed to follow the Hall of Fame coach just about everywhere he's been, it stopped at Kentucky's door. Yes, all that was happening during the Pitino era in Lexington was eight years of winning and a lot of it. There were three Final Four appearances, a national title game appearance, and a national title. But Pitino, a native New Yorker, was still craving the bright lights and the big city and left for the New York Knicks. When that didn't work out, he was back on the sidelines at the University of Louisville.
Then came the "exile" to Greece, where he coached for three years. That was followed by his brief three-year stint at Iona College in New Rochelle NY and the job he just acquired at St. John's, which is located in Queens. The man loves the Big Apple and he's ready to take a big bite.
Getting John Calipari Off Rick Pitino's 'Resume'
But there's one thing he'd like OFF of his resume and he mentioned it during the press conference that announced his hiring at the Big East school.
The Fun Sparring Between Rick Pitino and John Calipari Continues
Here's the thing. I think they DO get along. I'm sure if they're friends or not, but I really do think they get along. And I think all the stuff about a touchy relationship that was out there when Pitino's Louisville tenure overlapped with John Calipari's at Kentucky just fueled both of them. And, by that, I mean they decided to run with it. A little jab here, some good-natured trolling there. It always felt like it was just part of the rivalry game. And it worked. And it was fun.
Fingers Are Crossed for a Kentucky-St. John's/Calipari-Pitino Series
And even though St. John's University and Kentucky are hardly in the same college basketball universe--they last played each other in 2012--it's gratifying that they keep this up. Well, I say "they." I haven't heard a Calipari response, and we would have had there been one.
Anyway, Pitino has a new gig in a place he loves, and who knows? Maybe this playful sparring will lead to a UK/St. John's series. The Red Storm has a rich basketball history, but the program has been somewhat dormant--in terms of big wins and post-season success--over the last SEVERAL years. If Pitino returns the program to glory, as expected, multiple tilts with the Wildcats will be marquee match-ups, and I am here for all of it.
Best Sports Bars and Restaurants to Watch Football in Southern Indiana and Western Kentucky
Hit up any one of these local or chain bars/restaurants to cheer on your team or scream at one of your fantasy players when they drop what would have been an easy touchdown catch.
NOTE: Establishments are listed in no particular order.
NOTE #2: Click the address of each to open a location in Google Maps.