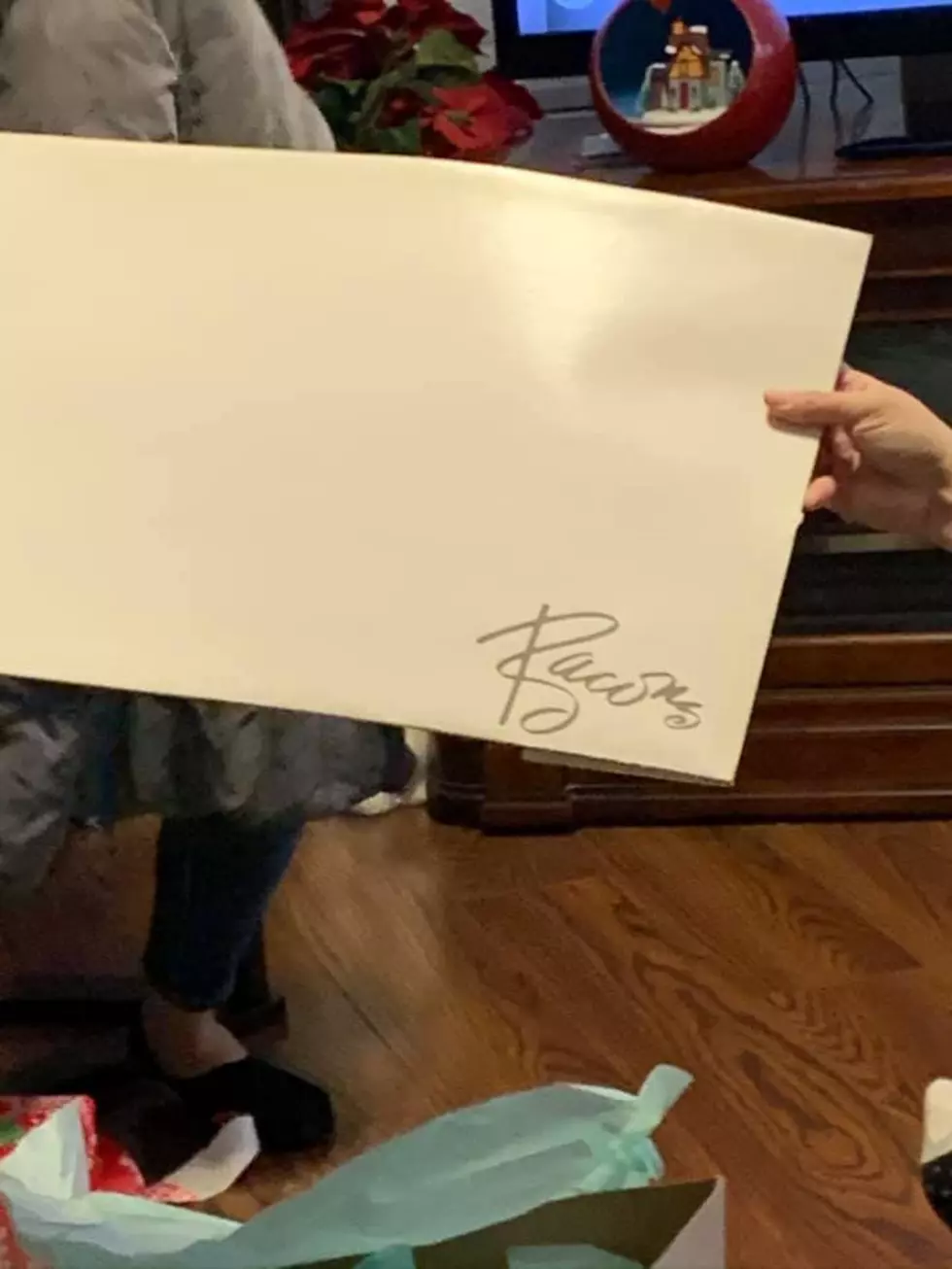 Vintage Bacon's Department Store Box Unwrapped at Christmas
Travis Estes/Facebook
When I was a kid, my grandmother was the queen of reusing boxes for Christmas.  I can't tell you how many gifts I received that were wrapped inside empty boxes of Raisin Bran or Frosted Flakes.  Seriously!  Every time I unwrapped a gift, I was convinced I was getting cereal for Christmas.  Well, apparently, Catherine Adams wasn't alone in her desire to save money on boxes and recycle.
Over the weekend, I saw a great Christmas post from my friend Travis Estes.  His mom, Janet, absolutely won Christmas this year by wrapping a gift in a vintage department store box.   Ladies and gentlemen, I present Exhibit A.
YES!!!  That's a gift box from Bacon's!  As Marka Herndon replied- "Oh my gosh! That box has been around a while!"
And she's right.  As Travis explained, "My mom saves many trees at Christmas."  He went on to share that his "Granny and mom (even) save tissue paper and bows." Well, there's no doubt she's been holding onto that box for a while.  Travis' 13-year-old niece, Baylee, was the recipient of the gift in the Bacon's box.  Obviously, because of her age, she didn't have quite the appreciation for it and was then given an oral lesson from her Aunt Tara about the history of Owensboro retail.
This morning, Travis called the WBKR morning show to chat about the hilarious gift box reveal.
I personally am loving the Bacon's throwback.  A couple of years ago my friend Mary Moseley shared this photo on Facebook.  It, like Travis' photo, brought back a ton of memories!
In her Facebook post Mary said, "I wonder how old this bag is, and how on Earth my mom (Ellen Wimsatt) still have a Bacon's bag??"
Bacon's was a Louisville-based department store chain that started back in the mid 1800's as Bacon's Dry Goods.  In 1901, the company's flagship store was opened in downtown Louisville at the corner of 4th and Market.  It remained open there until 1972.  It was 1977 that the chain opened a location here in Owensboro.
I remember shopping at Bacon's at Towne Square Mall.  My cousin Onda Strobel worked there for years and years. And I remember having lots of friends in high school who were on the Bacon's Teen Board (or something like that).
Bacon's had a decent two-decade run here in Owensboro.  It was 1998 that the store's parent company was acquired by Dillard's and the franchise was retired.
Do you remember Bacon's? And, do you have someone in your family that is still holding onto vintage department store boxes and wrapping Christmas presents in them?
Enter your number to get our free mobile app
Here are 50 of your favorite retail chains that no longer exist.