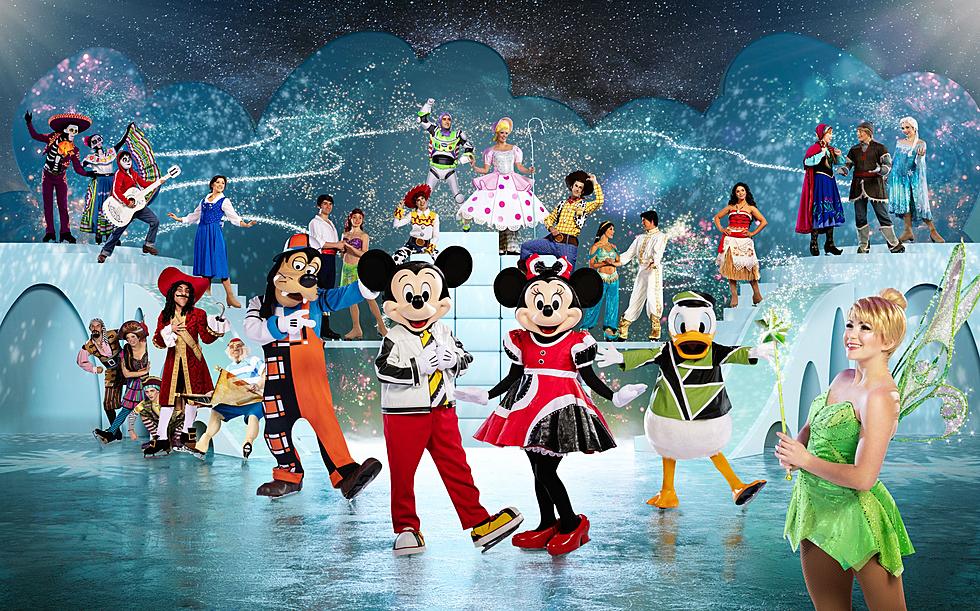 How to Score Tickets to Disney On Ice Coming to Evansville, Indiana
Feld Entertainment, Inc./Disney on Ice
Here at WBKR, we're teaming up with the Ford Center and Disney on Ice for a fun game of Hide-and-Seek. Get ready to win tickets to the most amazing ice-skating spectacular when it skates into Evansville later this month.
Disney on Ice presents Mickey and Friends
The best ice skaters in the world are coming to town, and we're all invited. Grab the children and your Mickey Mouse ears for a great time with all your favorite Disney heroes. All of your Disney Princesses will be on hand at the Ford Center on Thursday, March 31st through Sunday, April 3rd, 2022.
Show Dates and Times
Mar 31 - Thu • 7:00 pm
Apr 1 - Fri • 7:00pm
Apr 2 - Sat • 11:00am
Apr 2 - Sat • 3:00pm
Apr 2 - Sat • 7:00pm
Apr 3 - Sun • 11:00am
Apr 3 - Sun • 3:00pm
What to Expect at Disney on Ice
When you come to a Disney On Ice performance, guests are expecting a spectacular show featuring two hours of enchantment with beloved Disney characters. But what they often don't anticipate is just how completely wowed they will be by the technical expertise of our skaters.
In fact, being a Disney On Ice professional skater takes years of discipline and expertise. Our skaters average 15 years of experience and train tirelessly to perfect their skills as they strive for excellence on the ice.
Check out this collection of 10 epic skating moves you may see during your Disney On Ice experience!
How to Win "Disney on Ice" Tickets with WBKR
Get ready on Monday, March 14th, 2022, because Hide & Seek begins. Your favorite Disney on Ice characters will be hiding in different locations in articles on WBKR.com and with the WBKR app, and you'll need to find them. Listen for clues at 7:25 AM with Chad & Angel, at 11:25 AM during The Barb Show, and at 3:25 PM with Spence.
Once you locate the Disney on Ice character click on the photo and get registered to win. It's that easy! At stake, a family four-pack of tickets to Disney on Ice presents Mickey and Friends. There are three family four-packs of tickets up for grabs each day. So, gather the family and get ready to play!
Chad and Angel will announce the three winners each weekday at 7:25 AM, from the previous days' registrations. Good luck!
Here's an example of what you're trying to locate during Hide & Seek:
How Disney on Ice Comes Together
It's quite incredible how Disney on Ice is put together. There are so many great minds between Feld Entertainment and the folks at Disney. From the talented artists, skaters, producers, casting agents, to the set and costume designers, it's a spectacular celebration on the ice. You don't wait to miss the family fun!
LOOK: Oldest Disneyland Rides From 1955 to Today
Stacker
, set out to compile a definitive list of every Disneyland attraction you can enjoy today and ranked them by their age. Using real-time data from
Touring Plans
, Disney archives, and historical news releases and reviews, our list starts with exciting recent park additions and stretches back to the oldest opening-day classics. This list focuses on the original Disneyland Park, so you will not see any rides from its neighboring California Adventure located just across the promenade. Read on to discover the oldest Disneyland rides you can still ride today.