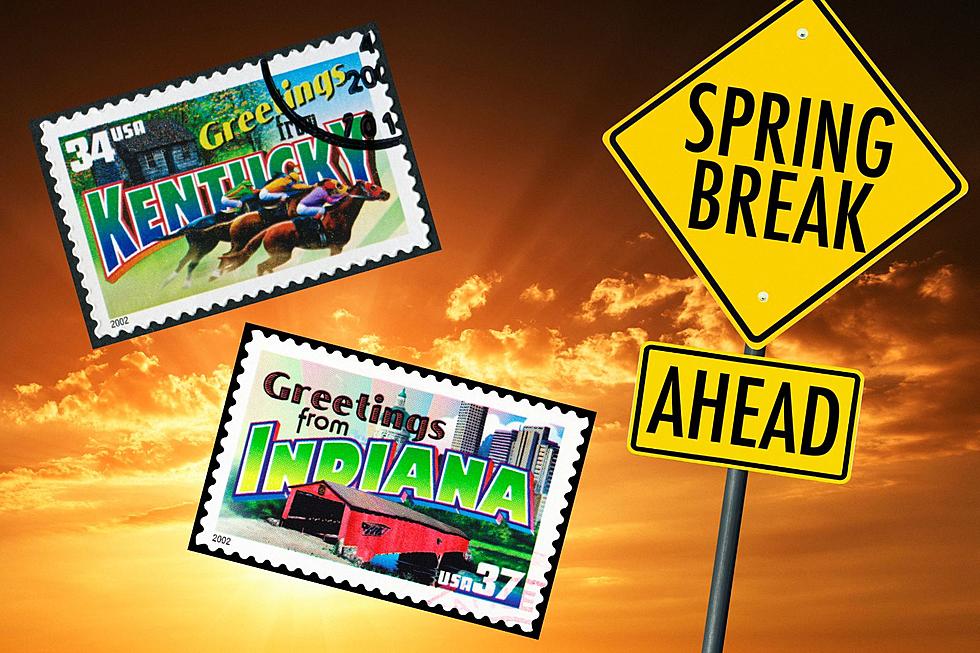 7 Spring Break Day Trips To Enjoy In Kentucky & Indiana
CANVA
Spring Break in the Tri-State is just around the corner.  Here are eight fun day trips to add to your list to make the most of your time off with the kids.
7 GREAT SPRING BREAK DAY TRIPS
1. NEWPORT AQUARIUM-  The Newport Aquarium is the perfect day trip to experience so much fun and it's inside so you don't have to plan for rain.
Newport Aquarium welcomes your family to discover the wonder of an underwater world located in Newport, Kentucky right across the river from downtown Cincinnati, Ohio. SEA thousands of the world's most exotic aquatic creatures as you waddle with playful penguins, meet rare white alligators, be surrounded by sharks and surprised by smiling stingrays. Encounter thrilling adventures like the first-in-the-world Shark Bridge, where you can cross inches above a tank full of sharks on a rope bridge. Plus, experience the NEW exhibit Shipwreck: Realm of the Eels and explore a long ago-sunken ship and the creatures that call this accidental reef home. All while spending quality time together and creating lasting memories.
2. THE SMILEY OCEAN INDOOR PLAYGROUND INDY-  Imagine 25,000 square feet of fun for the whole family.  Close your eyes and picture wall-to-wall slides, climbing walls, one huge giant ball pit, levers to pick up the balls, and more.  It is literally fun for the entire family!
3.  TENNESSEE SAFARI PARK IN NASHVILLE-The Drive Through Safari Park, Walk Through Safari, Wild Animal Preserve, Animals Up Close and Personal, Concessions (open seasonally and weather dependent), Gift Shop, and a Children's Petting Safari.
Experience all the above and more at the Tennessee Safari Park! Drive through the 5.5 miles of Safari Roads in your own car and interact with and feed animals as you make your way through our park. After your journey returns to the Walk Through Zoo, relax, and enjoy refreshments at our concessions(open seasonally and weather dependent), children can enjoy our playground area, pet the baby goats in our petting zoo and visit the gift shop. An experience you will never forget, Africa at your back door!
4.  CAVE CITY/MAMMOTH CAVE-  There is definitely no shortage of what you can do when you arrive at Cave City.  Explore caves, see dinosaurs, and check out wigwams.
5.  LOUISVILLE ZOO-  This is a favorite of many families.  It is such a short drive to experience so many animals and fun things to do in one place.   Check out the zoo's newest member.
6.  WILSTEM RANCH-  this day trip is less than a two-hour drive and totally worth it!  The kids will totally love this.
We had no idea you could actually stay in the park.  They have several cabins available for rent throughout the year.  We could take our entire family and stay in one of the larger 5 bedroom cabins or do a getaway weekend for Joe and me in a one-bedroom.  There are 11 cabins in total.
If you have teenage boys like our family keep in mind they have ATV-guided tours. My kids love going into the woods and exploring.
Ziplining just happens to be on my bucket list.  Joe and I have not ever done real ziplining.  So maybe I rode the zipline at Legion Park but never a real-life zipline.  Wilstem has over 5000 feet with a nine-line canopy tour.
There are tons of things for the whole crew to do at Wilstem.
While you are in French Lick go and visit Big Splash Adventure Water Park too.
7. NASHVILLE ZOO- Nashville Tennessee is just a stone's throw away from the Tri-State area and the perfect drive for a day trip on Spring Break.
Nashville Zoo is a progressive and dynamic zoological park located just 6 miles south of downtown Nashville. With just 90 of 188 acres developed, Nashville Zoo is the 9th largest zoo in the country by landmass. The Zoo is one of the top tourist attractions in the state and has been named the Best Regional Attraction and Best Day Trip by The Tennessean.
Animals From The Nashville Zoo
30 Spectacular Photos from Wild Lights at the Louisville Zoo
Wild Lights at the Louisville Zoo is underway March 18th through June 5th. Here are 30 amazing photos from the event to give you a sneak peek at the exhibit.