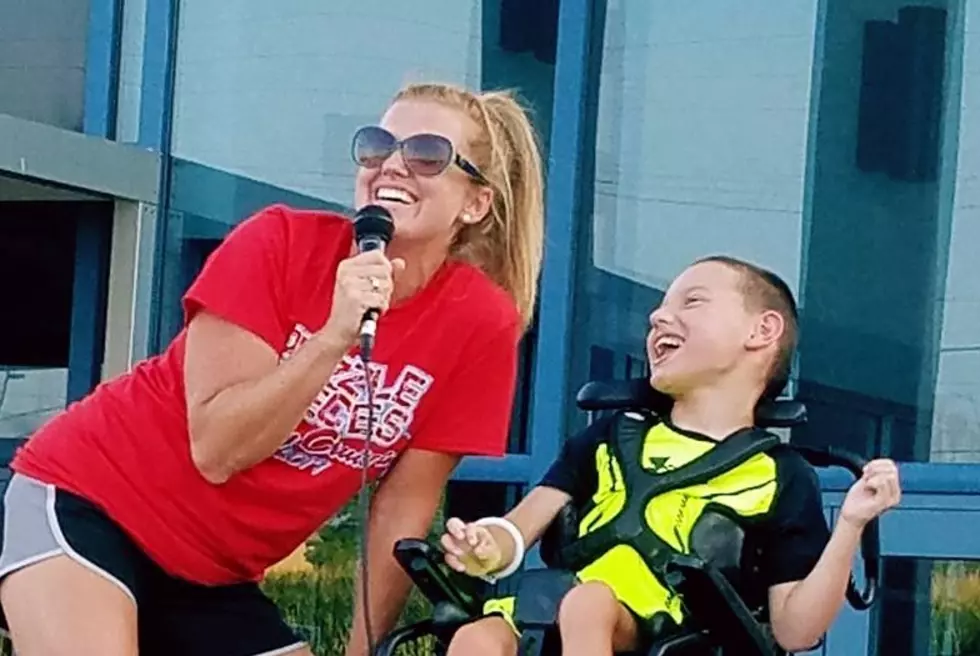 Amanda Owen from Puzzle Pieces: WBKR's Hero of the Month
Misty Howard/Facebook
Here at WBKR, we are partnering with Blue Star Restoration to launch a new monthly series called WBKR's Hero of the Month.  Each month, we'll be honoring someone in the tristate who goes above and beyond for their fellow men and women.  It may be someone you know.  It may be someone you've never heard of.  But our monthly heroes will be people whose impact you or someone you know has likely felt.  And our inaugural Hero of the Month is exactly that.  When it came to choosing the first recipient of this new WBKR award, we didn't have to look far for someone who checks all the boxes.  Amanda Owen, the Executive Director and founder of Puzzle Pieces, is our very first Hero!
I remember Amanda, years ago, coming to the WBKR morning show to visit with Moon and me.  I also vividly remembering her sharing her initial idea for Puzzle Pieces that day.  If there's one thing you should know about Amanda it's this- it never takes long for her ideas to become robust realities.
Today, just a handful of years after that conversation in the WBKR studio, Puzzle Pieces is sprawling.  It's grown from one location to multiple locations and its impact is huge and life-changing.  It's this success that led the Greater Owensboro Chamber of Commerce, just last Friday night, to name Puzzle Pieces the Non-Profit of the Year.
And why wouldn't it be?   Its reach far extends the clients it serves.  Puzzle Pieces reaches all of us.
Amanda is the epitome of the Field of Dreams mantra "If you build it, they will come."  She fully understands the importance of community and has the knack for nurturing it where it already exists and constructing it where it doesn't.  Two prime examples- the Color Blast 5K, which at launch was the single biggest 5K event in the history of Owensboro, and Lip Sync Battle, which, in two short years, has grown into one of our city's most popular, uproarious and diverse community events.
Look, I can write about Amanda's accomplishments all day.  However, I don't have to.  They speak for themselves.  As a matter of fact, lots of folks around town are singing Amanda's praises and sharing their thoughts about this incredible dreamer and giver.
Kathy O'Bryan Hempel shared this immediately following last week's Chamber Celebration: I can never fully express my gratitude to Amanda Boarman Owen for her vision! She developed her idea of a social place for individuals with disabilities, wrote a business plan and then shared her idea. Kelly Harper and I jumped on immediately! 7+ years later Puzzle Pieces wins Greater Owensboro Chamber of Commerce Non-Profit of the year! Thank you Amanda from the bottom of my heart not only as a staff member but as a parent whose fear for the future of my child has been eased.
Local realtor Kelly Anne Harris: Amanda Boarman Owen, you have touched so many lives and been a inspiration to myself and so many!!
Puzzle Pieces board member and local business leader Amy Jackson: This woman right here moves mountains. She makes everyone around her better and for all the right reasons. Thank you for your tireless passion and leadership!
Jeff Rhinerson, Puzzle Pieces client and the star of the Facebook series Live with Jeff: I am so proud of you . I am so lucky to have you in my life and Live with Jeff . Life is a plan with God . Thank you for supporting me .
Jeff nailed it.  He says he's lucky to have Amanda.  He's right.  He is.  We all are.  There's no denying her vision, tenacity, dedication and heart.  All the qualities that make a hero or in this particular case, a heroine, are on full display when Amanda walks into a room.  And while heroes are truly marked by what they do instead of what they say, there are cases when what they say speaks volumes about who they are and what they do.
As we honor Amanda Owen as WBKR's Hero of the Month, we'll close with words from her.  Words about her Puzzle Pieces staff, who've learned compassion, devotion, selflessness and the power of action from the best.  These, my friends, are the words of a true hero.
My dream has become a reality because of these people. Everyone thinks it's me, but it's them. They are the blood, sweat, and tears of our organization and I couldn't be more honored to call them my team!!! Tonight was pretty special for me personally. We don't do what we do for an award or trophy, but tonight, personally walking on that stage, I saw a community who makes me believe more in myself......We are OWENSBORO, We are The Pieces!