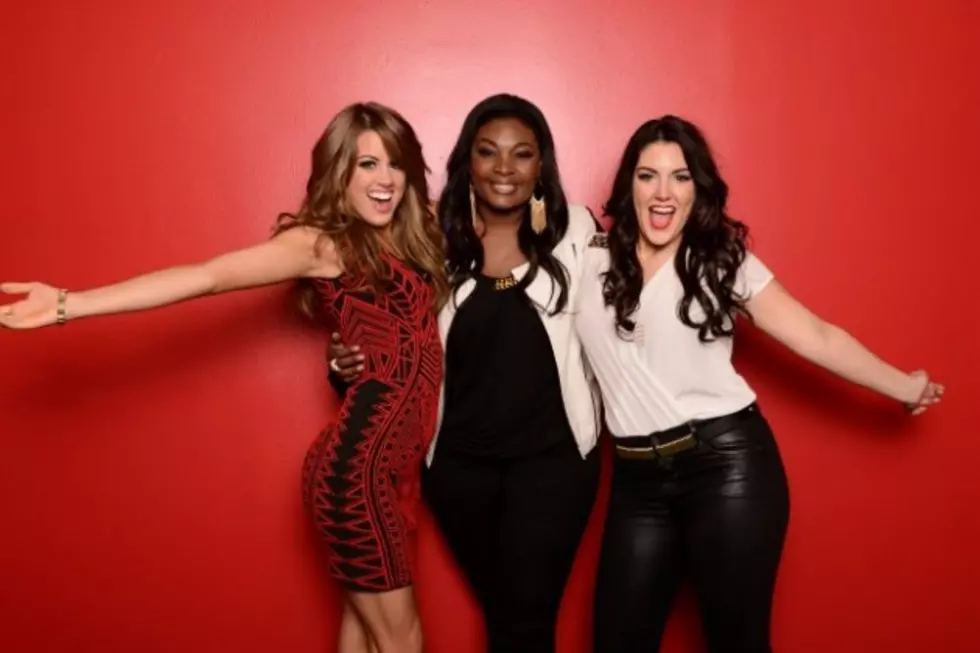 American Idol: The Final Three Battle for the Finale [Video]
(image from AmericanIdol.com/Fox)
Candice Glover.  Kree Harrison.  Angie Miller.  One of those ladies will be the next American Idol.  One of them will finish this season in third place.  Last night, our remaining Idol hopefuls took the stage and performed three songs a piece with one goal in mind . . . making the Idol finale.  So, who stepped up?  Who, as Randy Jackson would say, is really "in it to win it."  And who may be missing her ultimate dream by just a single episode.  Let's check in with WBKR's American Idol expert, Steve Thompson!
Idol Chatter from this morning's WBKR Waking Crew.  LISTEN!
If, as Jimmy Iovine astutely observed, each round really had a different winner wouldn't that make this potentially the closest race for the finals in Idol history?  Or will the viewing public differ from the voting public?  Does anybody out there remember when most of America seemingly cared about this show?
Tonight I overheard this comment at an awards banquet: "Just realized I'm missing American Idol.  Guess it really doesn't matter..."  Maybe we've just reached the saturation point.  Next thing you know TBS will start televising the Final Four.
It's true.  There are rumors and rumors of rumors about the future of Idol.  There's talk of new producers.  Talk of four different judges.  I realize that FOX will announce its fall schedule on Monday, but I've never seen so much talk of the sky is falling since that great prophet Chicken Little.  Take a breath, everybody.
3.  Kree Harrison sang Perfect.  This was not a good song choice for Kree and I believe everyone and their brother realized that as soon as she started singing the song.  This was one of the worst songs I've heard Kree sing this season and I'm very worried about her status tomorrow night.
2.  Candice Glover sang One.  I realize Mary J Blige did a cover of this U2 song, but I wasn't a fan of her version and I really can't say much positive about Candice's cover of Mary J.  In my view this song has only been covered correctly by one person and one person only-- Johnny Cash.  No one else has ever sounded as if they understood the magnitude of what the lyrics are expressing.  I'm not shocked-- I deal with people who don't understand the written word on a daily basis.
1.  Angie Miller sang Sorry Seems to Be the Hardest Word.    According to whatnottosing.com, this Elton John song has been the reason people have been voted off the show in past seasons.  However, closer examination shows that the two people who were booted off were both on wild card weeks.  Angie did a wonderful version of this song and I thought she sounded better than she ever had all season.
3.  Angie Miller sang Try.  Well, I tried to listen to Try and found the version very trying.  I believe in Angie Miller as having a future in the music business-- but her future should not be as someone singing Pink.  Hard to believe she could sound so good on an Elton John classic yet sound so average on a Pink cover.
2.  Candice Glover sang Next to Me.  Actually a much better interpretation than her first song, but we currently don't need a copy of a suddenly everywhere British chanteuse.  The only thing this choice showed was that Idol could find a way to be drug into the 21st century of music.
1.  Kree Harrison sang Here Comes Goodbye.  This may have been the most compelling song of the night.  While I'm not a huge Rascal Flatts fan, I thought she approached the song with just the right mixture of heart and emotion.  I can't say it had the same effect on me as it did on the judges-- but maybe melodrama doesn't make me weep anymore.
3.  Kree Harrison sang Better Dig Two.  Another poor choice for Kree.  If I didn't know better I'd think the judges got tired of trying to throw her under the bus, so the Powers that Be decided to find some songs that would complete their dirty work.  I like the song-- I just think Kree needed something special instead of something ordinary.
2.  Angie Miller sang Maybe.  Well, I still think her Elton John song was great-- but I am not convinced this performance would've endured her to America.
1.  Candice Glover sang Somewhere.  Perhaps the best song from any Broadway musical ever made-- but I'll let others argue that point.  Candice just took this classic piece of American music and sang it wonderfully.  She didn't oversing it-- in fact, sang it as well as any singer would on stage...  Very impressive.
Who goes home?  I think Kree is in big trouble because two of her three songs seemed unusually weak for a final three competition.  Unless her fans rally to her defense, I'm afraid we may have an Angie-Candice final.

@May 8, 2013   Stephen W Thompson