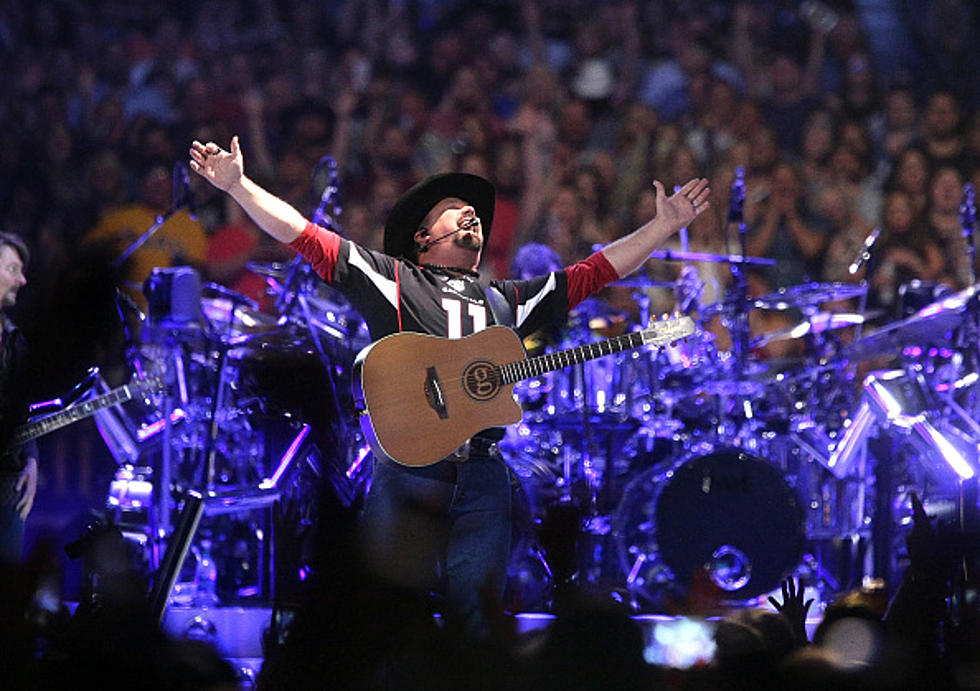 Angel's First Garth Brooks Concert in Nashville CANCELLED! Here's How It Played Out
John Medina/Getty Images
Garth was scheduled to play his first concert at Nissan Stadium in Nashville on Saturday night and that didn't happen.  It was also going to be my very first Garth concert EVER.
FRIENDS IN LOW PLACES OR THE RIGHT PLACES AT THE RIGHT TIME
Angel here and when I heard Garth was coming to Nashville I was so pumped. I missed getting tickets and then a sweet friend, Carla Boehmann about a month ago and she said she had bought tickets and was not able to attend to the concert.  I excitedly called my husband, Joe, and he said "BUY THE TICKETS".  We bought the tickets and planned out the weekend.
KICKIN' AND SCREAMIN' BACK AND FORTH TO NASHVILLE
Now, we originally planned to stay in Nashville but room rates were through the roof and I was already going to be in Nashville the night before to see Beth Moore at her Living Proof conference.  If you know me you know I'm cheap and I had a fit when I saw how much rooms were for the night of the concert.  We decided we'll live on the wild side and just drive back to Owensboro after the concert even though neither of us felt like it.
PAPA LOVED PIZZA MAMA LOVED SHOPPING
My hubs loved me enough that he had everything ready to go by the time I pulled in the driveway at home.  I changed we loaded the car with kids and dropped them at their respective places for the night and off we went down the road to Nashville.  Ok so we made a stop in Bowling Green before going back to Nashville to 31W where all the consignment shops are and of course we ate pizza at Mancinos.  Joe knows I love shopping in BG and he always obliges.
SENDING EM' ON DOWN THE ROAD TO TRAFFIC
After dinner we headed on down the road to Nashville not truly knowing what was in store for us.  We had never been to a concert in Nashville.  Let me rephrase that "we had never been to a GARTH concert in Nashville.  The first trouble we ran into was traffic.  Not being totally surprised it's Nashville there is always some kind of traffic jam right?!  This was like traffic from the deepest depths of hell like the kind no one ever speaks of.  Even my patience and wonder husband was huffing and puffing.  After an hour of sitting in traffic we finally arrived at a parking space only a mile and a half away from Nissan Stadium.
THUNDER ROLLS AND THE LIGHTING STRIKES ALL OVER THE PLACE
We get all parked and start speed walking to get to the stadium.  We get halfway there and I hear someone else mention their tickets and I come to screeching hault in the middle of the sidewalk.  I FORGOT OUR TICKETS.  I thought Joe might cry right there in the middle of Nashville instead he said you stay here I can walk faster in my boots.  I waited and just as he's returning I hear thunder coming in from the North.  Not like little booms but like an atomic bomb going off a hundred times.  Then came the lightening.  It was terrifying.  I don't think I've ever seen lightening like it.  Then little drops of rain.  As we walked up to the stadium a few people were walking away and told us they were having everyone inside shelter in place.  We hurried to get to under something so we wouldn't get wet just in time as the sky fell in.
STANDING OUTSIDE THE FIRE OR STADIUM
We found ourselves smashed together with several hundred random people.  The storm raging and we were soaking wet.  Still we managed to laugh and have a good time knowing our future with Garth was probably not gonna happen.  We couldn't even get inside Nissan Stadium.  After about 45 minutes Joe and I decided we were taking the sad concert walk of shame back to our car and calling it a night but not before they said they would make a decision in 15 minutes.  We got back to our car and out of Nashville only to find out 20 minutes later the concert was indeed cancelled.
MORE THAN A MEMORY
We might not have gotten to go to the concert on Saturday night I will never forget the experience.  I was thinking the whole way home how grateful I am for a patient and go with the flow husband.  We laughed the whole way home and talked and to be honest it is a time I will never ever get back and would never want to replace.  It was needed.
SOMEWHERE OTHER THAN SATURDAY NIGHT BUT NOT SUNDAY EITHER
The question remains when will the concert happen?  No one knows.  The original plan was for it to happen on Sunday night.  Then Nissan Stadium released this statement and Garth shared it on his own Facebook:
After collaborating with our vendors and local officials, we have made the difficult decision to postpone the Garth Brooks Stadium Tour at Nissan Stadium.
Unfortunately we were unable to secure adequate safety personnel and provide our standard of fan experience in order to move forward with the concert on Sunday evening. We look forward to sharing the rescheduled date in the near future.
Tickets and parking will be honored for the rescheduled date. More information on ticket options will be provided in the very near future.
Check Out the Best-Selling Album From the Year You Graduated High School
Do you remember the top album from the year you graduated high school?
Stacker
analyzed
Billboard
data to determine just that, looking at the best-selling album from every year going all the way back to 1956. Sales data is included only from 1992 onward when Nielsen's SoundScan began gathering computerized figures.
Going in chronological order from 1956 to 2020, we present the best-selling album from the year you graduated high school.
Nashville Home with Game of Thrones Theater on the Market
A beautiful home in the Nashville metropolitan area is on the market and its basement is straight out of Game of Thrones.
SEE INSIDE: Nashville Church Converted Into Unique Hotel
Nashville has been on a never-ending journey to make itself more attractive to tourists for as long as any of us can remember. And East Nashville has fast become a boutique destination for travelers. So a beautiful and luxurious boutique hotel fits in perfectly.