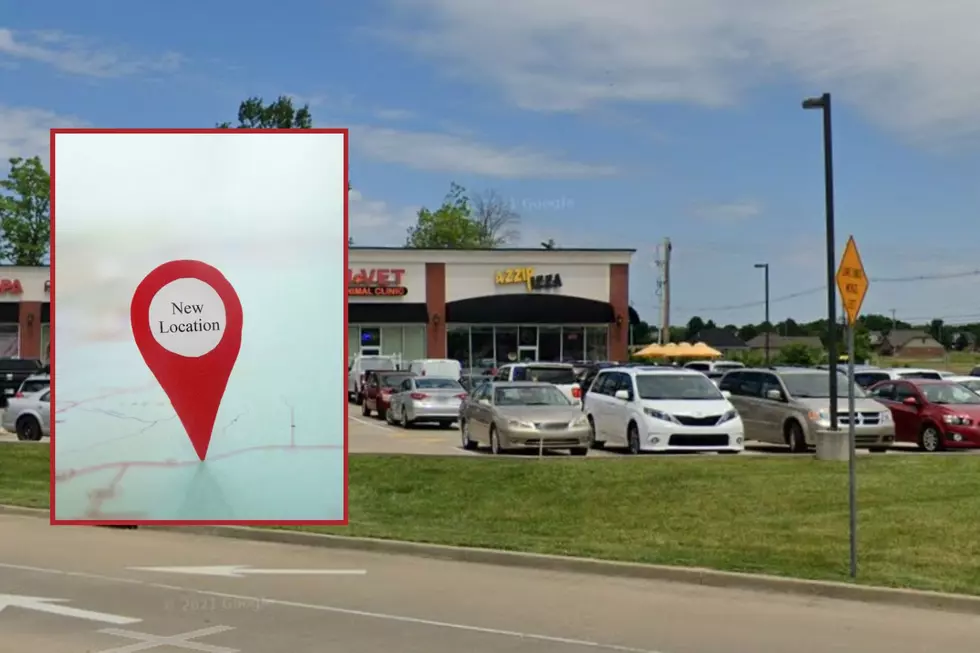 Azzip Pizza is Relocating to a New Location in Newburgh, Indiana
Google Maps/Canva
Azzip Pizza will soon be in a different location in Newburgh, which might make it more convenient.
Azzip Pizza is a local chain pizzeria that got its start in Evansville and has branched out all throughout the region. Any time I have friends or family visit from out of town, I always recommend Azzip Pizza. I tell them that it's kind of like the Subway for pizza. You walk in, tell them what size of crust you'd like, what toppings you want on your pizza, let them prepare it in the oven, and once it comes out within a few short minutes, you are all set to enjoy the deliciousness that is an Azzip Pizza. In my opinion, it is one of the best pizzas around.
We have three Azzip Pizza locations in Evansville, and one in Newburgh. I typically eat at the Newburgh location because it is closer to home for me. While the food is great there, during the busy hours of lunch and dinner, getting in and out parking-wise can be somewhat of a nightmare. The restaurant shares a relatively small parking lot with several other businesses in the shopping center. Aside from that, dining at Azzip in Newburgh is great.
That being said, according to Evansville 411 News, Azzip Pizza will be moving to a new location in Newburgh. They won't be moving far at all. The current location on High Pointe Drive will be moving right down the road to a new development on...High Pointe Drive. Evansville 411 News says:
The move will allow the Newburgh <a class="x1i10hfl xjbqb8w x6umtig x1b1mbwd xaqea5y xav7gou x9f619 x1ypdohk xt0psk2 xe8uvvx xdj266r x11i5rnm xat24cr x1mh8g0r xexx8yu x4uap5 x18d9i69 xkhd6sd x16tdsg8 x1hl2dhg xggy1nq x1a2a7pz xt0b8zv x1qq9wsj xo1l8bm" tabindex="0" href="https://www.facebook.com/AzzipPizzaEvansville/?__cft__[0]=AZVE_24kAM6WrVWPJBVwv8CXi8DSl9V3n1TgZ__SKfmhpH-_RW0RZpI7mp4-KJbeh2Wioy8_VUze2f1RwZeKNZlPmrKAZdbTcKqaYqpS19GpVHOdoVu6rrRITkr-tlO_QRGsh9fSe70QOYfvnNopwDgi&amp;__tn__=kK-R"><span class="xt0psk2">Azzip Pizza</span></a> to increase from 1,800 SF to 2,500 SF and is tentatively expected to open late Summer 2023.[/pullquotes]
To give you an idea of where this new location will be compared to the current Azzip Pizza location, take a look at the photo below. You can see that the current location is at the corner of High Pointe Drive and County Road 850 West (Bell Road). The new location will be behind Walmart, next to Wings Etc., indicated by the red marker.
I'm sure that with this new location, we will see not only a bigger dining area but better parking as well. See what Evansville 411 News said about the move in the post below:
15 Best Pizza Restaurants in Southern Indiana
When you're looking to get your pizza fix, these are the best places in the Evansville area to go according to residents.
Your Evansville Guide to Locally Owned Pizza
There's many places to grab a delicious pizza in Evansville, here's where you can grab a 'za from a locally owned shop!
SEE: Newburgh Man's Voice-to-Text Fail Leads to Hilarious Comments on Facebook
A gentleman who goes by Bob Lob Law on Facebook recently posted what was meant to be a nice public service to the other members of the private group, Life in the Burgh...Newburgh, to let them know traffic was backed up on a road in town due to a car that had found its way into a ditch. Thanks to a voice-to-text fail, he may have inadvertently changed the name of the road forever.