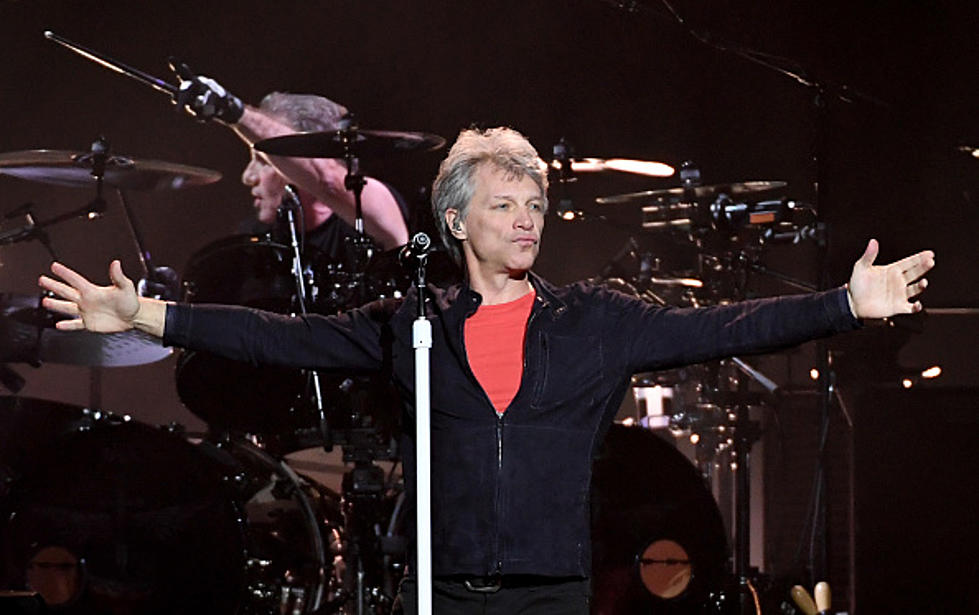 The Bon Jovi 2022 Tour's Coming to Nashville and Indianapolis
Ethan Miller/Getty Images
Shot to the heart and you're to blame. You give love a bad name!- Bon Jovi
Well, today, we're giving concert news a GOOD name!
Big news for concert fans and even bigger news if those fans love Bon Jovi!  The group just announced their 2022 North American Tour and it's rolling into three cities within easy driving distance of the tristate- Nashville, St. Louis and Indianapolis!
Bon Jovi will be performing at the Gainbridge Fieldhouse in Indianapolis, Indiana on Tuesday, April 19th.  They'll be in St. Louis on Thursday, April 21st at Enterprise Center.  Then, the band will at Bridgestone Arena in Nashville on Saturday, April 30th.
Tickets for the Bon Jovi 2022 Tour are set to go on sale Friday, January 21st.  That's when tickets will be available to the general public.  The tour features a variety of VIP ticket packages as well and you can get that info at Bon Jovi's official website!  Fan club members of the JBJ Experience can access tickets in an exclusive presale which begins Tuesday, January 11st.
Bon Jovi rose to superstardom in 1986 when their single "You Give Love a Bad Name" shot to #1 on the Billboard Hot 100.  Their follow-up, "Livin' on a Prayer" hit #1 as well.  The rest is pop/rock history.  In fact, Bon Jovi has been inducted into the Rock & Roll Hall of Fame and the Songwriters Hall of Fame.
Speaking on Bon Jovi songs, I am including what I consider to be his five best radio hits.  There have been a bunch of great ones, but these are my absolute favorites.
#5- WHO SAYS YOU CAN'T GO HOME- Bon Jovi w/ Jennifer Nettles
Yes! Back in 2006, Jon Bon Jovi had gone country for this big #1 Billboard hit.  In fact, on the year-end Billboard Country chart, it was the #9 song of the year.
#4- THIS AIN'T A LOVE SONG
This wasn't a huge hit by Bon Jovi.  It peaked at #14 back in '95 as the first single from the These Days album.  But I freaking love it.  Still.
#3- ALWAYS
THE definition of POWER BALLAD.  The first single from Bon Jovi's Cross Road album peaked at #4, but it shows all the "peaks" of Jon's voice.  He smashes the vocals on this song.  Chills.
#2- LIVIN' ON A PRAYER
For me, there are a few true "stadium" anthems.  For example- Queen's "We Will Rock You" is the pure definition of one.  But so is this.  You want a concert arena to lose its collective mind.  Play this!
#1- BORN TO BE MY BABY
It's easy to forget this song.  It was the follow-up to"Bad Medicine", the first single off Bon Jovi's New Jersey album and a massive #1.  "Born to Be My Baby" peaked at #3 on the Billboard Chart, but it remains my all-time favorite Bon Jovi song.
What are YOUR favorites?  And the better question is this. Will you be singing them along with band on the Bon Jovi 2022 Tour?
Check Out the Best-Selling Album From the Year You Graduated High School
Do you remember the top album from the year you graduated high school?
Stacker
analyzed
Billboard
data to determine just that, looking at the best-selling album from every year going all the way back to 1956. Sales data is included only from 1992 onward when Nielsen's SoundScan began gathering computerized figures.
Going in chronological order from 1956 to 2020, we present the best-selling album from the year you graduated high school.
The 40 Best Cover Songs by Rock Bands