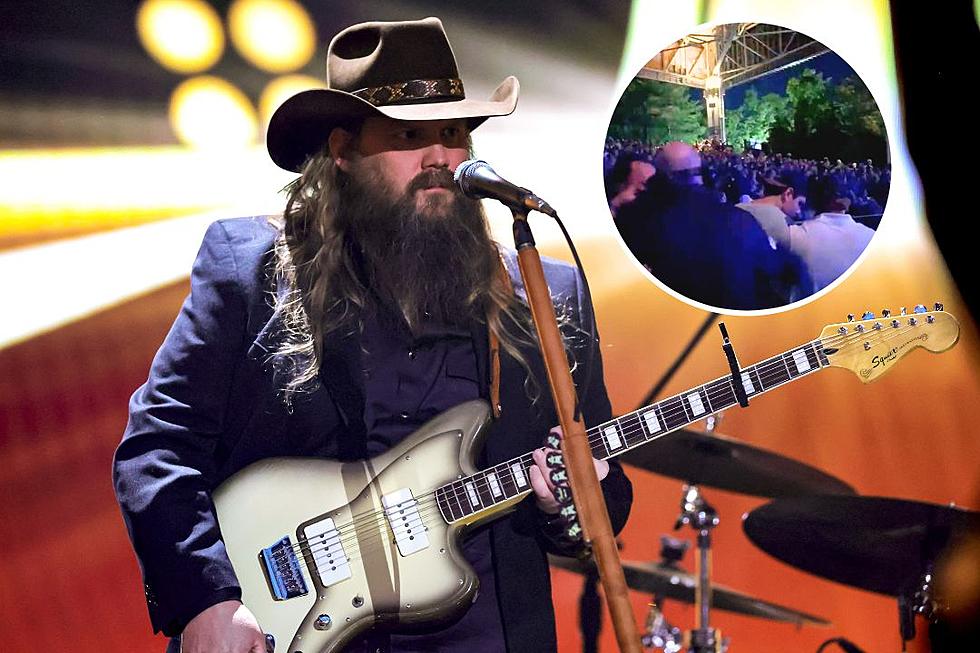 Chris Stapleton Tells Fighting Fans at His Show to 'Get the Hell Out' [Watch]
Kevin Winter, Getty Images / @dorset05251, Twitter
Country concerts can get rowdy — beer is involved, after all — but you wouldn't typically expect a Chris Stapleton crowd to break out in a fight. It happened on Saturday, however, and Stapleton himself had to handle it.
Video captured by a fan shows Stapleton stopping mid-set at the Xfinity Center in Mansfield, Mass., to break up a fight. He spots the commotion from the stage — hear the crowd boo-ing in the video below — and the star's wife, Morgane, points out the guilty parties: A couple of guys throwing fists at one another on the lower concourse.
Calm as ever, Stapleton says into the microphone:
"... These people paid good money to have a good time, you did too, and if this is what you think is a good time, get the hell out!"
The crowd seems pleased at how the events unfolded, cheering and clapping as the show starts back up. Morgane motions to her husband to keep it moving along, and Stapleton picks back up on his hit "Starting Over," as if the interruption had never happened.
Another video shows the guilty parties being ushered out of the arena by security while fellow fans taunt them:
Stapleton's tour made headlines last week, too, when he was forced to cancel a show in Syracuse, N.Y., due to the air-quality issues stemming from wildfires in Canada.
Stapleton's tour runs all the way through October 2023.
Evan Paul is the host of Taste of Country Nights, a syndicated radio show heard on more than 120 country radio stations nationwide, every night from 7PM to midnight. He plays the best new country music and interviews today's top stars, like Luke Combs, Miranda Lambert, Dan + Shay, Keith Urban, Carrie Underwood, Luke Bryan, Chris Stapleton, Lady A, Morgan Wallen, + more! 
25 Chris Stapleton Songs Sure to Bring You to Your Knees
Chris Stapleton has only released four albums, but paring down a list of his
25 best songs
is very difficult. These hits and album cuts are sure to make you feel some kind of way.
PHOTOS: See Inside Chris Stapleton's New Country Music Hall of Fame Exhibit
A new exhibit highlighting the life and career of Chris Stapleton is currently open at the Country Music Hall of Fame and Museum in downtown Nashville.
Chris Stapleton: Since 1978 includes childhood keepsakes, instruments, awards, clothing and unique keepsakes that tell the story of the Kentucky native's journey from an aspiring songwriter to one of country music's biggest stars.
These Artists Prove Traditional Country Is Alive and Well
These 23 modern country singers prove that traditional country is alive and well. Cody Johnson, Justin Moore, Aaron Watson and newcomers like Triston Marez and Lauren Mascitti are staying true to country music's roots. Scroll down to find an artist you'll love.