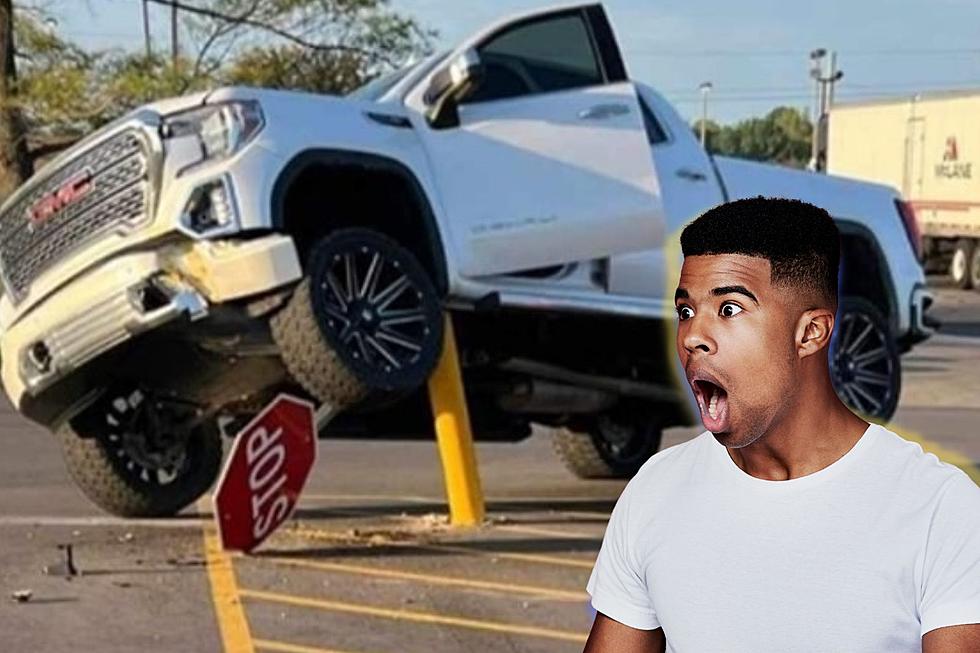 Crash-a-Palooza: The Curious Case of Trucks vs. Poles at Southern Indiana Walmart
Photo: Photo: Gibson County News & Talk
What's yellow and red and invisible? Apparently a stop sign in the parking lot at the Princeton, Indiana Walmart.
My friend Matt Kelly tagged me in a viral post on the Facebook page Gibson County News & Talk, and I had to share it with you. I'll admit that I am not the best driver, especially when it comes to parking. But I am proud to say that I haven't driven into a pole or stop sign.
These are actual photos shared on social media. Two of these strange wrecks that left a pick-up truck up a pole - Literally - happened in the same week. The pics can speak for themselves, but I have to include some of the best comments on Facebook, too.
Julie Enlow Craig
That happens more than a person would think. Seen it happen several times while working there lol
Jordan Lee
If only they would paint it a color that would stand out and grab your attention. Something bright so it doesn't blend in.
Autumn Bough
I did this once while driving a riding mower up a tree. I wasn't paying attention. I was eleven. I'm almost 50 and I still feel like I should apologize to my dad for it again!
Brian Williams
In the Near future, the Ad will go like this: If you ever struck a pole in a Wal-Mart parking lot you may be entitled to compensation
Ben Wallace
I personally know three people that have had a beef with that pole.
Tamara Hays
This has happened three times in the past month that I have physically seen with my own eyes. I have no clue how many times it has happened when I wasn't visiting Walmart.
Rachel Jones
I hope it's not a TikTok challenge
10 Things Only People From Princeton, Indiana Will Understand
Things seem to be changing so fast in Princeton, Indiana. There is a lot of history that only the locals can really appreciate.
Then and Now: See How Princeton, Indiana has Changed Over the Years
I grew up in Princeton, IN and everytime I go back to visit, it seems like more and more has changed. It's not my imagination. Google Maps has a back in time feature, and it took me from 2007 to 2012, and some of the photos are from 2018.
25 of the Worst Parking Jobs in Upstate New York
25 Incredibly Bad Parking Jobs in Maine and Massachusetts