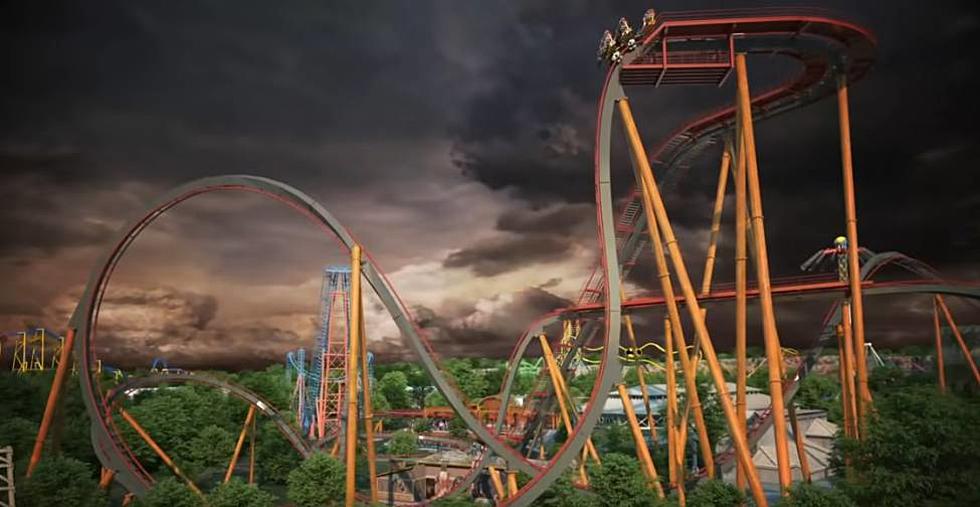 Would You Ride the Terrifying New Dive Coaster at Six Flags Fiesta Texas?
Coaster Studios/Six Flags/YouTube
I freaking LOVE roller coasters.  And, for me, the bigger, faster and more terrifying the better.  While I have never been to Six Flags Fiesta Texas, there's now another reason to go.  This particular reason is brand new and one hundred and fifty feet tall.
Check out Dr. Diabolical's Cliffhanger, which has laid claim to the title of "World's Steepest Dive Coaster!"  Here's a sneak preview.
Dr. Diabolical's Cliffhanger will open to the public in 2022, but it's already generating tons of buzz online.  I have to be honest.  That 95-degree drop looks absolutely INSANE!
I have been on some coasters with steep drops before, but none as crazy as this.
Years ago (in the mid 90s), I rode Desperado, which is located at Buffalo Bills in Primm, Nevada, outside of Las Vegas.  At that time, it was billed as THE tallest roller coaster in the world.  I'll say- it was huge and the first drop was incredibly steep.  If you were sitting in the front seat, It was nearly impossible to see the tracks underneath you.  Take a look!
It's interesting that Theme Park Review, when they shared that particular video in 2014, was curious how Desperado would stack up today.  As you can see (from the video of Dr. Diabolical, roller coasters have gotten taller, faster and steeper.  Rides like Desperado were, in many ways, the prototypes for today's coasters like Dr. Diabolical's Cliffhanger and Kings Island's Orion, which, last year, opened as just the 7th giga-coaster on the planet.  By the way, if you haven't seen that yet or gotten a chance to ride, check this out!
Here's Theme Park Review's multi-angle video of that ride.
So, what do you think?  Are you ready for a "fiesta" of an adventure in Texas, which, next year, will officially be home to the world's steepest dive coaster?  If so, fasten your seatbelt.  It's going to be a "diabolical" ride.
LOOK: Oldest Disneyland Rides From 1955 to Today
Stacker
, set out to compile a definitive list of every Disneyland attraction you can enjoy today and ranked them by their age. Using real-time data from
Touring Plans
, Disney archives, and historical news releases and reviews, our list starts with exciting recent park additions and stretches back to the oldest opening-day classics. This list focuses on the original Disneyland Park, so you will not see any rides from its neighboring California Adventure located just across the promenade. Read on to discover the oldest Disneyland rides you can still ride today.
LOOK: Route 66's quirkiest and most wonderful attractions state by state
Stacker
compiled a list of 50 attractions--state by state--to see along the drive, drawing on information from historic sites, news stories,
Roadside America
, and the National Park Service. Keep reading to discover where travelers can get their kicks on Route 66.