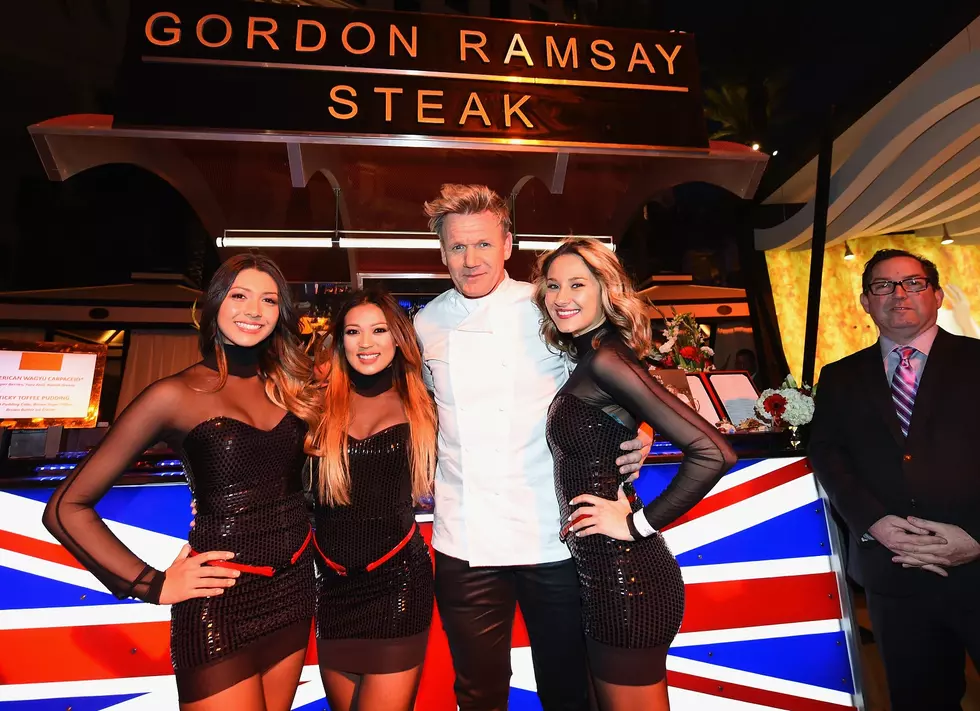 Gordon Ramsay Opening a Steakhouse in Southern Indiana in the Louisville KY Area
Ethan Miller/Getty Images for Vegas Uncork'd by Bon Appetit
Have you ever traveled a good distance just to eat at a specific restaurant? Under these circumstances, I would count two-hour drives--like Nashville or Louisville.
DO YOU TRAVEL LONG DISTANCES JUST TO EAT AT CERTAIN RESTAURANTS?
Well, I have done both. There are tons of restaurants in each city I enjoy, and I can build a road trip around them. In Nashville, I love, among others, the Loveless Cafe and a place in East Nashville called the Wild Cow. And there used to be one called South Street over by Vanderbilt. In Louisville, throw a dart on Bardstown Road and you'll probably hit a joint that I'd make the focal point of a quick trip down I-64.
And since there's so much to do in those cities, it's nothing to figure out what's next while you're eating.
LOOK WHAT'S COMING TO CAESARS SOUTHERN INDIANA
Well, coming soon to Caesars Southern Indiana, right across the river from Louisville, it's a new restaurant that will likely see long lines at the door and have patrons facing long wait times. Of course, you'll have to bring a fat wallet...maybe LOTS of fat wallets. This guy did, as he ordered the most expensive steak on the menu at the Las Vegas location:
Here's what the casino's general manager Brad Siegel told BizJournals.com about the arrival of Gordon Ramsay Steak:
We are honored and thrilled to welcome Gordon Ramsay to Caesars Southern Indiana. Offering a world-renowned dining experience found only in urban areas will be exciting for our valued guests and the region.
THERE ARE ONLY FOUR OTHER GORDON RAMSAY STEAK LOCATIONS
This will only be the country's fifth Gordon Ramsay Steak location--in addition to Vegas, you'll find them in Baltimore, Kansas City, and Atlantic City, and all in casinos.
Now I found this interesting. It doesn't appear that all of his steakhouses are as expensive as the one in Las Vegas. Compare THAT menu with the one in Kansas City and you'll see what I mean.
Also, it would seem that the menus at all of the Gordon Ramsay Steak locations would be somewhat uniform, but Siegel says the one coming to Caesars Southern Indiana will add a touch of local flare:
Gordon Ramsay Steak will be a premier fine dining destination featuring dry-aged beef and other signature steakhouse favorites, as well as seasonal, locally sourced dishes.
HOW GORDON RAMSAY PREPARES THE PERFECT STEAK
And if you wanted to give yourself your own preview of a Gordan Ramsay steak, he shows you how to prepare what he calls the PERFECT steak in two and a half minutes right here:
Seriously, I don't know why you couldn't do that at home. And didn't that look good?
Gordon Ramsay Steak is coming to the Louisville area in southern Indiana. Bring all your taste buds and a good chunk of change.
10 Juicy Reasons Why Someone Should Open a Guy Fieri Chicken Guy! Restaurant in Southern Indiana
Chicken Guy!
is a franchise, which means, for the right person, and the right amount of money and perfect location, you could own a piece of the Fieri fortune. If we had Chicken Guy! in Southern, Indiana it would be Winner, Winner - Chicken Dinner!
Kentucky Restaurants and Bars Featured on National Television
Kentucky has been well-represented on a number of television series, and not just on Diners, Drive-Ins and Dives. Check out the list: