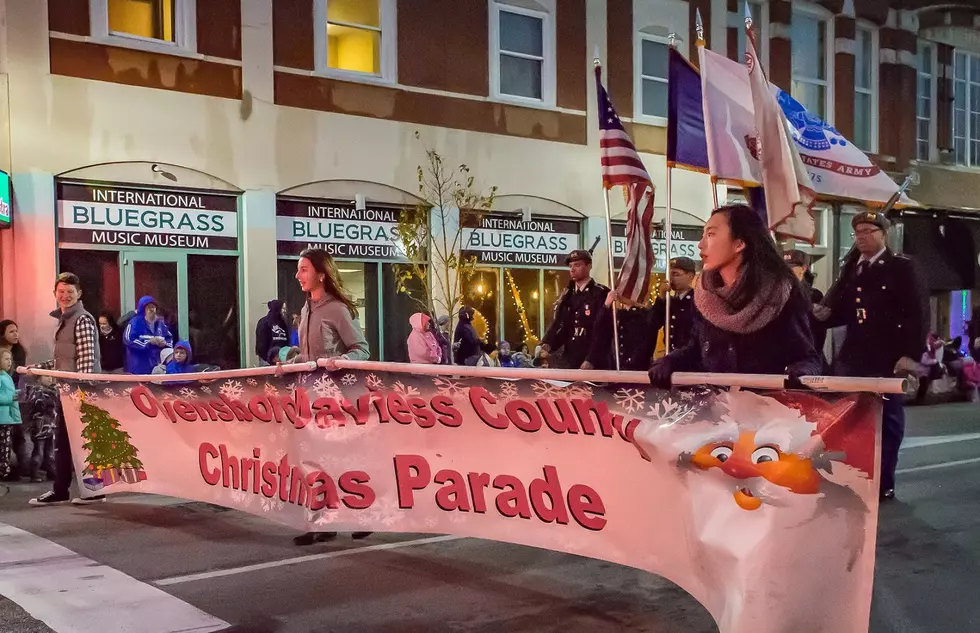 Here's Why the Christmas Parade was Cancelled in Owensboro, Kentucky
Owensboro-Daviess County Christmas Parade Association/Facebook
Although the look of the Owensboro Christmas Parade was set to look a bit different this year because of the pandemic, everyone was still looking forward to some family fun. It was so sad when the news came in this morning that the parade wouldn't be happening this season.
I have always loved the Owensboro Christmas Parade. One of my favorite memories is when I was the sideline reporter with Chad and Spence. I would dress up and we'd have a blast calling all of the parade action. So many families enjoyed the marching bands, the floats, and spending time celebrating the community. We already knew there were challenges and pushback from the public about the 2021 parade plans. Now, we got word that we can't kick off the holiday season by watching the parade and seeing Santa Claus. The kiddos will be so bummed. This was an opportunity to give Santa their list of what they wanted for Christmas. The volunteers work so hard to put the parade together, and we understand while the decision to not move forward was decided.
Owensboro/Daviess County Christmas Parade Canceled
In a statement on their Facebook page, this is what they had to say, "An enormous amount of work and planning goes into an event like the annual Christmas Parade. Following a tradition of more than 84 years, a small group of volunteers work diligently behind the scenes all year long to prepare and execute the annual parade. With no direct funding from any source other than sponsors, parade entries, and vendors, the parade committee creates the most wonderful experience possible for Owensboro and Daviess County residents and do so simply because we feel our beautiful city should pause for a few hours every Saturday before Thanksgiving and come together to prepare ourselves for the wonder of Christmas.", Owensboro Christmas Parade Committee
They went on to add, "Last evening, the parade committee met to review the plans for this year's event and after much thought and consideration, we have decided to cancel the 2021 Christmas Parade event. To be transparent, our expenses, of which we must raise every dollar ourselves, have increased some 25-30%, our expected revenue is down some 80+%, the number of volunteers has fallen to just a handful of people who will guarantee their assistance on parade day, and public support has been vocally against the planned event."
Owensboro/Daviess County Christmas Parade Back Next Year
"After the holidays, the parade committee will begin meeting to make plans for the 2022 Owensboro-Daviess County Christmas Parade, with a planned return to our normal format. We hope that everyone will join us when the parade steps off at 4:30 p.m. at the intersection of Second and Pearl in downtown Owensboro on November 19, 2022.", in closing, they added.
We look forward to spending time together as a community at the parade in 2022.
CHECK THEM OUT: 100 years of Christmas toys, gifts and fads
LOOK: See what Christmas was like the year you were born