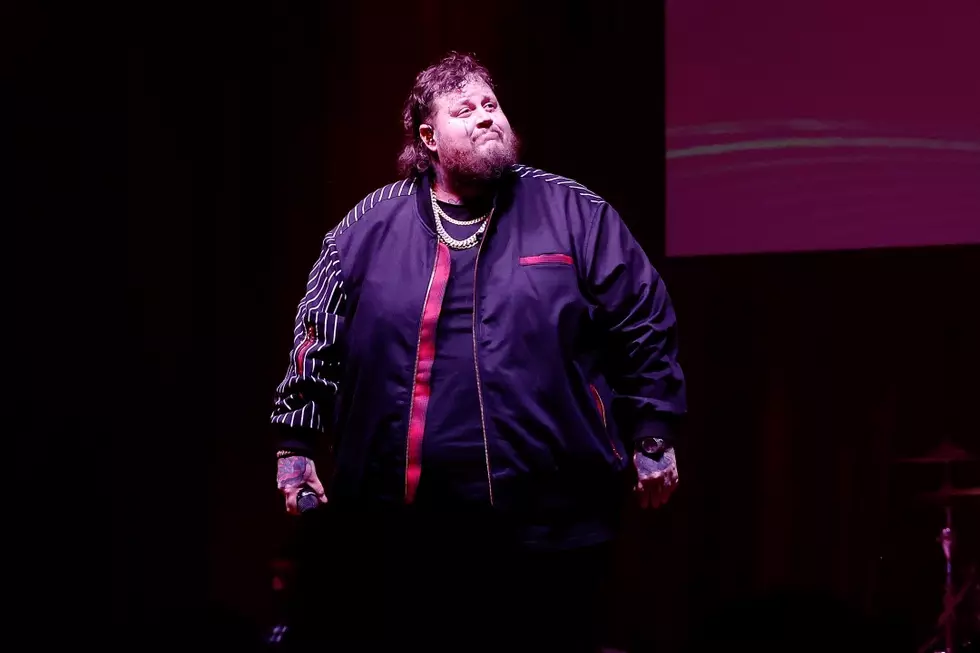 Jelly Roll Is a Teary-Eyed 'Son of a Sinner' After Debut Single Hits No. 1
Getty Images for BMG/BBR Music G
Jelly Roll is feeling emotional after his debut single "Son of a Sinner" hit No. 1 on the Billboard, Country Radio, and Country Aircheck charts. The track is his first offering to country radio and his first chart-topper in the genre — previously he had a No. 1 hit in rock.
"There is no greater reward for a singer and song writer in Nashville Tennessee than to have the #1 song on country radio," Mr. Roll (real name Jason DeFord) writes on social media, admitting he didn't see this happening for him.
"Now imagine that happening to a guy that grew up in this town ... a guy that at every turn the first 25 years of his life he made the wrong decision," he says.
"Imagine everyone telling that guy he had no chance at country radio. 'You're too overweight, you have too many tattoos, they will never let another convicted criminal on country radio' – now imagine country radio proving everyone wrong and taking the chance on the song, the message and the man," he continues.
He goes on to thank his fans and his record label, confessing that he had tears streaming down his face as he was writing his note.
It's the raw vulnerability that we've come to know and love from Jelly Roll, who has been open about his past struggles, including spending a few years in prison.
The Nashville native took country music by storm in 2022. In addition to releasing "Son of a Sinner," he also worked with Brantley Gilbert, sang at the Grand Ole Opry with Craig Morgan and even made his red carpet debut at the CMA Awards with his wife, Bunnie. This year he has already been named one of Country Radio Seminar's New Faces honorees alongside Priscilla Block, Jackson Dean, Frank Ray and Nate Smith. He'll participate in that showcase in March.
Jelly Roll is expected to release his first full-length country album this spring — he's revealed two new tracks that will be included on the project, "Need a Favor" and "She."
"I'm really proud of it. I'm going to have some features on it. It's a country record for sure. It'll be my debut country album." he tells Music Mayhem. "I'm kind of really excited about taking my first real big leap into the genre. I think 'Son of a Sinner' was just kind of showing people what I could do, but we also got some real kind of rock records on there, some real kind of rocky records on there. And we'll have a couple of songs where I'm spitting a little bit too. So it's still true to Jelly Roll for sure."
Best Country Albums of 2022 - Critic's Picks
This list of country music's best albums from 2022 separates artists who aim to make great albums from those simply looking to record great songs. Only one artist found below notched a solo No. 1 country airplay hit this year. Popularity doesn't always equal quality.
It's not that albums from country music's most notable hitmakers aren't any good. Count
Luke Combs
and
Thomas Rhett
as strong honorable mentions for this list but both were edged out by a group that in some ways didn't have to worry about the confines of commercial success.
Randy Houser
and
Muscadine Bloodline
are independant artists.
American Aquarium
is too and
Ashley McBryde
released the sort of album you'd expect from an indy act.
The lesson is country fans need to look deeper for the most daring, creative music of 2022.