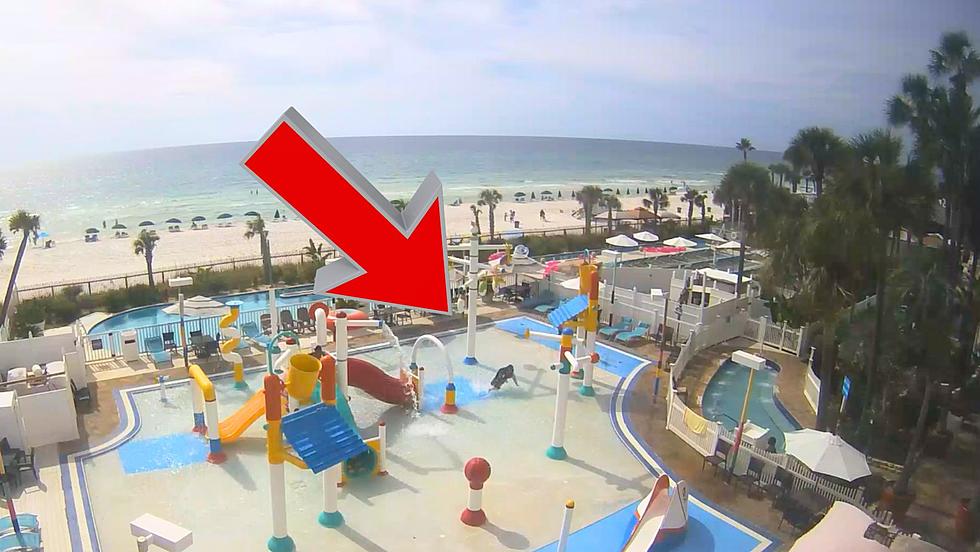 Kentucky Mom's Epic Florida Waterpark Fail [VIDEO]
Holiday Inn Resort Panama City Beach, Florida
The other day when we arrived at the Holiday Inn Resort in Panama City Beach, we got settled into our room and went down to the beautiful patio for lunch.
My son, Rollins was really antsy to enjoy the water features at the park, so he went over to check out the  Aqualand area which is this awesome splash pad and waterpark playground with slides and sprayers. It also has those big ole buckets that fill with water and then dump a huge pail of water on top of your head if you are standing close enough.
Two issues kept him from enjoying himself. 1. He doesn't like water in his eyes. Like, from the time he was little bitty, it has always bothered him. 2. He was bummed to be playing alone. So, when he came back over to the table all sulky, I was like "OK let's go back over there and I'll go with you." I told my husband Michael just to let us know when the food came. Of course, Uncle Chad couldn't miss out on any fun, and let's be honest, he's kinda the king of fun, so he trekked on over with us.
As soon as we got there, Chad said "Come on Rollins! Let's go up this tunnel, and go down the slide!" and then Rollins said "Come on Mom! Come with us!" Well, what could I say to that? I know he may not always think it's cool for me to do stuff with him. So, even though I was not dressed to be all up in some water with my tank top and long skirt, I hiked it up there.
The way up was not where things went wrong. Once we all made it to the top, Chad went first down the slide. He waited for the big bucket to drop, gracefully slid down, and jogged through the shallow water to the edge to cheer us on.
Next was Rollins' turn. He also waited for the bucket to tip over and then shot down that slide super quick and ran off under the sprayers.
I followed suit and waited for the water to fall from the pail before sitting my big ole behind in the red tube slide. As I went down, my butt cheeks squeaked on the bottom and things did not seem as smooth as it looked when Chad and Rollins took their turns.
I was anticipating standing up as soon as I could to avoid getting totally soaked in the water below. I realize now that was a futile effort because I would have been drenched regardless.
As soon as I reached the bottom, I went to stand up and, uh, it didn't happen. I guess the momentum I had built up mixed with gravity was not a good combination for me because time went into slow motion as I flew across the water all the while trying to get my bearings to stand up. Which never happened.
At first, I was thinking oh great, I'm gonna get hurt, but when I realized the water was my friend and had caught my fall, I started absolutely DYING LAUGHING. I sat up to get myself in order (things had jostled from their rightly places if you know what I mean.) I looked over to find Rollins and Chad bent over cracking up at my misfortune and I couldn't help but do the same.
Then. The cherry on top. I didn't realize I had landed RIGHT UNDER the bucket. So to add insult to injury, before I could get up and move that daggum thing dumped a whole huge pail of water right on my head. At this point, I was too soaked to tell there were tears of laughter streaming down my face, but all I could think of was I wish someone had captured that on camera! 
Well, luckily the next morning as we were setting up to broadcast the show from the resort, our friend and IT director Roger told us about the security cameras. So, thanks to Roger, we can all enjoy my epic fail any time! Here you go. You're welcome. No regrets.
There are two different angles so you can see my sweet child and dear friend pointing and laughing at me. Which is almost as funny as the fall!
PCB Resort Provides Gorgeous Lazy River With Breathtaking Views of the Gulf
This Panama City Beach Resort provides a gorgeous beachfront view of the gulf while you laze around and relax in the sun.
Gallery Credit: Holiday Inn Resort PCB