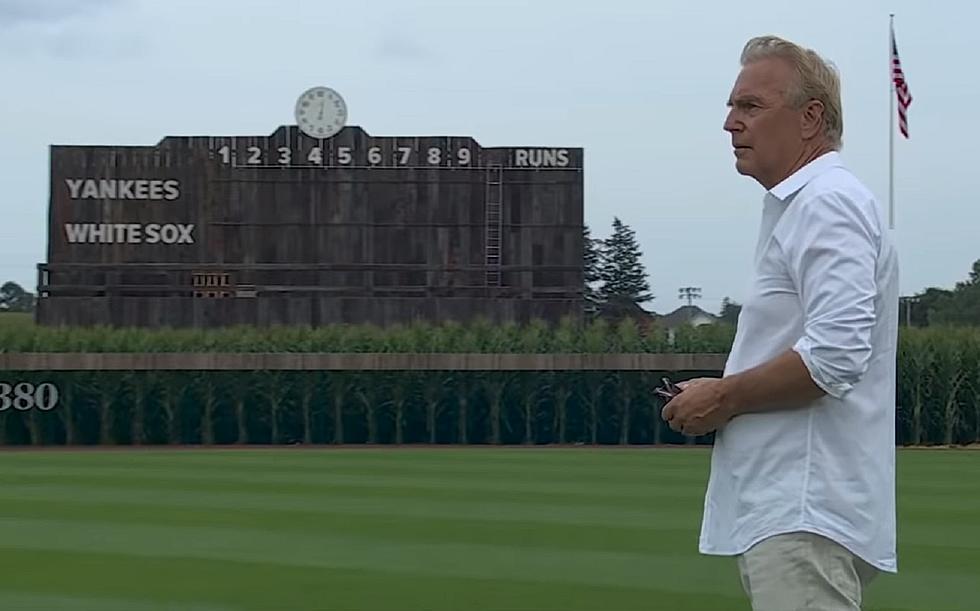 Kevin Costner Leads the Teams onto the Field of Dreams…and I've BEEN There [VIDEO]
MLB via YouTube
I have a goal. It is a major bucket list item. In fact, it's a bucket list entry that features 50 smaller entries.
That's because it's the goal of visiting all 50 states. So far, I've been to 45 of them.
Back in 2009, I added Iowa to my list because that's where Dyersville is. And DYERSVILLE is home to one of the most iconic filming locations of all time...the Field of Dreams. It also helps that that is my second favorite movie of all time. I can watch it anytime and it never gets old.
But 2009 was the 20th anniversary of the release of that film classic and I had to go and it was magic...just like in the movie. No one could go into the house but we could sit in the bleachers and watch games. And tourists were actually INVITED to play on the beautifully manicured field made available to us. It was an extraordinary day. It's where I got my souvenir baseball.
It's also where the New York Yankees and Chicago White Sox played a thrilling game won by the Sox, 9-8. How fitting. And Kevin Costner was there. I don't imagine he would have missed it for the world. In fact, he led the teams out onto the field. If you're running short on cold chills, have some now:
I can't watch that and not tear up. Who am I kidding? I can't watch the MOVIE without tearing up...32 years later.
Again, it never gets old. And if you ARE a fan of the movie, the pilgrimage is worth it. To be honest, there's not much there for the casual fan. But for the diehards like myself, the emotions are worth the trip.
I can see James Earl Jones now..."People will come, Ray. They'll come to IOWA for reasons they can't even fathom." Well, wait a minute, we CAN see James Earl Jones right now:
Wow. All the feels.
I'd say this was a long time coming. And I'd say James Earl Jones was exactly. People did come. And they continue to do so. If you're a fan of the movie, you know exactly how I'm feeling right now.
The 100 Best Places to Live in the Midwest
LOOK: TV Locations in Every State