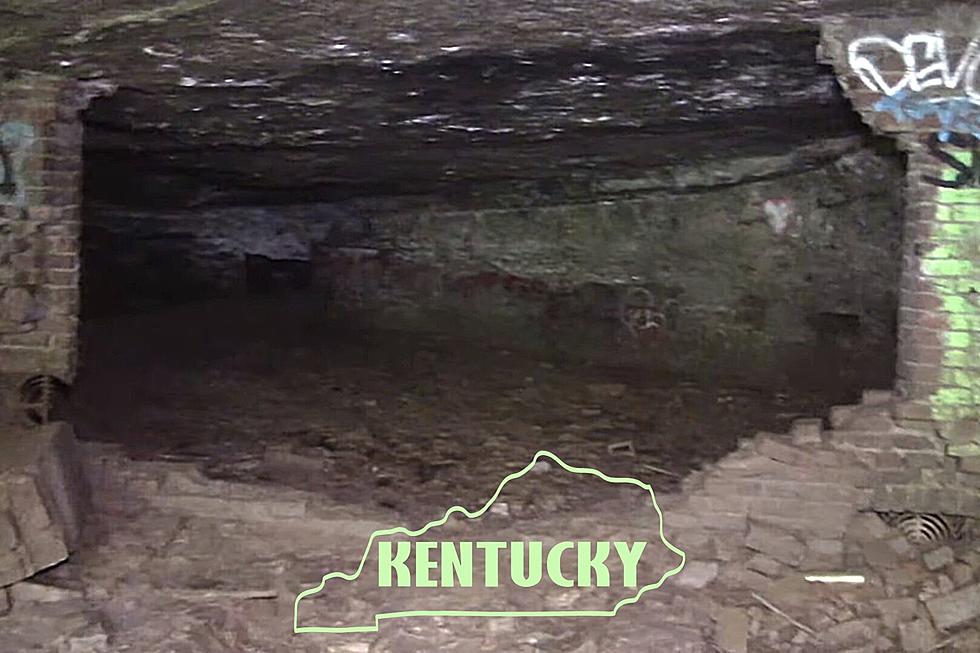 These Creepy Underground KY Tunnels Have Some Dark Histories
Louisville Urban Explorer via YouTube; Canva
By now, we're all familiar with the Louisville Mega Cavern. If folks aren't ziplining throughout the year, they're driving through it during Lights Under Louisville. It's a spectacular attraction, and Derby City gets high marks for utilizing it so smartly.
But the Mega Cavern isn't the only passageway beneath Louisville. There are five tunnels that offer a glimpse of the past, and the stories they tell can be pretty dark...like the tunnels themselves. Also, not all of them are accessible, and maybe, by now, NONE of them are. But let's dig in, anyway.
The Seelbach Hotel
According to Kantuckee.com, everyone from global dignitaries to some of America's worst criminals stayed at the Seelbach on occasion. And the website alludes to how this particular tunnel--located two stories below hotel's ground floor--was used:
While the opulent stays are well-documented, the hotel's darker secrets lie nearly two stories below its lobby. The first escape route, an old brick tunnel stretching 20 feet, was used as a passageway to distribute steam heat from pipes throughout the hotel in the first half of the 20th century. This open cavern has since been walled off but once provided easy access to neighboring buildings if a guest was in need of a hasty exit.
Dark secrets? Escape route? Hasty exit? It doesn't sound like Kantuckee was referring to kings and queens...at least with regard to those last two items.
The Southern Baptist Theological Seminary
Tunnels underneath the seminary were built to move heat throughout the campus. They are very old tunnels, and they are not accessible to the public. But here's something I can't figure out. From what I've learned, there's an Egyptian sarcophagus that the public can view, so I'm guessing it isn't in the tunnel. But the wording in the Louisville Courier-Journal piece about the tunnel is confusing and doesn't totally indicate the sarcophagus ISN'T in the tunnel. But since it's available for public viewing, I'm guessing it isn't.
The Louisville Courier-Journal
A tunnel in the basement of the LCJ building was the scene of a horrific incident in 1989. A former employee shot and killed eight people before taking his own life. Part of the rampage happened in this particular tunnel.
Sauerkraut Cave
E.P. "Tom" Sawyer Park sees hundreds of visitors throughout the year, but it was once the site of the Central Kentucky Lunatic Asylum which was later renamed Central State Mental Hospital. It had relocated to LaGrange Road by the 1990s. But in its early years, long before refrigeration, a passage known as Sauerkraut Cave ran beneath the hospital. It was used to store sauerkraut and milk, among other things. The cave's entrance can be found behind the park's archery fields and is accessible to the public.
The Waverly Hills Sanatorium
I'm pretty sure you guessed that this iconic hospital would be on this list. Well, here it is. And the reason it IS a part of this story is, for me, the scariest aspect of Waverly Hills Sanatorium. As we all know, Waverly Hills is open for touring; its biggest season is right around the corner. And one of the features is the "body chute." I hate that term, but that's what it was--an underground tunnel used to transport deceased tuberculosis patients. Waverly Hills was a TB hospital.
Make sure when you go exploring ANYWHERE that you are respectful of any rules and regulations that forbid admission to abandoned places.
As I said earlier, some of these tunnels are NOT available for touring.
$12 Million Castle In New York Has Its Own Underground Tunnel
This
$12 million home
is located in the Catskills and has its own underground tunnel.