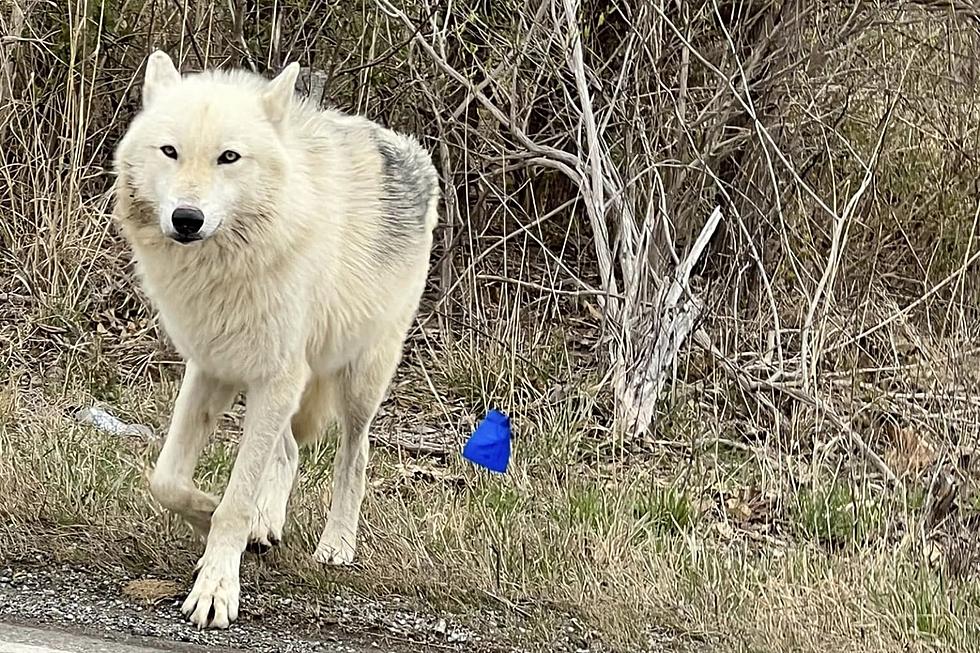 Multiple Evansville Residents Report Seeing White Wolf Dog
Photo: Ryan Winters
I am always amazed to see wildlife just out roaming around. Last week I spotted this deer just across from my house. I've never seen any deer in our area. my son recently saw a fox, and of course, we have raccoons and bunnies.
Deer in Headlights - Literally
Reports of a White Wolf in Vanderburgh County
My friend Tara tried to trick her hubby into thinking that she was bringing this fluff-monster home. Of course, she was joking because it looks to be a wolf.
Tara took this pic on Oak Hill Road, in the area between Farm 57 and Oak Hill school.
Another White Wolf Sighting
Ryan Winters also saw the white wolf dog and was able to get a couple of closer photos. This sighting was in the same general part of Vanderburgh county near Kansas Road and SR 57.
Is it a Wolf or a Dog?
I reached out to Lt. Duane A. Englert, he is the District Commander of Indiana Conservation Officers. If anybody knows what this furry wolf dog is, it will be him.
The wolf has been reported multiple times and so far we have had no reports of injury or aggressive behavior. Indiana law does not address wolf hybrids as far as regulating them, only when they are 100% wolf. IDNR then requires permits to possess a wolf or wolves. Basically, a hybrid wolf is considered a dog. We have no reports of wolves or packs of them.
Hybrid Wolf Dog
So, 'Jacob' is a dog that probably has some wolf in him. The proper authorities are aware of him. This is a good reminder to keep your domesticated animals indoors or go outside with them, just in case there is a wild wolf-dog on the loose.
312 IAC 9-11-8 Class III wild animals for which a permit is required Authority: IC 14-10-2-4; IC 14-22-26-3 Affected: IC 14-22 Sec. 8. (a) A permit is required under this rule for the following Class III wild animals: (1) Wolves that are purebred. (2) Bears (all species). (3) Wild cats (all species), except feral cats and cats listed in section 7 of this rule. (4) Venomous reptiles. (5) Crocodilians that are at least five (5) feet long. A hybrid of any of these species with a domestic dog or domestic cat is exempt from permitting under this section.
LOOK: 30 fascinating facts about sleep in the animal kingdom
LOOK: Stunning animal photos from around the world
From grazing Tibetan antelope to migrating monarch butterflies, these 50 photos of wildlife around the world capture the staggering grace of the animal kingdom. The forthcoming gallery runs sequentially from air to land to water, and focuses on birds, land mammals, aquatic life, and insects as they work in pairs or groups, or sometimes all on their own.
10 Actors Who Adopted Animals From Movie And Sets