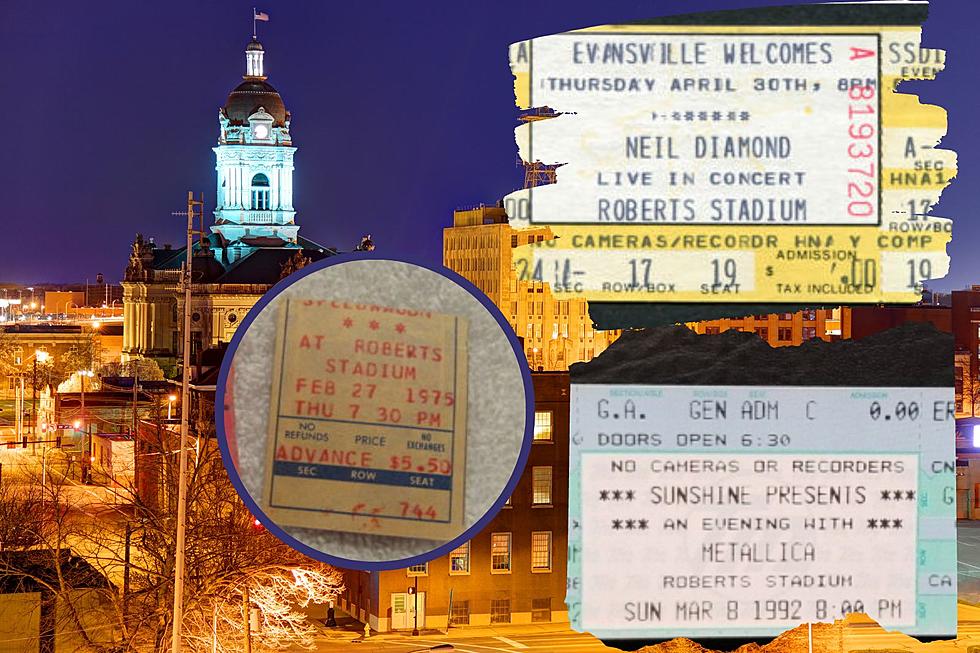 Revisiting Evansville's Musical History: 10 Unforgettable Concerts at Robert's Stadium
ebay ticket stubbs
If you are of a certain age, you remember that Robert's Stadium in Evansville, Indiana was home to some pretty amazing concerts. It seems like plans have been in the works to do something nice with the area ever since its final show in 2011. So let's go back to a time when big-named artists played at Robert's Stadium.
First, a Little History of Robert's Stadium
Robert's Stadium was a legendary venue located in Evansville, Indiana, that hosted numerous memorable concerts and events from 1956 to 2011. Over the years, the stadium played a significant role in shaping the music scene in Evansville and surrounding areas.
Many popular musicians and bands graced the stage at Robert's Stadium, entertaining thousands of fans with their electrifying performances. The stadium hosted some of the biggest names in the music industry.
Historical Show with The King
I can't even imagine how exciting it would have been to see Elvis Presley perform at Robert's Stadium. He played his final show in Evansville on Sunday, October 24, 1976.
The Final Show
The final concert at Robert's Stadium was held on August 7, 2011. Country singer Kenny Chesney packed the venue for one last party.
Country Acts are a Big Deal in Evansville, Indiana
Returning Acts
You might've seen the same band more than once at Robert's Stadium.
Bon Jovi
Foreigner
John Mellencamp
Reba McEntire
Motley Crew
Not Just Concerts
There were also plenty of comedians, sporting events, and variety acts throughout the years. Did you see any of these shows:
The Wiggles
Winter Jam
The Harlem Globetrotters
Thunder Nationals Monster Truck Racing
Blue Man Group
10 Unforgettable Concerts at Evansville, Indiana Robert's Stadium
Let's remissness about some of the best concerts that filled the seats at Robert's Stadium in Evansville, Indiana.
10 Bands from the 80s that Played Evansville's Mesker Music Amphitheater
It doesn't have to be a Throwback Thursday to talk about Mesker Music Amphitheatre, or if you grew up in Evansville, you can just refer to it as Mesker. Concert enthusiasts really had it made when Mesker hosted shows.