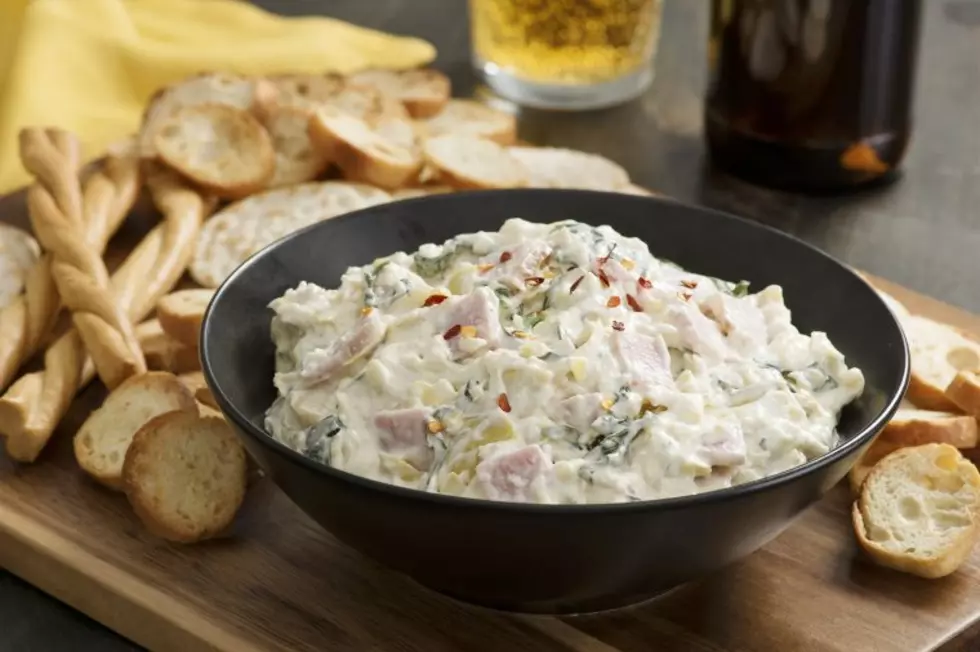 How to Make the Best Spinach and Artichoke Dip You'll Ever Put in Your Mouth
Kentucky Legend
There's just no other way to say it. This is the absolute best spinach and artichoke dip you will ever stick in your mouth. And the recipe comes from Kentucky Legend based right here in Owensboro, KY.  Naturally, it features an ingredient that basically turns the appetizer into a main course. The recipe calls for award-winning Kentucky Legend ham!
SLOW-COOKER HAM SPINACH & ARTICHOKE DIP
1 1/2 cups chopped Kentucky Legend Quarter Sliced Ham
2 tbsp butter
1/2 cup grated onion
2 cloves garlic, minced
Pinch hot pepper flakes
6 cups packed spinach
1/4 tsp each salt and pepper
2 pkg (8 oz each) plain brick-style cream cheese, softened
1 cup sour cream
1/2 cup mayonnaise
2 tbsp lemon juice
1 tbsp Dijon mustard
1 tsp finely grated lemon zest
2 cans (14 oz each) artichoke hearts, drained and chopped
1 cup shredded Asiago cheese
1/2 cup grated Parmesan cheese
Assorted crackers
DIRECTIONS:
Melt butter in large nonstick skillet set over medium heat; cook onion, garlic and hot pepper flakes for 2 to 3 minutes or until slightly softened. Add spinach, salt and pepper; sauté for 2 minutes. Remove from heat. Let cool completely; chop and set aside.
In food processor, combine cream cheese, sour cream, mayonnaise, lemon juice, Dijon and lemon zest; pulse until smooth. Fold in artichoke hearts, ham, Asiago and Parmesan. Stir in spinach mixture, discarding any accumulated juices.
Spread evenly into slow cooker. Heat on Low for about 2 hours or until heated through and gooey. Reduce heat to Warm. Serve with crackers for dipping.
This morning, Brooklyn Maple, from Kentucky Legend, joined us on our weekly What's Cookin'? segment to share the recipe. Here's what she had to say about it!
When I learned that Brooklyn was going to share the recipe on the show, I decided that I had to try it at home and did. It was pretty simple to put together and the end result was INCREDIBLE!
For a quick step-by-step tutorial on how to make this Ham Spinach & Artichoke Dip, watch this!
For more delicious Kentucky Legend-crafted recipes, CLICK HERE!
LOOK: Here are copycat recipes from 20 of the most popular fast food restaurants in America