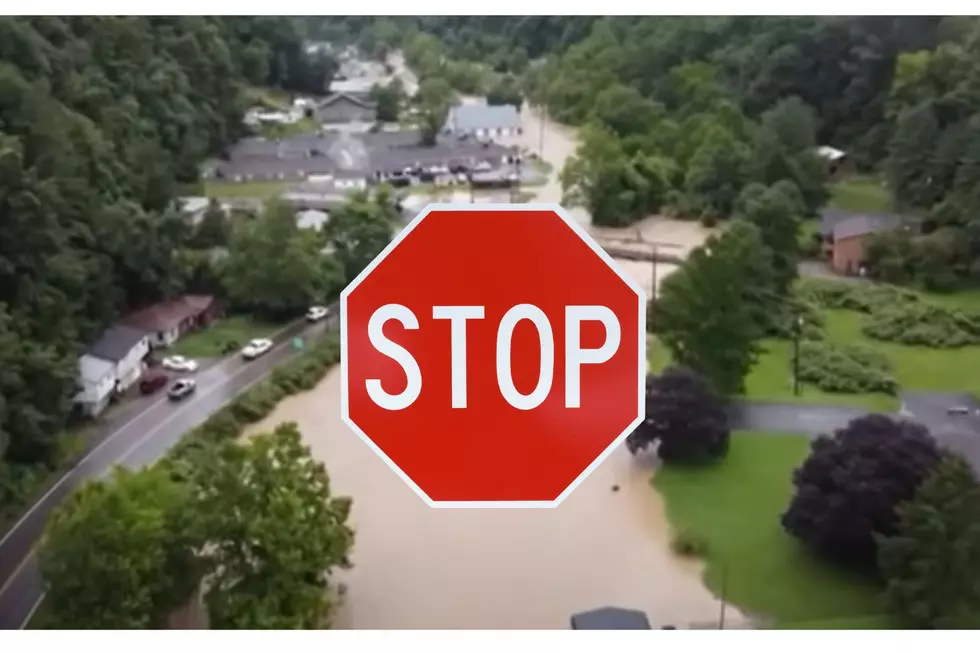 STOP-Here's Why You Should Wait To Donate To Eastern Kentucky Flood Victims [VIDEO]
CANVA/YOUTUBE
Last week parts of Eastern Kentucky faced one of the worst natural disasters in the history of the Bluegrass State.  Many want to help but you need to read this first.
WHAT YOU NEED TO KNOW ABOUT THE EASTERN KENTUCKY FLOODING
There are over 3 million people under a flood alert in Eastern Kentucky, West Virginia, and parts of Tennessee.  Residents in several counties woke up Thursday morning to rising water in their homes.  Overnight over 9 inches of rain fell.  It is being reported that this is being called the 1-in-1000-year flood.  This means the chance of this happening was .1% chance of it happening and it actually happened twice in a week.
Just in Kentucky alone there are over 23,000 people without electricity or water.  Three different counties have been placed under the State of Emergency.
HERE'S WHAT TO DO IF YOU WANT TO HELP
Everyone wants to help.  After the December 2021 tornado, many came together to help and started collecting which is amazing.  A lot of people collected through individual or rogue efforts without checking first and then ended up having warehouses full of items that are still not being utilized because they were inundated with stuff.
Officials are asking that you follow the guidelines for donating and not just pack up and drive to donate.  Here's what they are asking you to do according to Daviess County Emergency Management Systems;
PLEASE SHARE, so we can all help our eastern KY neighbors the best way we can.
Donate today to the "Team Eastern Kentucky Flood Relief Fund":
Or if you would like to mail in a donation, please make your check to Kentucky State Treasurer. In the memo line please note the donation is for the "Team Eastern Kentucky Flood Relief Fund." Send check to Public Protection Cabinet, 500 Mero Street, 218 NC, Frankfort, KY 40601.
"Let's help Our Eastern Kentucky Friends.
A semi trailer will be parked at West Louisville Elementary School starting Tuesday thru Friday. The Apollo High School FFA are going to have members there to collect items to put in the trailer for Eastern Kentucky. Collection hours will be 10 am thru 6 pm Tuesday - Friday.
Eastern helped Western when we needed it, let's return the favor!"
#kentuckystrong
#kentuckyproud
Seth and I are overwhelmed with gratitude by this kind gesture. Thank you western Daviess countians! I love our school community more than they will ever know!
Items needed:
Buckets
Shovels
Mops/Brooms
Toilet paper
Paper towels
Garbage Bags
Rubber Gloves
Rubber boots
Cleaning supplies
Sponges
Scrub brushes
Pet food
Pet leashes
Baby formula
Baby food
Baby body wash
Air Mattresses
Sheet sets
First Aid Supplies
Toiletries
Non-Perishable Food Items (pop top cans)
Gallon Jugs of Water
Gift Cards (Walmart, Visa, Etc)
Please NO CLOTHING donations at this time.
Dramatic Drone Footage Captures Tornado Aftermath in Bremen & Dawson Springs, Kentucky
Local Tri-State tornado chaser Christopher Conley captures heartbreaking and gut-wrenching photos from his drone. Photos reflect devastation in both Bremen, KY, and Dawson Springs, KY. We in this area are so thankful for Chris as he ensures community members remain safe during the storms.