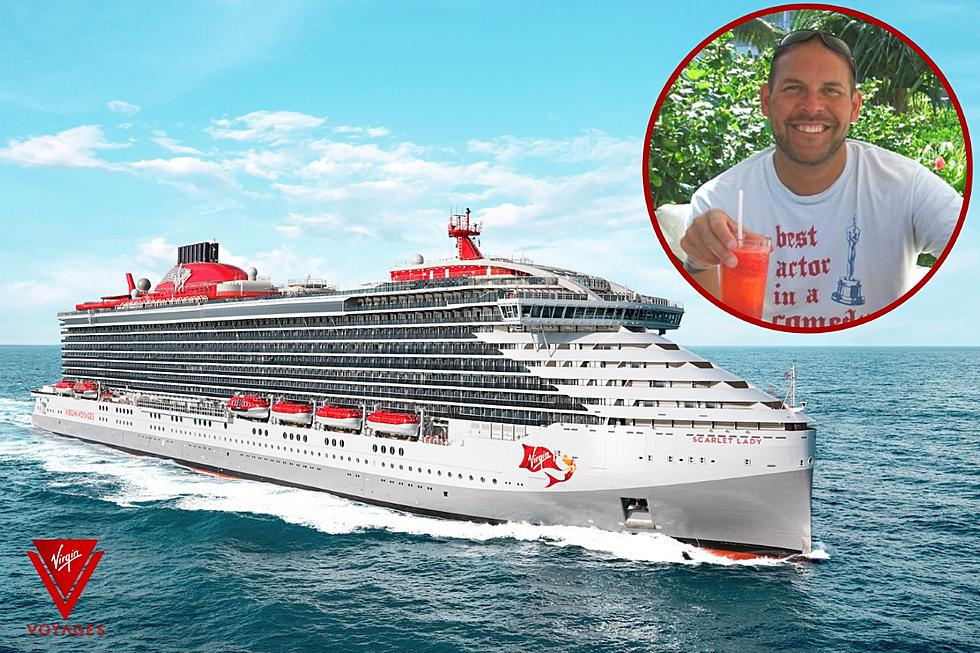 Owensboro Radio Personality Hosting a Fun Cruise on the Virgin Scarlet Lady
Virgin Voyages
I love to travel.  It ranks alongside tennis as my favorite hobby.  I will jump, drive, fly and cruise at any opportunity I have to get out of the country to explore, relax and have fun.  I have been to a lot of places- from Rio de Janeiro to Nairobi, Kenya to Santorini, Greece to Aruba, Jamaica, and a bunch more places I want to take ya!
Back in 2015 here at WBKR, we loaded 200 listeners onto a cruise ship and headed off to Mexico on Cruise with a DJ!  Well, guess what?  I am ready to cruise again and am about to set sail on a fun, exciting and unique new cruise line- Virgin Voyages.  And, I want YOU to go with me.
I have teamed up with my friends at Haynie Travel and Virgin Voyages and we've put together an incredible ADULTS ONLY Fall Break getaway.  Yes, people!  Let me repeat that for you.  It's ADULTS ONLY!
On Sunday, October 9th, we're going to Miami, Florida and boarding Virgin Voyages' Scarlet Lady. Then, we're heading off to Mexico and The Beach Club at Bimini.  It's going to be an amazing 5-night getaway.
Here's a look at Virgin's Riviera Maya itinerary.
I absolutely adore Mexico and the eastern coast of it is absolutely gorgeous.  This particular cruise ports in Cozumel and offers access to that island and Playa del Carmen.  There is literally something for everyone. There's incredible shopping, some phenomenal beaches and all-inclusive beach clubs you can spend the day at.  Or, if adventure is your thing, you can go ziplining in the tree tops (been there, done that, got the photo), go horseback riding on the beach, enjoy the incredible snorkeling and scuba opportunities, drive around the island in a Jeep, or be inspired by the awe of Mayan ruins sites. There's so much to see and do and we'll be spending 16 amazing hours in port to give you the chance to check some boxes on that bucket list.
Then, we're headed off to The Beach Club at Bimini.
This is a Virgin Voyages exclusive destination and we'll be spending our final day of the cruise soaking up the rays!  Y'all, this place is glorious and the sunsets are incredible.
With the help of Haynie Travel and our friends at Virgin Voyages, we have secured some phenomenal and exclusive rates for this trip.  We have two classes of cabins available: The Sea Terrace Cabin and the Brilliant Suite.
First, check out this photo of the Sea Terrace Cabin.
The price per cabin for this trip is $2106.00 (based on double occupancy).  That is just $1053.00 per person and that includes all taxes AND gratuities.  I love that about Virgin Voyages.  Gratuities are included in the base price of the trip.  That's a huge bonus. Plus, that rate also comes with Virgin's over $600 in value-included perks like free WiFi, essential drinks and, of course, all food!
We're also offering a suite option for this trip.  Check out these photos of Virgin's Brilliant Suite.
And that bathroom!!!
The price for this suite on the  Take a Virgin Voyage with Chad is just $3915.50 per cabin (based on double occupancy).  That's just $1957.75 per person and includes the same perks outlines above for the Sea Terrace Cabins.
We're going to Mexico, my friends!  And Virgin's Scarlet Lady is going to take us there.
This ship looks fantastic and I can't wait to welcome you aboard.
If you'd like more information about the chance to Take a Virgin Voyage with Chad, fill out the form below and the staff at Haynie Travel and I will be in touch as soon as possible to get your cabin reserved!
25 Stunning Wildlife Photos from Amboseli National Park in Kenya
For our summer vacation, Kevin and I traveled to Africa for a safari in Kenya. Our first stop was Amboseli National Park, which is world renowned for its impressive population of elephants. And the park delivered. Not only did we see an incredible amount of elephant families, we saw giraffes, zebras, wildebeests, monkeys and, yes, a lion! Here are some of our favorite photos from our visit.
21 Heart-Stopping Photos of Beautiful Lions in Masai Mara Reserve in Kenya
I just returned from Kenya, which is home to the Masai Mara. The reserve has the densest population of lions in the world. Not only did I see a lot of lions, I saw them up close and personal in hair-raising proximity. They were majestic and amazing.