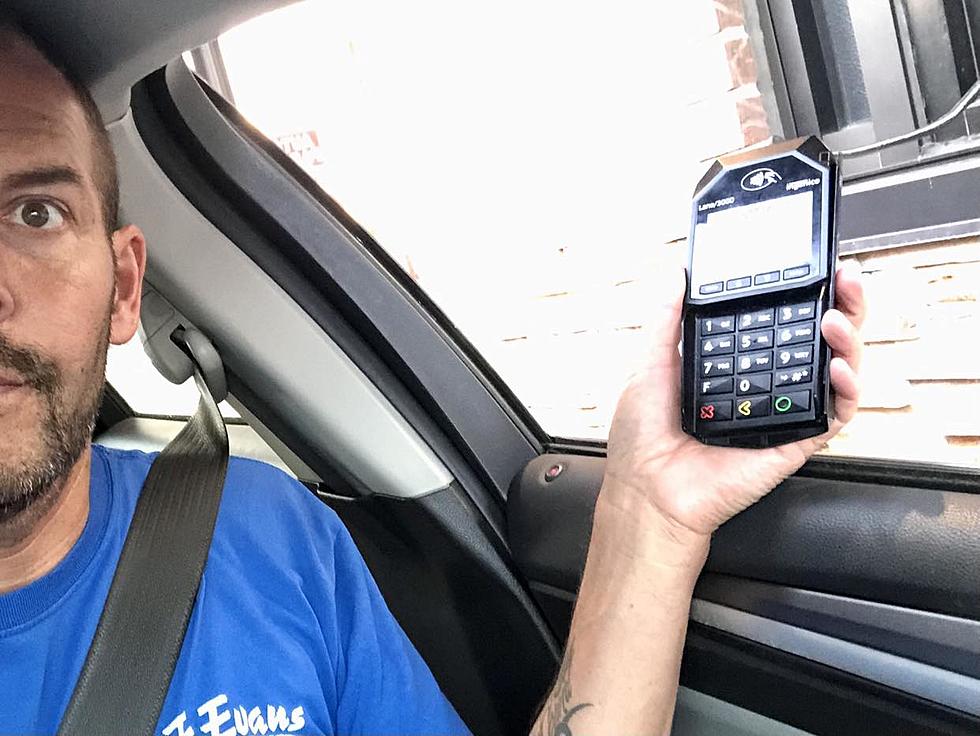 Kentucky Fast Food Manager Dishes on Why More Restaurants are Handing You the Credit Card Machine
Chad Benefield
Why are we doing this? Many fast food restaurants around Owensboro and other parts of Kentucky and Indiana are now handing credit card readers out of the window and having you process your own payment. Not to sound like a person the verge of a nervous breakdown, but IT. DRIVES. ME. CRAZY.  I rolled into a local drive thru the other day and caught myself rolling my eyes and saying "Oh, we're doing this?" when the young man hoisted it out of the window into my hand.
While I won't name the restaurants where this happened to me in the last week, I can tell you there are multiple places in town doing this and I am starting to experience it more often than not. My coworker Barb and I chatted about it and hypothesized that it could be a leftover remnant of the COVID-19 pandemic.
In fact, if you check out online retailers like Amazon, you'll find a variety of retractable arm mounts specifically designed for drive thru credit card readers. Here are a couple of "arm mount" pics I found from H&K International. I was hunting around for these photos like I have some weird, insatiable fetish for technology.
By the way, this particular model of credit card machine mount is sold out and the way it was marketed is a clear result of the pandemic. The product description says this:
Keep your employees at a safe distance in the drive thru window with this extendable card reader arm. Easily mounts to drive thru window and extends outward to the customer.

 
Okay. I get the idea behind this, but it still DRIVES. ME. CRAZY.
Here in Owensboro, most of the credit card machines that are being handed to me aren't on a mount at all. They're attached to these seemingly miles-long umbilical cords. Since we've climbed out of the pandemic, why are we doing this?
I decided to go straight to a reliable and trusted source. I wanted to talk to someone who's all up in it.  Someone on the front lines. So. I called a local fast food restaurant and talked with an employee who's in management training. He says there are actually two reasons why his company is recommending that all locations adopt the practice of handing the machines out of the windows to the customers in their cars.
Reason #1- Customers have reportedly complained they are being overcharged when they hand their cards into the window. If you're that person, stop it. That's ridiculous. While mistakes do indeed happen, I don't think there's a rogue legion of fast food workers overcharging you so their company can make extra money.  Exactly what part of that money do you think is actually going into their pockets?  I have worked in a restaurant and can answer that question for you. The answer is NONE. Quit being a drama queen and just enjoy your #4.  See what you've caused the rest of us?
Reason #2- The credit card machines, in almost every case, prompt you to leave a tip.
I certainly have noticed that. Almost all of the machines offer you a variety of tipping options and levels. Some start out at the customary 15%. Others I have seen suggest that you tip at least 18%.
This reason makes the most sense to me. I get it. Like I said, I used to work in a restaurant. I waited tables to pay my way through college. Now, there will be those people who argue that they shouldn't have to tip fast food workers because they're not like servers. A lot of servers are paid below minimum wage and rely on their tips to make money. Fast food workers are paid minimum wage (at least) and aren't attending to customers like waiters and waitresses do.
What you do with that is up to you, of course. And now, with those credit card machines being lifted out of the drive thru into your car, it seems the power to make that decision is firmly in your hands- figuratively and literally.
From coast to coast: The 20 best regional fast-food chains to try
From burgers to subs and even creamy milkshakes, these tasty fast-food chains, compiled by
Stacker
, are a must-try on your next road trip.