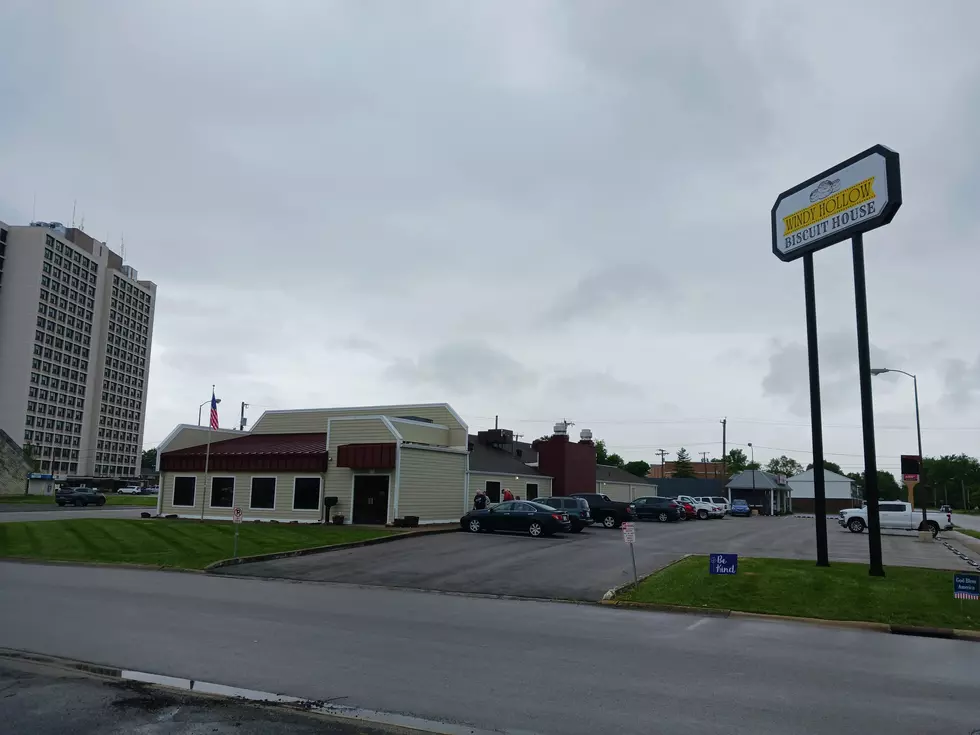 Owensboro, KY Restaurant Owner Serves Up Collaboration Over Competition
Dave Spencer/Townsquare Media
A few days ago, I was scrolling through my Facebook feed and something caught my attention. My friend Evelyn Miller, who many people here in western Kentucky know as "Rooster," made a post about a new restaurant here in town. Now, you may be thinking that someone posting about a restaurant on social media isn't a particularly novel occurrence. However, when you consider that Evelyn owns Windy Hollow Biscuit House, it was certainly interesting to see her share this . . .
According to Rooster's daughter, Hallie, her mom has followed Boujie Biscuit for years. Evelyn even stated that in her post. She's been an avid follower of Cyndi's over four years and always wanted to visit the Boujie location in Louisville. She never had the chance to do that, so she made sure to visit now that Boujie Biscuit has opened a new location here in Owensboro.
Rooster added, "Please visit her Thursday-Saturday at Williamsburg Square. It's takeout only but you'll love it no matter where you eat it!!"
Now, let that sink in. Rooster owns her own biscuit restaurant here in town. In fact, the drive from Boujie Biscuit to Windy Hollow Biscuit House is maybe a mile tops. But Evelyn doesn't see the new establishment as competition, she sees it as a celebration. It's a celebration of another female and minority-owned business here in town.  Evelyn means every word of it when she says, "Welcome to Owensboro! We wish you the best!!!"  She does. This is a rare small business owner who puts competition aside so everyone can succeed.
That's something Rooster inherited from her dad, Hal, the legendary owner of Windy Hollow Restaurant.
As Hallie puts it, "Mom will support any business that runs on kindness because that is and was Hal's legacy."
His daughter has certainly taken that legacy to heart and has picked up the flag and run with it.  You'll see it when you first walk through the door at Windy Hollow. There's a huge shelf there and local businesses and nonprofits are encouraged to share material about who they are and what they do.
It's not uncommon to see menus from other restaurants proudly showcased there. Here's another example, a shining one, of Rooster's willingness to share the spotlight and space.
Here in Owensboro-Daviess County, we're now home to over 3,000 refugees from Afghanistan, Burma, the Congo and more. Evelyn was quick to hire some refugees to work for her at the Windy Hollow Biscuit House. It didn't take long for Rooster to do what she always does in any circumstance. She got to know the staff and learned that one of the men working for her- Tariq Pakzad- owned a restaurant back in Afghanistan. She quickly noticed that Tariq knew his way around the kitchen expertly and could really cook. Tariq shared his desire to open a restaurant here in Owensboro. Rooster helped make it happen.
Without hesitation, Rooster decided to offer up Windy Hollow to Tariq. Since she closes each afternoon, she decided to work with Tariq to open Pamir on Friday, Saturday and Sunday evenings.
It has taken some time to catch on, but Pamir has become a hit. The food is delicious and, yes! Owensboro, believe it or not, is now home to its own restaurant specializing in Afghan cuisine. That's a direct result of Rooster's willingness to collaborate.
In fact, in her post about Boujie Biscuit, Rooster added- "We hope to do a few collaborations with her and others in 2024!" And you can literally see, and even taste, the collaboration between Windy Hollow and Pamir. Initially, everything at Pamir was made to order from the menu.
But, because of Windy Hollow's popular and locally famous buffet, the guys at Pamir have expanded their offerings to include buffet nights as well. That's Rooster's influence and a brilliant collaboration of cultures.
Evelyn's daughter Hallie, who works alongside her running Windy Hollow Biscuit House, is exceptionally proud. She says, "She is a strong woman and I'm lucky to have her as a mentor, a friend and my mom."
Inside the All-New Windy Hollow Biscuit House in Owensboro
Gallery Credit: Dave Spencer